Dollar Goes Pow(ell)
For his daily Chart of the Day, Deutsche Bank's Jim Reid links to yesterday's Fed meeting which the DB head of FX Strategy George Saravelos thought confirmed the team's medium-term bearish dollar view highlighted in this week's new DB World Outlook (WO).
George – who yesterday also touched upon the other helicopter about to flood the economy with cash…
… feels that the Fed's move to convince markets of its commitment to average inflation targeting (no hikes predicted by the Fed over the next three years even with inflation above target) will eventually push the dollar lower.
Reid then shows the next chart from Saravelos, which confirms his work that since the Volcker era, wider twin deficits have historically been accompanied by a weaker dollar and vice versa.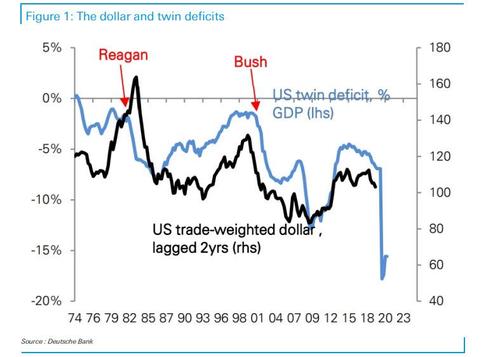 Ultimately though, George writes that the critical variable for the dollar will be the Fed. Last night hints at a central bank that will remain purposefully behind the curve and which endorses a controlled overshoot of inflation.
For what it's worth, DB's economics team pushed their expectations for the first Fed rate hike from Q3 2023 to to mid-2024 last night. Such an outcome, if realized is dollar negative… and very positive for gold, crypto and anything else that is denominated in dollars.
Tyler Durden
Thu, 03/18/2021 – 14:43