'Down Goes Biden' – Watch President Fall-Up The Stairs To Air Force One
'Down Goes Biden' – Watch President Fall-Up The Stairs To Air Force One
Update (1245ET): Phew! A White House official has confirmed that President Biden, after stumbling aboard Air Force One on his way to Georgia, "is fine."
May we humbly suggest this addition?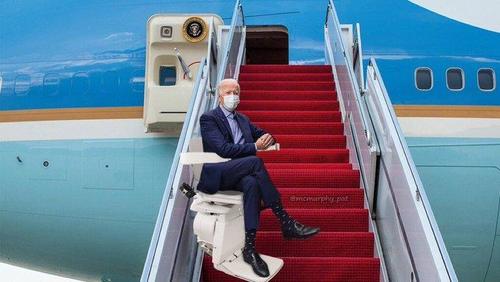 We hear they are free to install under Medicare-for-All.
*  *  *
How is President Biden supposed to negotiate with China when he can't even negotiate a set of stairs?
After a brief tour through the South where he stopped in Georgia to meet with leaders of the Asian-American community in the wake of this week's deadly shooting at a spa and massage parlor in Atlanta, Biden and his entourage returned to Air Force One.
Kamala Harris realizing she's about to be President: pic.twitter.com/7WtiPCy8nT

— Caleb Hull (@CalebJHull) March 19, 2021
Oh dear pic.twitter.com/xSv3mpd5rV

— Quoth the Raven (@QTRResearch) March 19, 2021
From another angle:
WATCH: US President Joe Biden falls over as he boards Air Force One pic.twitter.com/O8XysfH4n4

— The National (@TheNationalNews) March 19, 2021
The clip immediately went viral after finding its way to Twitter, as online wits joked about the timing (coinciding with the conclusion of a US-China summit where China's aggressive posture made headlines).
Biden just fell going up the steps to Air force One… pic.twitter.com/MT8kpX1huH

— Caleb Hull (@CalebJHull) March 19, 2021
I added music to Joe Biden falling up the stairs to Air Force One. pic.twitter.com/3mHuaWUWh7

— Caleb Hull (@CalebJHull) March 19, 2021
👀 Biden cannot even negotiate a stair case, how is he going to negotiate with china?

— PiQ (@PriapusIQ) March 19, 2021
Biden takes a big fall climbing into Air Force One.

— Liz Wheeler (@Liz_Wheeler) March 19, 2021
We know who is to blame for the fall of course…
CNN " Donald trump puts banana peels on the steps of air force one to try and purposely trip joe Biden. "

— Daniel giordani (@Danielgiordani7) March 19, 2021
Think that's an exaggeration? Here's CNN in 2017…
CNN asks White House if Trump is "afraid of stairs" https://t.co/O959OG90eF pic.twitter.com/R4BxlAYWA3

— Washington Examiner (@dcexaminer) March 22, 2017
It's not exactly a vote of confidence, coming just hours after he mistakenly referred to his Veep as "President" Harris. Fortunately, an aide to the president confirmed that he was "doing fine" after the spill.
He's literally incapable of getting even the basics right. #PresidentHarris pic.twitter.com/FlempiyA22

— Donald Trump Jr. (@DonaldJTrumpJr) March 18, 2021
Oh and just one more thing. Remember when Biden mocked Trump's ramp walk at West Point…
FLASHBACK -> Biden mocks Trump's ramp walk at West Point and claims he's stronger: "Look at how he steps and look at how I step. Watch how I run up ramps and he stumbles down ramps. Come on." pic.twitter.com/U7CL0dBSQA

— Curtis Houck (@CurtisHouck) March 19, 2021
We'll give the final word to Don Jr who, as usual, sums up the farce perfectly: "I remember the press bashing Trump for touching the rail once. Biden falls repeatedly but I'm sure he's the picture of health. No wonder all our enemies are pouncing simultaneously and mocking him publicly. "
Tyler Durden
Fri, 03/19/2021 – 12:16