Drone Images Reveal Biden's Migrant Camp In Texas Expands As Border Crisis Rages
Drone Images Reveal Biden's Migrant Camp In Texas Expands As Border Crisis Rages
Fox News' Flight Team deployed an unmanned aerial vehicle in Donna, Texas, which reveals the extent to which the immigration facility has rapidly expanded in the last several weeks as the Biden administration struggles to find space for migrants. 
New drone images show the facility has greatly expanded in a month. There are an estimated 4,000 migrants in custody at the facility, and each pod contained 500-600 migrants. Health guidelines state there should only be 32 people in each pod – so clearly, there are overcrowding concerns. 
A flood of migrants have been filing up the Donna facility since President Biden took office – a stark contrast to the Trump administration, which required that migrants wait in Mexico while the US processed asylum requests, as opposed to Biden's policy of letting everyone in and simply trusting migrants to show up for their hearings.
Fox News' Flight Team took photos of the facility in March and earlier this week, showing that it has expanded.
The Donna facility as of March 31, 2021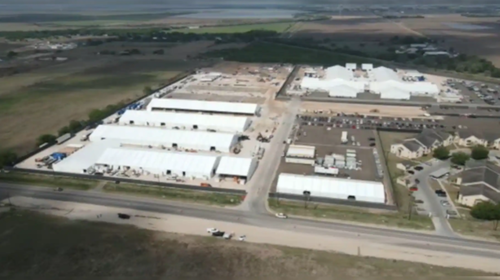 The Donna facility as of April 14, 2021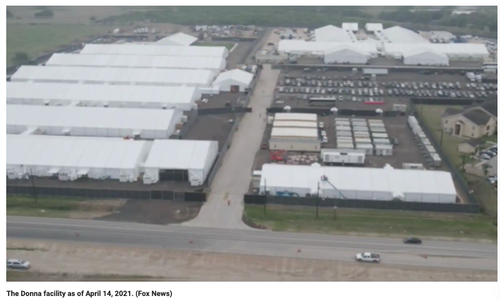 The Department of Health and Human Services said while it is working to boost capacity, "additional capacity is urgently needed to manage the increasing numbers" of migrant children. The agency said the site is temporary.
The Biden administration has repeatedly rejected the idea the border is in a crisis. Meanwhile, leaked photos from the facility in March show hundreds of children crammed together in pods, according to Rep. Henry Cuellar (D-TX), who provided the images to Axios to raise awareness about the deteriorating situation.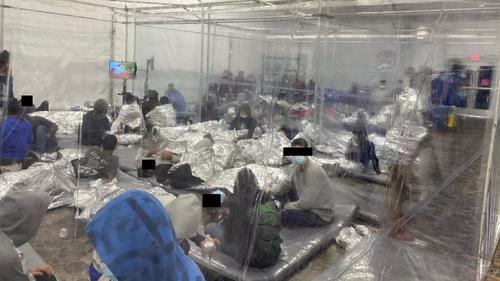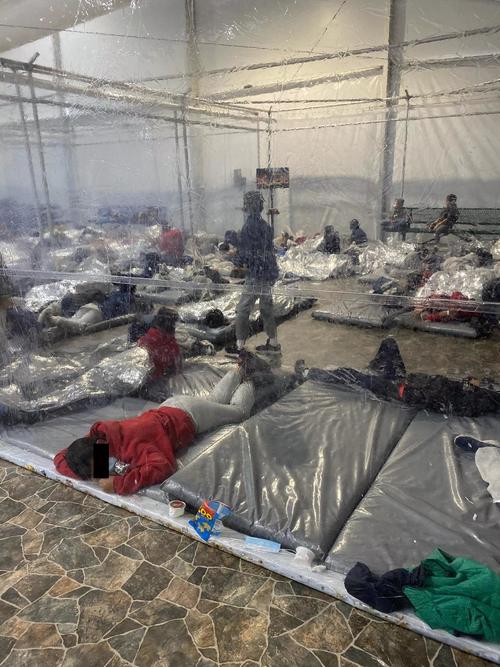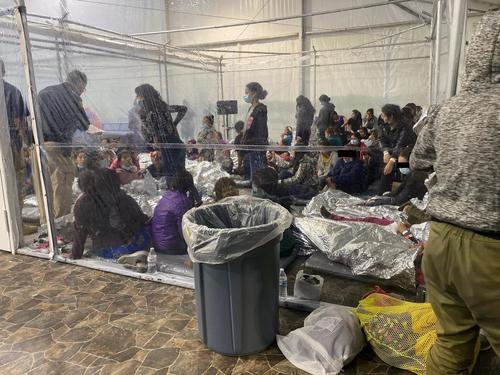 With so many migrants caught illegally crossing into the US, the Biden administration in early April was forced to start constructing a temporary annex facility for unaccompanied minors next to the Donna facility. 
House Minority Whip Steve Scalise (R-La.) posted video footage of numerous unaccompanied children at the facility, calling it "child abuse." 
🚨 I visited the Donna processing facility yesterday.

These are the videos Joe Biden & Kamala Harris don't want you to see.

This is the devastating result of their disastrous left-wing immigration agenda.

RT so everyone can see what they're trying to hide. This is child abuse. pic.twitter.com/7y7sQp50Pn

— Steve Scalise (@SteveScalise) April 10, 2021
Elsewhere on the border, things are so out of control that Gila Bend, a town near Arizona's border with Mexico, declared a state of emergency over the border crisis. 
Arizona sheriff Mark Lamb of Pinal County told "Fox & Friends" last month that President Bidens border crisis is worse than the Obama years, as the surge in illegal immigrants hits a 20-year-high. 
Republicans have attacked the Biden administration for stoking the migrant crisis by ending former President Trump's border policies, such as ordering to stop border wall construction. 
However, since the migrant crisis has spiraled out of control, President Biden was forced to recently restart border wall construction to 'plug gaps' in the current barrier. 
Tyler Durden
Thu, 04/15/2021 – 21:30