End Of The Line? Morgan Stanley "Downgrades Small Caps" As Equity Valuations Set To Drop 
End Of The Line? Morgan Stanley "Downgrades Small Caps" As Equity Valuations Set To Drop 
Morgan Stanely's chief US equity strategist Mike Wilson told investors Monday in a new podcast titled "A Tougher Road Ahead for Small Caps?" that "extraordinary outperformance" of cyclicals and small caps is coming to an end. He downgraded small caps on Monday to reduce risk. 
"From our perspective, the equity market is doing exactly what it should be at this stage of the recovery. The recent non-linear move in long-term interest rates means equity investors can no longer ignore this risk. The rates market is mispriced, and now that the seal has been broken, there's good chance equity markets start to price in the next 50bps move, even if it's months away. What this really means is that equity valuations are likely to fall this year – a key part of our call for 2021," Wilson said. 
The downgrade comes as Wilson told investors last week three reasons why the "stock correction has further to go before it's over." His latest podcast indicated the "extraordinary outperformance and earnings revisions and valuation expansion" of small caps is likely "coming to an end."
Last month, Credit Suisse's equity strategist David Sneddon told clients that 2445-2500 was a challenging resistance level produced by the upper band of a decade's long ascending channel (view more charts here).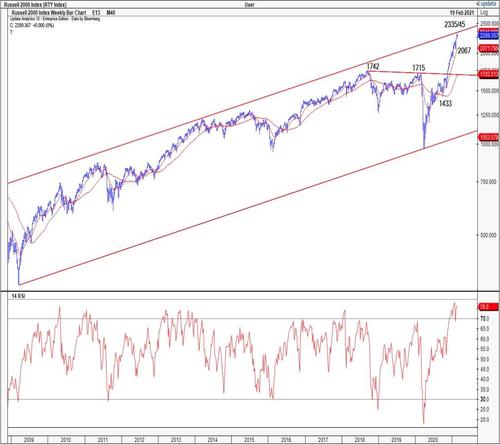 Wilson warned:
"Falling equity valuations is what always happens at this stage of the recovery, and we see little reason to think it will be different this time. Having said that, the recent fiscal stimulus may provide one last final push higher as this money leaks into the market. We would use that strength to reduce positions in the more expensive parts of the market." 
He said his team upgraded small caps near the pandemic low last April as his core "thesis was that we would experience a V-shape recovery in the economy, and the government subsidy of the unemployment cycle would accrue to the bottom line of corporations, especially small caps." Since then, Russell 2000 has outperformed S&P 500 and Nasdaq 100 by 50% and 40%, respectively. 
With the Russell 2000 down more than 1% and the Nasdaq 100 up more than 1% on Tuesday morning, one of the most significant shifts from value to growth is underway since late October.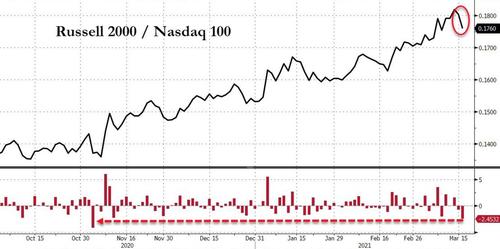 Small caps have been beaten down today, starting at the US open and continuing into the EU close around noon.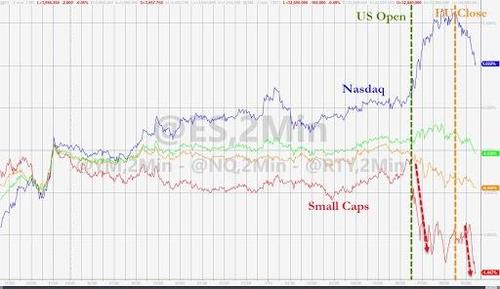 Wilson points out, "there's a growing risk of margin disappointment as we discover it's a lot harder to turn the economy on than it is to turn it off." 
"And we are starting to hear concerns about labor availability and supply chain shortages. Specifically, purchasing manager surveys are indicating a spike in costs. Just as small cap companies accrued a disproportionate share of the positive operating leverage dynamics, they are likely to feel the brunt of the cost pressures we think could materialize during the reopening phase. Much like at the end of the last cycle, smaller cap companies could prove to have less ability to manage cost surprises." 
Russell 2000 is now trading at 34x forward earnings in terms of valuation, a 50% premium to the S&P500. Wilson said his warning doesn't mean small caps won't work – he believes "the risk-reward at this point is no longer favorable."
While anyone who traded stocks was a winner in 2020, just like Barstool Sports' Dave Portnoy drawing random stocks from a hat and telling his million-plus Twitter followership to buy – it appears, in Wilson's view: the period of multiple expansion could be coming to an end for small caps as interest rate increases can no longer be ignored by equity investors and cost pressures mount for companies.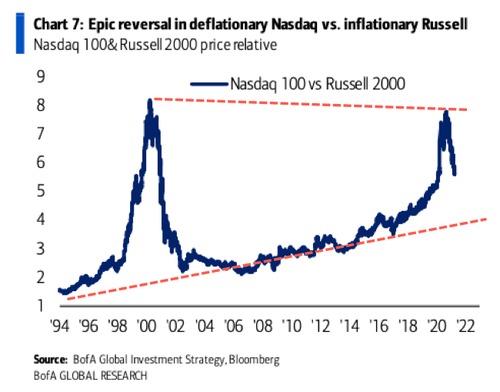 Does today appear more and more like the beginnings of the Dot Com bust?
Tyler Durden
Tue, 03/16/2021 – 13:04