EU Infighting Over Vaccine Supplies Intensifies As France, Germany Turn To Russia
EU Infighting Over Vaccine Supplies Intensifies As France, Germany Turn To Russia
Alexei Navalny is on hunger strike, prompting European governments to again criticize the Kremlin for alleged human rights abuses (both the US and EU slapped more sanctions on Russia over Navalny's alleged "poisoning" and are now complaining about Russian troop movements near the Ukrainian border) and demand his release. But while they publicly bash President Vladmir Putin, European leaders are quietly negotiating with his government to try and get their hands on supplies of "Sputnik V".
At this point, the US has tried to pressure friendly governments into rejecting the vaccine to no avail. With Washington hogging most of its supplies, asking allies to pass up desperately needed vaccines to help further a geopolitical agenda was simply too big an ask. Despite Brussels' scorn, Russia has struck a production deal with Italy, – while Hungary and Slovakia have already approved the vaccine for use on adults.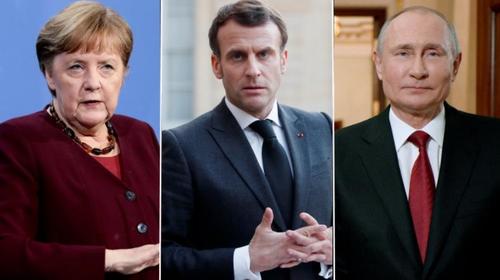 And pretty soon, France and Germany, the EU's two largest economies, might defy bureaucrats in Brussels and approve "Sputnik V" as well.
According to a report in RT, German Chancellor Angela Merkel and French President Emmanuel Macron spoke with President Vladimir Putin about the possibility of importing the Sputnik jabs. The conversation occurred one day before Macron announced a new four-week national lockdown in France. According to a statement published by the Kremlin, the leaders discussed "registration of the Russian Sputnik V vaccine in the European Union, as well as possible supply and co-production of this drug in EU countries."
Pressuring is growing on EU member states to accelerate their vaccination rollout as a "third wave" of the virus is forcing another round of lockdowns. In Spain, the tourism industry is furious about new restrictions requiring masks to be worn outdoors, as they fear they will miss out on a second straight summer season.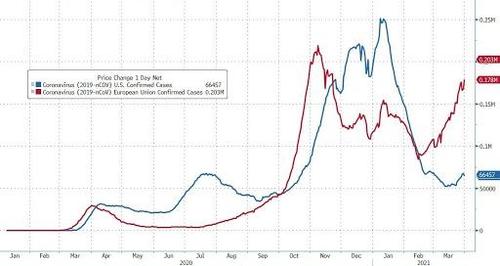 Regulators at the EMA, the agency that has defended AstraZeneca's jab by declaring that the benefits far outweigh the risks, began a review of Sputnik V in March.
Austrian Chancellor Sebastian Kurz is also planning to buy a large shipment of the jabs, he said.
Despite the obvious need, several senior bureaucrats are doing everything they can to stymie the Russian jab. Internal Market Commissioner Thierry Breton said the 27-nation group has "absolutely no need" for the vaccine.
All this is happening as the infighting among EU countries over how to disburse extra vaccine doses among member states worsens. Austria is leading a group including the Czech Republic and Slovenia that continued to block a proposal Thursday morning that would divert 3MM extra Pfizer doses to countries more in need as countries do everything they can to hang on to supplies, according to Bloomberg, especially as public skepticism of the AstraZeneca vaccine remains high. The vaccines are part of a 10MM batch Pfizer will deliver ahead of schedule.
Sputnik V became the world's first registered Covid-19 vaccine in August last year. Produced by Moscow's Gamaleya Center, western authorities greeted it with immediate skepticism – former FDA head Dr. Scott Gottlieb infamously declared "I wouldn't take it" – before studies published in the British medical journal The Lancet revealed that it has an efficacy of 91.6%.
Tyler Durden
Fri, 04/02/2021 – 06:30