Europe Scrambles To Stretch COVID Jab Supplies As Global Cases Near 100MM: Live Updates
Europe Scrambles To Stretch COVID Jab Supplies As Global Cases Near 100MM: Live Updates
Summary:
Global cases near 100MM
Deaths 2.1MM
BoJo pushes more lockdowns
Vaccine makers may sell jabs directly to states
Bloomberg says nearly 57MM doses distributed
UK hospital population falls for 3rd day
German health minister expects 3MM vaccines delivered in Feb
* * *
Although the news has been buried, to a degree, by Joe Biden's inauguration and his flurry of executive orders this week intended to undo President Trump's legislative legacy, most Americans continue to fret about the efficacy of the Moderna and Pfizer-BioNTech vaccines, especially following word from Israel that their efficacy has been greatly exaggerated.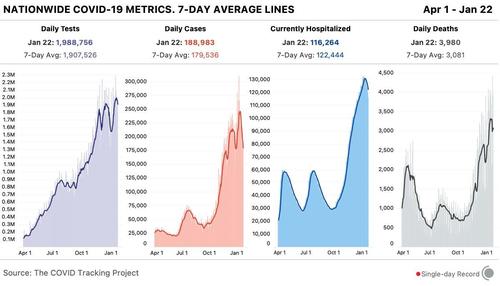 Meanwhile, on a global scale, total cases are nearing 100MM, while deaths pass 2.1MM
A few days ago, we reported that nearly 2 dozen batches of spoiled vaccines accidentally ruined in transit by McKesson (or at least that was the official story) had caused tens of thousands of dosing delays in NYC, but elsewhere in the country as well, including across the state of California.
At the very least, now that the WHO has acknowledged that its PCR testing has been rendering millions of false positives due to over-amplification, the official data show that hospitalizations continue to decline across the country, suggesting that a team at Goldman calling for a trend reversal in hospitalizations (and, later on, deaths) may have been spot on.
Just days after the inauguration in the US, attention is turning back to Britain, where PM Boris Johnson continues to push more lockdowns, despite growing evidence they don't work, blaming a continuing surge in cases and deaths on the mutation.
As Pfizer said it would consider selling vaccines directly to the states as complaints about the federal plan (or, lack thereof, as Dr. Fauci claimed). A  doctor in the UK urging the government to remove some of its more complicate guidelines, which have caused widespread frustration from the public.
However, in an interesting twist, Gov. Cuomo acknowledged that the federal government was no longer the greatest obstacle for states like New York when it comes to meeting vaccination targets:  Instead, skeptical Black and Latino residents – purportedly those who have borne most of the suffering tied to COVID have seen the highest rates of refusal.
A group of doctors in the UK has urged the government to review the 12 weeks required for people to receive a second dose of the vaccine produced by Pfizer. The manufacturer suggests 21 days, but France's top health authority recommends doubling that three-week gap as a way to stretch supplies and speed inoculations.
Of course, that wouldn't exactly be great for Pfizer's bottom line…
As Europe continues to struggle to overcome the delays on the vaccine front, it's becoming increasingly apparent that the "official projections" release by Chancellor Merkel, the Bank of England and myriad other institutions across Europe are essentially worthless (shocker).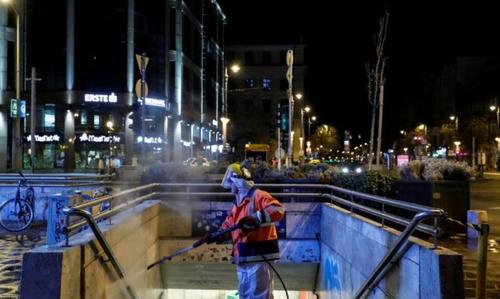 And instead of waiting for their allotments of the AstraZeneca vaccine, Hungary yesterday became the first EU member to strike a deal to circumvent Brussels. And judging by grumblings in Italy, Poland and elsewhere, it won't be the last.
According to the Bloomberg Vaccine Tracker, 56.7MM doses in 52 countries have been administered. The latest rate was roughly 2.85 million doses a day, on average. Vaccinations in the U.S. began Dec. 14 with health-care workers, and so far 18.4 million shots have been given, according to a state-by-state tally by Bloomberg and data from the Centers for Disease Control and Prevention. In the last week, an average of 939,973 doses per day were administered. The UK is the jab leader in the West, with 5.8 doled out by Saturday.
Here's a roundup of COVID news on Saturday:
People being treated for Covid-19 in U.K. hospitals fell for a third day, to 37,899 on Jan. 21. Another 33,552 positive cases were reported on Saturday, about 5,000 below the average over the previous seven days. Deaths were above the weekly average at 1,348. More than 5.86 million people have received a first dose of vaccine.
A day after saying New York was running out vaccines, Governor Andrew Cuomo said the coming week's supply has begun to arrive from the federal government — and he encouraged hesitant minorities to take it.
German Health Minister Jens Spahn said he expects 3MM vaccine doses to be delivered to the country in February, despite production problems by AstraZeneca.
* * *
Still, while Moderna and Pfizer have had their share of "logistical problems" in the US, a second coronavirus vaccine manufacturer has warned of supply issues to the European Union, compounding frustration in the bloc. AstraZeneca said a production problem meant the number of initial doses available would be lower than expected. The fresh blow comes after some nations' inoculation programmes were slowed due to a cut in deliveries of the Pfizer-BioNTech vaccine.
Tyler Durden
Sat, 01/23/2021 – 13:44