Europe Tells H&M To "Lay Low" On Chinese Virtue Signaling Until Anger Blows Over
Europe Tells H&M To "Lay Low" On Chinese Virtue Signaling Until Anger Blows Over
Swedish fashion brand H&M has been told by the head of the EU Chamber of Commerce in China to bear down and "let it happen" – referring to Chinese anger at the company over their supposed refusal to use cotton picked by alleged forced labor in the country's Xinjiang region, according to Bloomberg.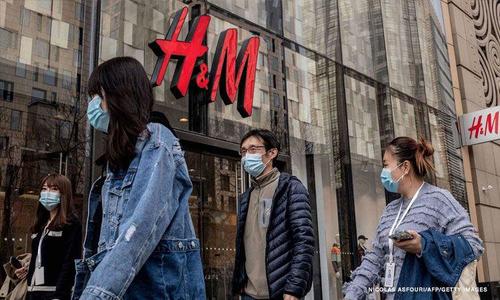 "You really have to just let it happen, lay low and see when it blows over and then come back again," said Chamber president Jörg Wuttke in a Tuesday statement to Bloomberg TV, adding: "Chinese customers love European products and brands, so I guess it will be the same for textiles."
H&M was the subject of a massive boycott by Chinese social media users last week after someone found an undated statement from the company saying they would not use cotton from Xinjiang over forced labor concerns. They were swiftly condemned by the Communist Youth League and the People's Liberation Army – while Apple and Baidu Maps searches immediately ghosted H&M from their service. In smaller cities, H&M stores were shuttered by nervous landlords according to the report.
After disappearing from Chinese online shopping sites, H&M stores no longer exist on Chinese…maps. Google Maps, which is blocked, still shows accurate information. pic.twitter.com/22Q1xb1Zuk

— Yurui Wu (@wuyurui99) March 25, 2021
Wutkke's response – instead of offering to explore China's alleged human rights violations – is yet another reason why corporations are terrified of China. Last week, Nike and Adidas also came under fire for previously saying they wouldn't use labor from the region over similar forced labor concerns.
A post on the official Weibo page of Beijing Youth Daily dated Thursday noted foreign apparel brands including Adidas and Inditex-owned Zara have previously made remarks about boycotting Xinjiang cotton, while The Global Times, a communist-party tabloid,  also mentioned Burberry while noting that Spain's Inditex, owner of Zara, had "quietly removed" a statement on Xinjiang from its English and Spanish-language websites. Shortly after, calls to boycott the Swedish retailer spread to include Nike, which has previously said it won't source products from the region due to labor concerns.
Chinese Foreign Ministry spokeswoman Hua Chunying sidestepped a question over whether the government was behind boycotts of H&M and other companies during a regular press briefing on Tuesday in Beijing.

"Some Chinese netizens have expressed their anger over Xinjiang cotton, including on H&M," she said. "Chinese consumers have the freedom of choice." -Bloomberg
Internet users, meanwhile, also targeted the Better Cotton Initiative (BCI), a group that promotes sustainable cotton production which said in October it was suspending its approval of cotton sourced from Xinjiang for the 2020-2021 season, citing human rights concerns. BCI members include Nike, Adidas, H&M and Japan's Fast Retailing. The Xinjiang region supplies some 80% of China's cotton.
"If you boycott Xinjiang cotton, we'll boycott you. Either Adidas quits BCI, or get out of China," one internet user wrote. Nike, Adidas and the BCI did not respond to requests for comment.
The United States and several Western allies have accused the CCP of running internment camps housing up to one million Muslim Uighurs, while China claims it's combating religious extremism, providing employment, and offering education to improve the ethnic minority group's lives.
China, meanwhile, punished the EU last week with a list of retaliatory sanctions over the Xinjiang issue – targeting 10 individuals and four entities, including the Mercator Institute of China Studies where Wuttke sits on the board.
On Tuesday, Wuttke said that while the Chinese market "saved" many companies last year as the country rebounded from the pandemic, "at the same time there's this kind of political pressure."
Either way, "China definitely doesn't come out of this looking very pretty."
Tyler Durden
Wed, 03/31/2021 – 05:45