"Everything Goes!" – David Hasselhoff Auctions "Knight Rider" Car
"Everything Goes!" – David Hasselhoff Auctions "Knight Rider" Car
"Baywatch" star David Hasselhoff is auctioning dozens of "personal items such as screen and stage worn wardrobe, awards, scripts, toys, autographed items, photos, music, film, and television memorabilia" at online auction website Live Auctioneers. 
Hasselhoff tweeted: "The auction is open now. Everything goes!"
Bidding is open now in the Hoff auction, everything goes! Go to https://t.co/i9vRAc2aeM#DavidHasselhoff #TheHoff #TheHoffAuction #Auction #LiveAuction #Bidding #LiveAuctioneers #DiligentEstateSales #SpongeBob #KnightRider #MichaelKnight #KITT #Baywatch #MitchBuchannon pic.twitter.com/DK5OI0cW2Z

— David Hasselhoff (@DavidHasselhoff) January 2, 2021
One of the most prized items for auction is Hasselhoff's personal "KITT" car from the movie "Knight Rider."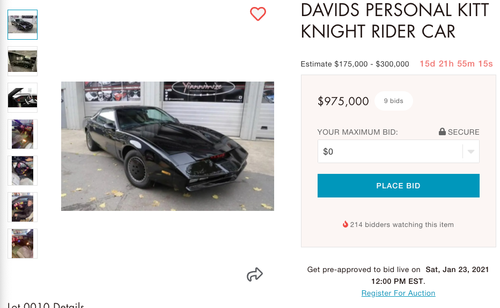 As of Thursday afternoon, bidding for the vehicle is around $975k. The auction's description says if "price exceeded 25% above the reserve price, Hasselhoff will personally deliver the car to the new owner."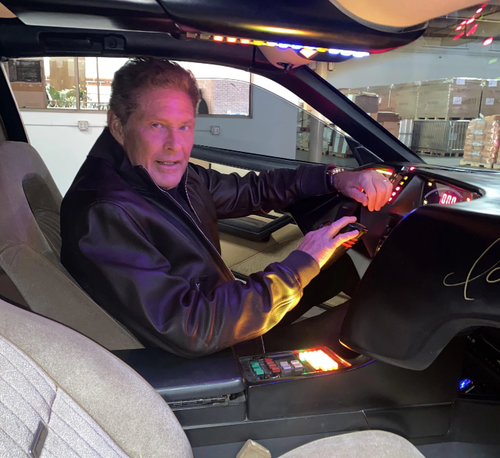 KITT is not the only movie item put up for auction by Hasselhoff. A larger than life-size replica of the actor from 2004's "SpongeBob SquarePants Movie" has a starting bid of $100k, though there are no bidders.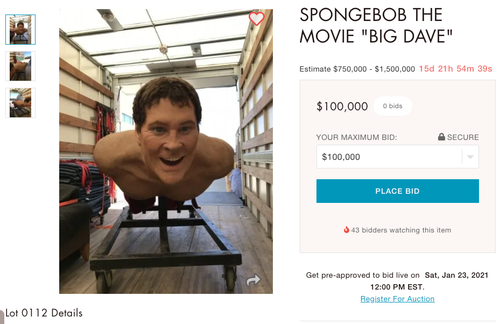 Hasselhoff is auctioning dozens of other things off, including a few other cars, surfboards, signed memorabilia, Baywatch collectibles, and other personal items the actor has cherished over the years. 
Live Auctioneers noted, "a portion of the proceeds for this auction will be donated to David's charitable organizations."
Tyler Durden
Sat, 01/09/2021 – 15:10