Explosion Rips Through Yemen Airport As New Government Arrives, Killing 16 & Wounding 60
Explosion Rips Through Yemen Airport As New Government Arrives, Killing 16 & Wounding 60
A huge explosion has rocked the civilian international airport in the southern Yemeni city of Aden, which killed at least 16 people and wounded over 60 on Wednesday. The death count has continued to soar in the hours after the apparent terror attack's aftermath.
The source of the blast was immediately unclear but local security sources told Reuters that multiple mortar shells struck the airport's main terminal just as top government officials belonging to the pro-Saudi and internationally recognized government arrived. It's also being looked at as a possible direct bombing of the airplane carrying the government delegation.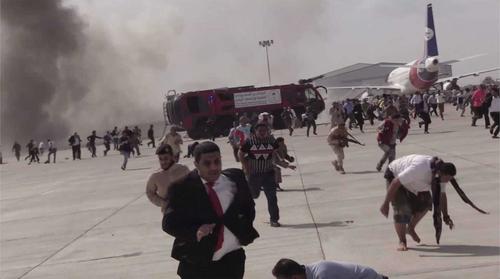 No government officials were among the injured, but they were the apparent targets of the bombings.
As Fox News summarizes of some of the Iran-focused accusations now flying around:
The members of the Yemeni government's newly formed Cabinet, including Prime Minister Maeen Abdulmalik Saeed, were greeted with a loud explosion soon after its plane landed Wednesday in the city of Aden, in what an official is calling a "cowardly terrorist attack carried out by the Iranian-backed Houthi militia."
NEW – video of the explosion(s) at Aden Airport in #Yemen. Initial reports claim either mortars or drones were used in the attack.pic.twitter.com/HIha6sdUpO

— Disclose.tv 🚨 (@disclosetv) December 30, 2020
The government delegation could be seen in video footage disembarking their plane just as an explosion unleased chaos, with people darting for cover.
AFP: Video of a missile attack!
At least 10 killed, dozens wounded in #Yemen airport blasts.#Aden. pic.twitter.com/oRvODCYfSH

— Ahmad Algohbary (@AhmadAlgohbary) December 30, 2020
Since the grinding war began half a decade ago Tehran has been seen as the key external backer to the Shia Houthi rebels, supplying them with weapons including short to mid-range ballistic missiles used to strike neighboring Saudi Arabia. 
#BREAKING: Explosion at #Yemen's Aden Airport took place after a plane carrying the new government landed on Wednesday. This government is part of a power sharing deal with the STC. pic.twitter.com/i3l4yrkY5X

— Jason Brodsky (@JasonMBrodsky) December 30, 2020
"It would have been a disaster if the plane was bombed," Yemeni Communication Minister Naguib al-Awg, who was traveling with the delegation on board the plane said. 
I strongly condemn the attack at Aden airport, shortly after a plane carrying the new Government of Yemen landed, killing & injuring many innocent civilians. I express my condolences to the people and Government of Yemen.
It is important to bring #Yemen urgently back to peace.

— UN GA President (@UN_PGA) December 30, 2020
The plane full of government ministers did indeed appear to the be target, in order to presumably wipe out top officials. Aden's health office has in the last hours updated the death toll to at least 16 people killed and 60 wounded by the explosion.
Tyler Durden
Wed, 12/30/2020 – 09:34