Faraday To Become The Next EV-SPAC Mutant Hoisted Upon Capital Markets
Faraday To Become The Next EV-SPAC Mutant Hoisted Upon Capital Markets
EV startup Faraday & Future looks like it will be the next EV name on the market, as it is set to go public via a merger with blank check company Property Solutions Acquisition Corp.
The SPAC is looking to raise $400 million in equity, according to Bloomberg, and will value the combined entity at about $3 billion. On the news, shares of Property Solutions Acquisition Corp. (PSACU) spiked as much as 27.5% in pre-market trading on Monday.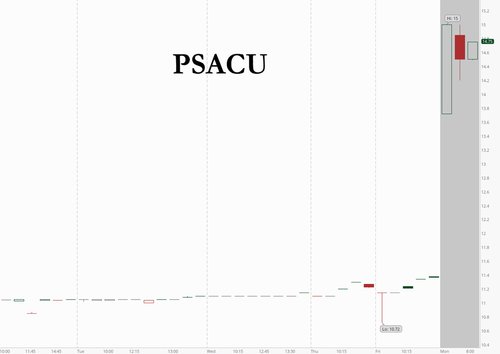 Faraday was founded in 2014. In true SPAC fashion, Bloomberg reports that Faraday was founded by Jia Yueting, "an entrepreneur who in October 2019 filed for bankruptcy in the U.S. after running up billions of dollars in personal debt" after failed attempts to build a corporate empire in China.
He had borrowed against pledged shares and racked up $2.3 billion in debt, the report notes. He has since transferred his Faraday shares to his creditors' trust, which will be used to make investors from his previous venture, Leshi Internet & Technology Corp., whole. 
Sounds like a promising start!

Yueting currently holds no equity stake in Faraday, but remains an employee. Faraday appointed Zvi Glasman its CFO this month and said its flagship vehicle, called "FF 91", will be available for purchase about a year after the company closes its first round on funding. 
There's been no news of whether or not they have rolled a prototype down a hill in the Utah desert yet. 
And now – after going public via SPAC – all Faraday needs to do to finish cashing in on the momo is immediately convert the balance sheet to bitcoin…
Tyler Durden
Mon, 01/11/2021 – 15:20