FDA Approves First Rapid At-Home COVID Test, Merkel Pushes To Extend Holiday Lockdown: Live Updates
FDA Approves First Rapid At-Home COVID Test, Merkel Pushes To Extend Holiday Lockdown: Live Updates
Tyler Durden
Wed, 12/16/2020 – 09:23
Summary:
US 7-day average cases breaks string of records
UK has vaccinated nearly 140K people already
At least 2 states now publishing vaccination data
FDA approves first at home test
Midwestern cases been falling for a month
Hospitalizations in northeast surge
Malaysia president pledges free vaccinations for all
* * *
With its mandatory "hard" lockdown taking effect on Wednesday, Germany also coincidentally reported a record number of new deaths linked to the virus. At the same time, Chancellor Angela Merkel appeared to suggest she's already looking at extending  the restrictions beyond mid-January as the EU lags both the US and the UK in terms of the pace of its vaccine rollout plans.
Meanwhile, in the latest FDA-related headline to pump markets (while the 'real economy' slides further down into the proverbial toilet)….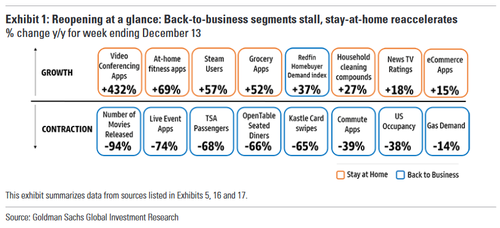 …Approving the first fully at-home COVID-19 test, according to a statement from the agency.
Today, the U.S. Food and Drug Administration issued an emergency use authorization (EUA) for the first over-the-counter (OTC) fully at-home diagnostic test for COVID-19. The Ellume COVID-19 Home Test is a rapid, lateral flow antigen test, a type of test that runs a liquid sample along a surface with reactive molecules. The test detects fragments of proteins of the SARS-CoV-2 virus from a nasal swab sample from any individual 2 years of age or older. "Today's authorization is a major milestone in diagnostic testing for COVID-19. By authorizing a test for over- the-counter use, the FDA allows it to be sold in places like drug stores, where a patient can buy it, swab their nose, run the test and find out their results in as little as 20 minutes," said FDA Commissioner Stephen M. Hahn, M.D. "As we continue to authorize additional testspeople in the U.K. have been vaccinated against Covid-19, Vaccines Minister Nadhim Zahawi said on Twitter,
In the UK, a total of 137.9K people have been vaccinated against COVID-19, Vaccines Minister Nadhim Zahawi said on Twitter.
A really good start to the vaccination program. It's been 7 days and we have done: England:108,000 Wales: 7,897 Northern Ireland: 4,000. Scotland:18,000 U.K Total 137,897. That number will increase as we have operationalised hundreds of PCN (primary care networks)

— Nadhim Zahawi (@nadhimzahawi) December 16, 2020
Transparency is vital as we deliver vaccines across the UK. For now, these figures are provisional. From next week, we will begin to publish weekly figures on the number of vaccines administered.

— Nadhim Zahawi (@nadhimzahawi) December 16, 2020
Circling back to the US, the COVID Tracking Project showed US cases dipped back below 200K/day yesterday, finally ending the weekslong streak of the 7-day average hitting one record high after another.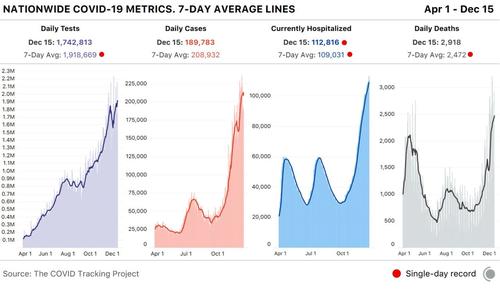 Cases in the Midwest have now been falling for most of the last month as the West overtakes the Midwest as the worst hit region in the US.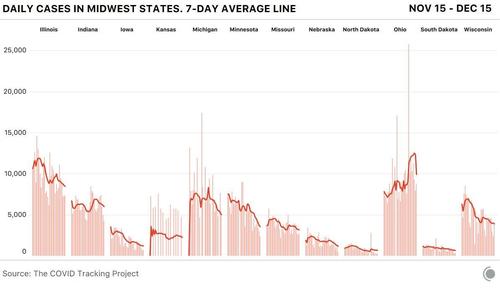 Hospitalizations are falling, too, across the Midwest, while hospitalizations in the northeast are climbing.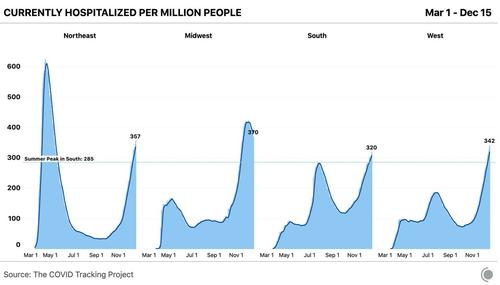 Meanwhile, in an important new step, at least two states –
Two states—Idaho and Michigan—have added an important new metric to their dashboard: the number of patients vaccinated so far.
Two states—Idaho and Michigan—have added an important new metric to their dashboards…

Vaccine doses administered! pic.twitter.com/ypQzYfHoRF

— The COVID Tracking Project (@COVID19Tracking) December 16, 2020
* * *
Here' some more COVID news from overnight and Wednesday morning:
A hospital in Northern Ireland treated patients in ambulances in its parking lot as the surge in cases strains resources. Antrim Area Hospital now has 43 people in the emergency room waiting to be formally admitted, after 17 ambulances were used outside the hospital on Tuesday (Source: Bloomberg).
A vaccine candidate under development by cigarette maker British American Tobacco's U.S. biotech unit Kentucky BioProcessing will start a Phase I human study following approval of its investigational new drug application by the U.S. Food and Drug Administration, according to an emailed statement (Source: Bloomberg).
President Joko Widodo pledged Wednesday to provide free COVID-19 vaccinations to all Indonesians as daily cases continue to surge in the Southeast Asian country (Source: local press).
* * *
Finally, China announced  that five passengers on the same international flight test positive for the virus, and now the route will be suspended for two weeks, doubling the period of flight suspensions from the past (as Beijing again tries to bolster its conspiratorial case that the coronavirus came from somewhere else), while at the same time, Beijing has struck  a deal with Pfizer and BionTech to buy 100MM doses of their vaccine.