Final Q3 GDP Estimate At 33.4%: Stronger Than Expected And Highest On Record
Final Q3 GDP Estimate At 33.4%: Stronger Than Expected And Highest On Record
While few will care about what the economy did in the third quarter now that the Atlanta Fed expects Q4 GDP to grow just over 11%, and JPMorgan expects an actual contraction in Q1 2021, moments ago the BEA reported that its third estimate for Q3 GDP was 33.4% annualized, higher than the 33.1% previous print which was also the expected number, and was also the highest print on record.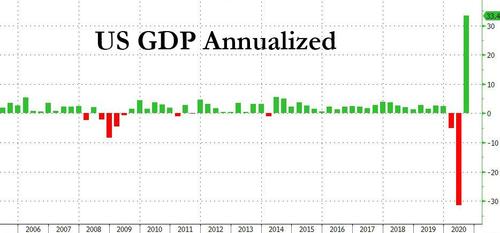 The revision to GDP primarily reflected upward revisions to consumer spending and business investment that were partly offset by a downward revision to exports.
The biggest contributor to this record increase was personal consumption, which rose even more than expected, surging a record 41.0% annualized, above the 40.6% expected.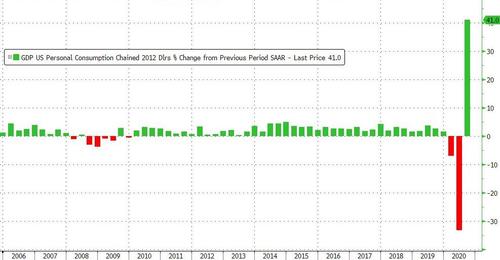 Most components were virtually unchanged from the 2nd estimate:
Personal Consumption contributed 25.44% of the bottom line GDP print vs 25.22% in the November estimate
Fixed Investment was 5.39% vs 5.23%
Inventories was 6.57% vs 6.55%
Exports dipped to 4.89% from 4.95%
Imports were -8.10% vs -8.12%
Government subtracted -0.75% vs -0.76%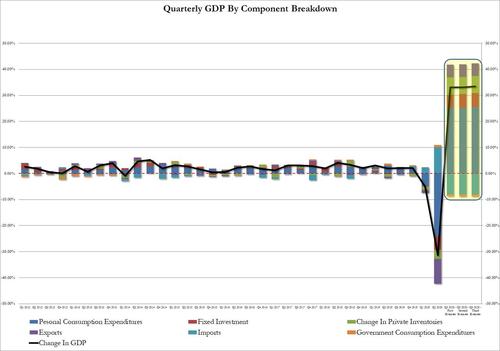 There was some disappointment on the reflation front, where the GDP price index rose 3.5% in 3Q after falling 1.8% prior quarter; it missed expectations of a 3.6% rise. Core PCE q/q rose 3.4% in 3Q after falling 0.8% prior quarter; it also missed estiamtes of 3.5%
Separately, the BEA reported that corporate profits from current production increased 27.4% at a quarterly rate in the third quarter after decreasing 10.3% in the second quarter. Corporate profits increased 3.5% in the third quarter from one year ago. Profits were boosted by provisions from the Paycheck Protection Program.
Profits of domestic non financial corporations increased44.3percent after decreasing 12.9 percent.
Profits of domestic financial corporations increased 2.6percent after increasing 6.1 percent.
Profits from the rest of the worldincreased13.4percent after decreasing18.9percent
Finally, we noted that this number will have no impact on the market especially since the Atlanta Fed already expects Q4 GDP to come in around 11.4% according to its latest GDPNowcast.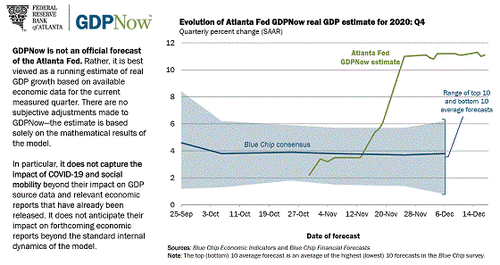 And the trend is not our friend with GDP recently predicting that Q1 2021 will see a modest GDP contraction, officially triggering a double dip recession.
Tyler Durden
Tue, 12/22/2020 – 08:45