First Details Of Biden's $3 Trillion "Build Back Better" Infrastructure Plan Have Just Leaked
First Details Of Biden's $3 Trillion "Build Back Better" Infrastructure Plan Have Just Leaked
Weeks after the administration previewed (via Bloomberg) its plans to push ahead with the first major federal tax hike since 1993 to fund its infrastructure ambitions, the first details of the Biden's multitrillion-dollar infrastructure-climate plan have just been leaked via the New York Times.
Per the NYT, Biden's economic advisers are preparing to recommend spending as much as $3 trillion on an "infrastructure" package that also features some facets of the Green New Deal, and other progressive measures to help "narrow economic inequality." After months of debate and preparation, the Biden advisors are expected to present their proposal to the president this week. The plan reportedly recommends carving the administration's economic agenda into separate legislative parcels, rather than trying to push through another leviathan like the stimulus bill (the battle over the "American Rescue Plan Act of 2021" passage seeped precious momentum from the administration as it struggled to deliver on its broad promises for the first 100 days).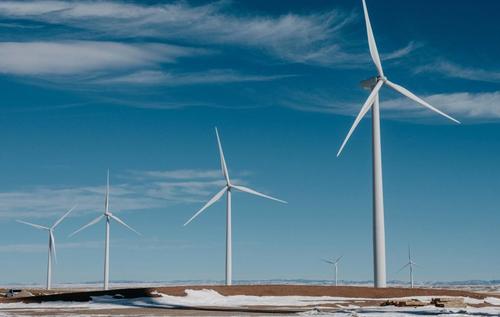 The leak shouldn't come as a surprise. Just last week, Goldman analysts warned that Biden's upcoming boondoggle – his infrastructure plan – would outspend even the Dem's unprecedented $1.9 trillion stimulus package. Goldman estimated that the final cost could be in the area of $4 trillion.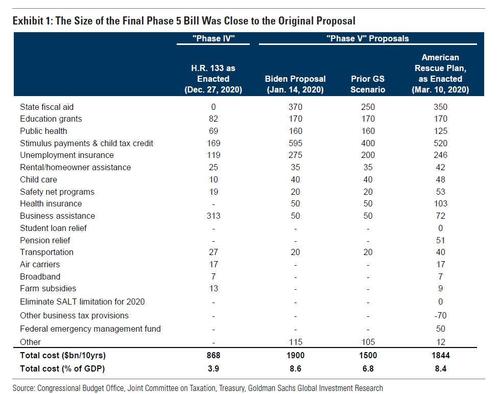 As it turns out, they weren't far off. While the NYT put the size of the package at $3 trillion, that doesn't include the cost of inequality-fighting tax cuts that could cost hundreds of billions of dollars, according to the draft documents leaked to the NYT's Jim Tankersley.
The NYT cautioned that while these details remain in flux, the three-trillion price-tag showcases "the aggressive approach the Biden administration wants to take as it tries to harness the power of the federal government to narrow economic inequality, reduce the carbon emissions that drive climate change and improve American manufacturing and high-technology industries in an escalating battle with China and other foreign competitors."
The package – which constitutes the first available details of the "Build Back Better" infrastructure plan promised at the outset of Biden's administration – will represent a cornerstone of the Biden/Harris team's eventual legacy.
Should the administration opt to move forward with the plan, broken up into more manageable chunks, the first legislative piece under discussion (which some Biden officials apparently consider more appealing to Republicans, business leaders and many "moderates" like Joe Manchin) would combine investments in manufacturing and advanced industries with what would be the most aggressive spending yet by the US to reduce carbon emissions and combat climate change.
It would spend heavily on infrastructure improvements, clean energy deployment and the development of other "high-growth industries of the future" like 5G telecommunications and the development of rural broadband networks to improve access to the Internet in (primarily red) states. Though according to the NYT, whether the bill can attract GOP support will largely depend on how it is paid for.
The second component of the package would focus on the country's "human infrastructure," according to the NYT.
The second plan under discussion is focused on what many progressives call the nation's human infrastructure — students, workers and people left on the sidelines of the job market — according to documents and people familiar with the discussions. It would spend heavily on education and on programs meant to increase the participation of women in the labor force, by helping them balance work and caregiving. It includes free community college, universal pre-K education, a national paid leave program and efforts to reduce child care costs.

That plan would also make permanent two temporary provisions of Mr. Biden's recent relief bill: expanded subsidies for low- and middle-income Americans to buy health insurance and tax credits aimed at cutting poverty, particularly for children.

Officials have weighed financing that plan through initiatives that would reduce federal spending by as much as $700 billion over a decade, like allowing Medicare to negotiate prescription drug costs with pharmaceutical companies. The officials have discussed further offsetting the spending increases by raising taxes on high-earning individuals and households, like raising the top marginal income tax rate to 39.6 percent from 37 percent.

Administration officials were still debating details of the tax increases late last week. One question is how, exactly, to apply Mr. Biden's campaign promise that no one earning less than $400,000 a year would pay more in federal taxes under his plan. Currently, the top marginal income tax rate starts at just above $500,000 for individuals and above $600,000 for couples. Mr. Biden proposed raising that rate in the campaign.

Officials say they are committed to not raising the tax bills of any individual earning less than $400,000. But they have debated whether to lower the income threshold for the top marginal rate, to tax all individual income above $400,000 at 39.6 percent, in order to raise more revenue for his spending plans.

Mr. Biden's broader economic agenda will face a more difficult road in Congress than his relief bill, which was financed entirely by federal borrowing and passed using a special parliamentary tactic with only Democratic votes. Mr. Biden could again attempt to use that same budget reconciliation process to pass a bill on party lines. But moderate Democrats in the Senate have insisted that the president engage Republicans on the next wave of economic legislation, and that the new spending be offset by tax increases.
As a team of analysts at JPM warned in a note to clients published earlier this month (and which we summarized here), Republican support will primarily depend on how Democrats choose to pay for it. GOP leaders like Mitch McConnell have already expressed opposition to any tax increases, while the Biden team has promised not to raise taxes on anybody earning less than $400K a year (whether that would work in practice, however, remains to be seen). Additionally, whether Democrats in the Senate choose to blow up the filibuster for bills could determine whether more progressive elements of Biden's plan live, or die.
Tyler Durden
Mon, 03/22/2021 – 14:40