Ford Cancels Shifts, Builds Partially Assembled Vehicles Amid Deepening Chip Shortage  
Ford Cancels Shifts, Builds Partially Assembled Vehicles Amid Deepening Chip Shortage  
The global supply chain remains "stretched thin," with Ford Motor Company announcing Thursday evening that it will continue to build its top-selling F-150 trucks and Edge SUVs without certain parts, according to CNBC, quoting a Ford spokeswoman. 
The spokeswoman said the automaker would continue building the F-150 and Edge models for "several weeks" without specific semiconductor components. When those chips are made available, the vehicles, expected to be "in the thousands," will have workers install the chips.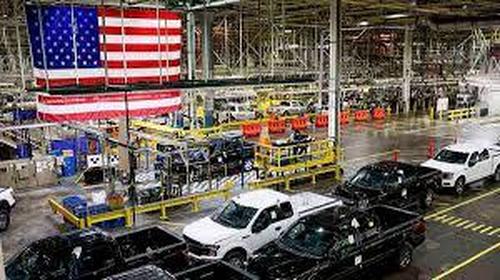 Production woes don't stop there. Ford canceled three production shifts through Friday at a Kentucky plant that produces Ford Escape and Lincoln Corsair crossovers. Next week, Ford expects to limit production of the Ford Fiesta car made in Germany. 
By now, the world knows the massive chip shortage is worsening and could jeopardize the economic recovery. 
Ford expects the chip shortage could lower its earnings by at least $1 billion $2.5 billion this year. 
In response to the shortage that has severely hit some global automakers to the point of limiting production and furlough workers until supply bottlenecks are resolved, President Biden recently signed an executive order which seeks to address the global semiconductor chip shortage after a session with a bipartisan group of lawmakers to discuss the growing crisis. "Make no mistake, we're not simply planning to order up reports. We are planning to take actions to close gaps as we identify them," a White House official said.
To gauge just how serious the supply chain disruption is, one needs only to read what the respondents to the most recent mfg ISM said to get a sense of how bad it truly is:
"Things are now out of control. Everything is a mess, and we are seeing wide-scale shortages." (Electrical Equipment, Appliances & Components)
While the massive semiconductor shortage affects automakers worldwide, other companies in different industries are starting to feel the pressure. Samsung is the latest to confirm that the current chip shortage is "very serious" and "poses a slight problem" for the electronics company heading into the second quarter. 
Goldman Sachs' Jan Hatzius provided an outline to clients this week of recent media reports documenting the disruptions.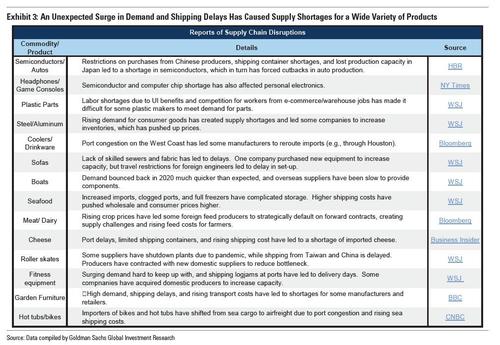 Hatzius believes supply-chain and logistical challenges will persist through 2021 and only be alleviated next year. 
In the meantime, the chip shortage is getting more serious, affecting the production output of certain companies. 
Tyler Durden
Fri, 03/19/2021 – 09:20