Ford Vs. Tesla: CEOs Exchange Jabs As Race For Driver-Assist Tech Begins  
Ford Vs. Tesla: CEOs Exchange Jabs As Race For Driver-Assist Tech Begins  
A little more than half a century ago, a battle ensued between Ford Motor Company and Ferrari S.p.A. to manufacture a supercar that would win the 24 Hours of Le Mans endurance race. In 1966, a trio of Ford GT40s dominated the race – the underlying rivalry between both automakers would forever live in automobile history. Fast forward today, and another rivalry is revving up, not on the racetrack but on city streets, as Ford points its crosshairs at Tesla, Inc.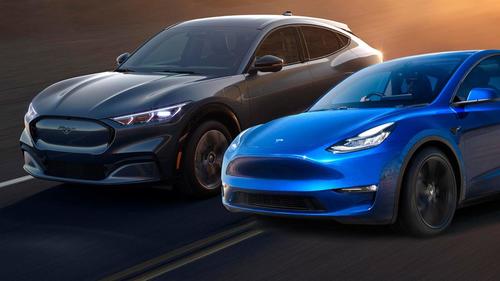 In a tweet about Ford's new hands-free highway driving system, CEO Jim Farley said his automobile company is nothing like Tesla when experimenting with driverless tech using customers as guinea pigs on public roads. Farley tweeted: "BlueCruise! We tested it in the real world, so our customers don't have to."
BlueCruise! We tested it in the real world, so our customers don't have to. pic.twitter.com/dgqVkWH31r

— Jim Farley (@jimfarley98) April 14, 2021
The tweet was a poke at Tesla's Autopilot and CEO Elon Musk.
Tesla has been at the forefront when it comes to driver-assist on its vehicles, though there's been a handful of federal crash investigations into the role Autopilot had in multiple deaths. 
Here's our coverage of some of the latest Tesla crashes: 
The rivalry building between Ford vs. Tesla is only in the beginning chapters. 
"Ford CEO Jim Farley took a jab at Tesla's use of real-world owners to test its Full Self-Driving suite, while revealing its own BlueCruise," tweeted Teslarati, an online publication that writes content on Tesla, SpaceX, and ventures affiliated with Elon Musk.
… and to little surprise, Musk responded to Teslarati's post, tweeting: "I found some footage of the drive" while also posting a two-minute clip of the 1995 comedy movie "Tommy Boy," featuring actors Chris Farley and David Spade behind the wheel of a vehicle zig-zagging on the highway. 
I found some footage of the drive https://t.co/TXeLQO9Spr

— Elon Musk (@elonmusk) April 14, 2021
The 20th century was Ford vs. Ferrari; The 21st century appears to be Ford vs. Tesla. 
Perhaps Ford's CEO is on to something. Tesla drivers maybe guinea pigs on public roads to perfect its self-driving software. However, it has come at a cost; as per the website Tesla Deaths, numerous deaths have been linked to Autopilot. 
Tyler Durden
Thu, 04/15/2021 – 18:50