France Headed For New National Lockdown As COVID Cases Surge
France Headed For New National Lockdown As COVID Cases Surge
Despite expanding lockdown measures to cover more than one-third of the country (including Paris and other major cities) earlier this month, and other areas French President Emmanuel Macron is expected to follow German Chancellor Angela Merkel by imposing strict new nation lockdown measures as Europe's "third wave" of COVID cases intensifies.
France has seen COVID cases (adjusted for population) surge to the highest level in Western Europe, while only hard-hit ex-eastern bloc countries like Poland, Hungary and the Czech Republic have it worse than France, as the chart below shows. This has inspired Germany and Spain to restrict travel from the country.
Bloomberg reports that President Macron is planning to announce during a national address on Wednesday evening that he will impose new nationwide measures to contain the spike, and that these measures could include school closures and a ban on inter-city travel. The new national edict would mark the end of the "regional" approach that France has relied on all year.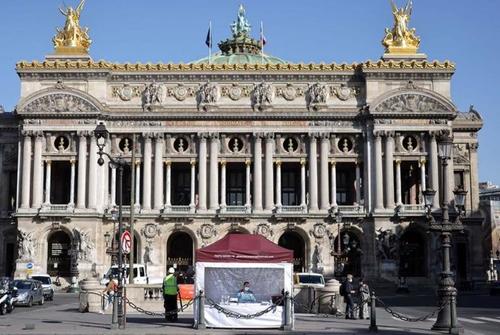 Although he declined to elaborate, government spokesman Gabriel Attal said Wednesday after a defense council meeting that "decisions have been made" regarding new lockdown measures, but he declined to elabroate. Macron will address the nation at 2000 local time (1400ET). If Macron follows through with the school closures, that would also mark a major reversal for France, which had insisted on keeping schools open over the past year, unlike many of its European neighbors.
Macron has so far been "unapologetic" about his resistance to more restrictive measures, according to Bloomberg.
As the EU vaccination push lags for a number of reasons (primarily a shortage of supplies, and widespread skepticism) more than 8MM people have received at least one jab of the vaccine, which represents more than 10% of the population. The target to vaccinate all French adults willing to get the jab by the end of the summer remains in place.
Notably, Macron ignored the advice of his health minister who began advocating for more restrictive measures earlier this year. Instead, the government imposed a nationwide curfew, closed malls and expanded travel curbs – but didn't go all in on a national lockdown. The hope was that the most pessimistic forecasts wouldn't become a reality – but they have.
This could leave Macron vulnerable to a challenger when he is up for reelection next year. His former rival Marine Le Pen has seen her popularity rise over the past year, a sign she could be a serious threat in an electoral rematch.
Tyler Durden
Wed, 03/31/2021 – 09:55