France Summons Chinese Ambassador After "Small-Time Thug" Insult & Threats
France Summons Chinese Ambassador After "Small-Time Thug" Insult & Threats
Following closely on the heels of joint sanctions slapped on Chinese officials over widespread human rights abuses targeting the county's Uighur Muslim minority by the US, EU, UK and Canada on Monday, France's foreign ministry summoned China's ambassador over "repeated insults and threats aimed at French lawmakers and a researcher," according to Reuters.
Foreign Minister Jean-Yves Le Drian stated of the action, "The words of the Chinese Embassy in France and the actions against European elected officials, researchers and diplomats are inadmissible." He explained, "I requested that the Chinese ambassador be summoned to remind him firmly of these messages."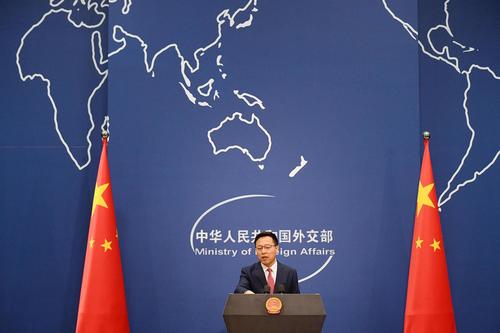 In particular the "messages" in question center on social media posts, mostly on Twitter, which are seen as unnecessary attacks on French lawmakers and a well-known French researcher in response to Paris' Taiwan stance – on which it is increasingly following the lead of the Untied States, given a French lawmaker and delegation is set to visit the island-republic despite Beijing condemning the move.
As an example, speaking of China's ambassador Lu Shaye, Reuters writes that "His embassy last week warned against French lawmakers meeting officials during an upcoming visit to self-ruled Taiwan, drawing a rebuff from France."
Amid the back-and-forth that ensued the Chinese embassy engaged in a Twitter span with a think tank researcher named Antoine Bondaz, considered a China expert based at the Paris-based Foundation for Strategic Research. The embassy had called him a "small-time thug".
Dans nos relations avec la Chine, il n'y a pas de place pour les insultes et les tentatives d'intimidation contre des élus de la République et des chercheurs. Nous défendons ceux qui incarnent la liberté d'expression et la démocratie. Toujours et partout. https://t.co/L4dVphH8lw

— Jean-Yves Le Drian (@JY_LeDrian) March 22, 2021
Bondaz had previously addressed the Chinese embassy staff via Twitter offering "a big kiss to you and your trolls". And that's when this happened, as detailed in SCMP…
China's embassy in France released a long screed defending its criticism of a French scholar for "anti-China provocations" and maintaining that its aggressive tactics were necessary to defend Beijing's interests and international image.

The harshly worded statement, published on the embassy's website on Sunday, sought to justify the mission's attack on Antoine Bondaz, a research fellow at the French think tank Foundation for Strategic Research, as a "petite frappe", a derogatory term in French meaning "little thug".
Tensions are especially on edge given the EU was the first out on Monday morning with targeted sanctions against selection Chinese officials for human rights abuses, which includes asset freezes and travel bans within the European Union. 
This was followed by similar action by Washington, London, as well as Canada – the latter which has even seen lawmakers call for a complete international boycott of the 2022 Olympics in Beijing.
Tyler Durden
Tue, 03/23/2021 – 10:38