Futures Slide, Dollar Surges Ahead Of Powell-Yellen Doubleheader On Fresh Virus Fears
Futures Slide, Dollar Surges Ahead Of Powell-Yellen Doubleheader On Fresh Virus Fears
Lockdown fears are back, and so are concerns that disinflation may be making a return.
Global markets and US index futures slumped alongside shares in Europe, where a resurgence of virus cases and a planned lockdown in Germany cast doubt on the region's economic recovery. Bond yields tumbled and the dollar jumped towards recent peaks on Tuesday with markets in a cautious mood ahead of Congressional testimony by Fed Chair Jerome Powell and Treasury Secretary Janet Yellen for clues on the pace of economic rebound.
At 715 a.m. ET, Dow E-minis were down 137 points, or 0.42%, S&P 500 E-minis were down 11.75 points, or 0.31% and Nasdaq 100 E-minis were down 7.00points, or 0.05%.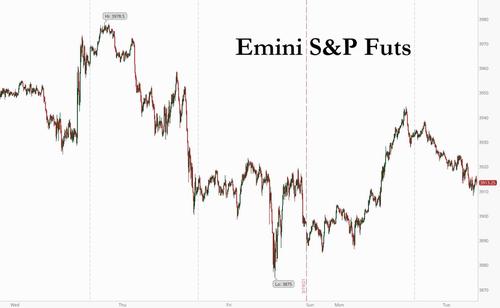 Energy giants Chevron, Occidental Petroleum and Exxon Mobil all dropped between 1.5% and 3.5% premarket as oil prices tumbled 3% on fears that new pandemic curbs and slow vaccine rollouts in Europe will slow a recovery in demand. Apple, Facebook and Microsoft eased between 0.2% and 0.7% from the previous session's jump. Shares of beloved meme stock GameStop, which is transitioning itself into an ecommerce firm, dropped 0.6% ahead of its fourth-quarter results due after markets close. U.S.-listed shares of AstraZeneca Plc fell 2.5% after a U.S. health agency raised fresh doubt on the results of the drugmaker's large-scale COVID-19 vaccine trials.
A mixed bag of new Western sanctions on China, coronavirus concerns and Turkish tumult after President Tayyip Erdogan's shock sacking of the central bank chief at the weekend left investors awaiting a firmer signal.
Adding to market jitters were further worries over the efficacy of the AstraZeneca Plc vaccine developed with Oxford University after a U.S. health agency said the drugmaker may have included outdated information in its data. Also, Germany imposing a strict Easter lockdown is sapping sentiment with European futures near session lows. Restrictions are less severe than earlier this year, yet lockdowns beyond March raise the risk of delaying the 2Q rebound.
Europe's Stoxx 600 Index fell 0.5% in early trading with automakers and energy shares down the most among sectors after Chancellor Angela Merkel put Germany into hard lockdown over Easter to try to calm another wave of infections. The move come amid signs that progress against the pandemic is stalling as global cases creep higher. European airlines and travel stocks declined again amid renewed concern on the summer holiday season and on the extension of restrictions to curb the Covid-19 pandemic. The Stoxx 600 Travel & Leisure Index is down 0.9% compared with a 0.4% drop for the broader equity gauge. Sliding oil also dragged down the Stoxx Europe 600 Energy Index which fell 0.8% extending its retreat to a seventh day as oil prices decline on concern near-term demand outlook. The Energy index is down 5% since March 12.
While a fresh lockdown in Europe's largest economy is putting investors on the back foot, the stabilization in bond yields is providing some relief against fears that heavy U.S. spending could reignite inflation and force tighter central-bank policy. All eyes turn to Washington later today, where Treasury Secretary Janet Yellen and Federal Reserve Chair Jerome Powell will speak on the pandemic response. "The path for equity from here is likely to remain choppy, in particular for less cyclical and long duration equity, as further steepening of the U.S. yield curve driven by real rates can further weigh on equity valuation," Goldman Sachs Group Inc. strategists led by Alessio Rizzi wrote in a note.
Europe's weakness echoed a downbeat mood earlier in Asia where MSCI's broadest index of Asia-Pacific shares outside Japan dropped 0.66%, hurt by a 0.95% fall in Chinese blue chips as a fresh wave of U.S. and European sanctions related to human rights abuses in Xinjiang hit. Stocks fell as investors sold financial companies after a drop in bond yields as well as other stocks expected to benefit from reflation and economic reopenings. Equities indexes in Tokyo, Hong Kong, Shanghai, Taipei, Soul and Sydney all traded lower. Banks including Japan's MUFG and Sumitomo Mitsui Financial were among the biggest drags on the MSCI Asia Pacific Index as the 10-year U.S. Treasury yield fell for a second day. Automakers such as Toyota Motor and Geely Automobile also weighed on the measure. Benchmark indexes in Hong Kong and China led losses in the region as stricter regulations on the e-cigarette industry rippled through the markets. Traders also pointed to profit-taking on the carbon-neutral theme. Japan's Topix swung to a loss of 0.9% from a gain of 0.6%, as investors were seen cashing in on recent advances in shares of banks and shipping firms. Main equity gauges in South Korea, Malaysia and Vietnam also ranked among notable decliners, while the Philippine benchmark posted Tuesday's biggest gain.
Japanese stocks fell, with the Topix capping its steepest two-day drop in a month, as banks and shipping shares slid on profit-taking. Both sectors were among the biggest decliners on the Topix, which erased an earlier advance of as much as 0.6%. A gauge of shipping stocks has surged 41% this year, the best performance on the benchmark, while a measure of bank stocks has risen 32% amid expectations for an economic rebound. "The cheap valuation stocks that have been rising recently, including banks and marine transportation, are falling on profit-taking," said Ryuta Otsuka, a strategist at Toyo Securities in Tokyo. "The shares went up a bit too much on expectations of an economic recovery." Automakers continued to drop amid ongoing concerns over the supply of semiconductors. The Topix's subgauge for the sector slid more than 3% Monday after a fire last week halted one of chipmaker Renesas Electronics Corp.'s largest plants, exacerbating a growing global shortage of automotive chips. "We believe the fire is likely to have a relatively heavy impact on Japanese automakers, which were relatively unaffected by chip shortages," Arifumi Yoshida, a Citigroup analyst, wrote in a report. The Nikkei 225 Stock Average declined for a third day. The gauge has fallen more than 4% since March 19, when the Bank of Japan announced its decision to focus on buying exchange-traded funds linked to the Topix.
In FX, the dollar firmed with markets turning their attention to an update from Powell. In remarks prepared for delivery to a congressional hearing on Tuesday morning, the Fed chief said the U.S. economic recovery had progressed "more quickly than generally expected". Powell is expected to reiterate his confidence in the economy's growth while cautioning the recovery is far from complete. Yellen is likely to paint an optimistic picture of the economy before the U.S. lawmakers later in the day. Their congressional hearings begin at 12 p.m. ET.
"We kind of know where the Fed is at in terms of yields, inflation and accommodation. We will want to hear a lot more about what Yellen says on additional stimulus," said Neil Wilson, chief market analyst for Markets.com.
"The FOMC last week laid out pretty clearly what the Fed's view is with regard to rates… the next thing that markets will focus on is maybe getting some details from Yellen with regard to further infrastructure investment," said Alex Wolf head of investment strategy for Asia at J.P. Morgan Private Bank, referring to a statement from the Federal Open Market Committee.
The New Zealand dollar hit a three-month low after the government introduced taxes to curb housing speculation, a move investors reckoned could allow the central bank to hold interest rates lower for longer with less risk of a property bubble. The kiwi slid as much as 1.6% against the dollar to its lowest since December as leveraged funds added short positions on the currency to trigger sell stops against the greenback, according to an Asia-based FX trader. Turmoil in Turkish assets continued in the wake of the central bank chief's surprise dismissal over the weekend, with a drop in the main stock index triggering a circuit breaker.
In rates, 10-year U.S. Treasury notes last yielded 1.6382%, down 6 bps on the session and sliding from 1.732% late on Friday. The 10Y outperformed bunds and gilts by ~3bp; 2s10s is flatter by nearly 6bp on the day, 5s30s by ~1bp. The benchmark 10-year German government bond yield dropped 1.9 basis points to -0.3290% as Monday's plunge in the Turkish lira and lingering concerns over coronavirus infection rates drove investors to safer assets.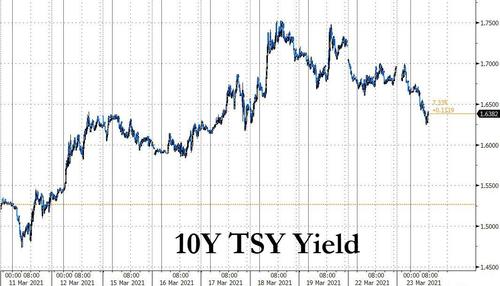 The Treasury sells $60BN in 2-year notes at 1pm ET beginning a cycle that includes $61b 5-year and $62b 7-year Wednesday and Thursday; as a reminder a poorly bid 7-year auction last month unleashed a disorderly bond selloff. IG credit issuance slate includes Nomura 5Y, 7Y, 10Y and Rentenbank 5Y; Oracle raised $15bn in 6 parts Monday on an order book said to exceed $35BN.
Oil prices fell 4%, hit by concerns that new pandemic curbs and slow vaccine rollouts in Europe will hold back a recovery in demand along with fresh travel restrictions. Brent crude futures dropped by $2.59, or 4%, to $62.03 a barrel by 1108 GMT. WTI crude futures fell by $2.43, or 3.95%, to $59.11 a barrel.
"Global travel is still looking like it could be a while away," said Matt Stanley, a fuel broker at Star Fuels in Dubai, adding that a second-half recovery in oil demand looked doubtful as lockdowns remain the order of the day.
Spot gold rose slightly to $1,740 per ounce by 1100 GMT, buoyed by easing U.S. Treasury yields, while bitcoin traded around $54,000.
Looking at the day ahead now, the main highlight will likely be the appearance of Fed Chair Powell and US Treasury Secretary Yellen before the House Financial Services Committee. Other central bank speakers Bullard (9am and 4:20pm), Bostic (10:10am), Barkin (11am), Brainard (1:30pm and 3:45pm) and Williams (2:45pm), as well as BoE Governor Bailey, Deputy Governor Cunliffe and Chief Economist Haldane, along with the ECB's Villeroy. Data highlights from the US include February's new home sales and March's Richmond Fed manufacturing index. Meanwhile the UK will be reporting its employment data for January. Finally, today sees parliamentary elections taking place in Israel.
Market Snapshot
S&P 500 futures down 0.4% to 3,915.25
SXXP Index down 0.4% to 422.63
MXAP down 0.7% to 206.47
MXAPJ down 0.7% to 684.82
Nikkei down 0.6% to 28,995.92
Topix down 0.9% to 1,971.48
Hang Seng Index down 1.3% to 28,497.38
Shanghai Composite down 0.9% to 3,411.51
Sensex up 0.4% to 49,980.89
Australia S&P/ASX 200 down 0.1% to 6,745.40
Kospi down 1.0% to 3,004.74
Brent futures down 2.7% to $62.85/bbl
Gold spot down 0.1% to $1,737.65
U.S. Dollar Index up 0.4% to 92.08
German 10Y yield down 2 bps to -0.33%
Euro down 0.4% to $1.1887
Top Overnight News from Bloomberg
The economy seems to be gathering steam, though it is still far from fully recovering from the damage wrought by the pandemic, Federal Reserve Chairman Jerome Powell said
Chancellor Angela Merkel and regional leaders agreed to put Germany into hard lockdown over Easter to try to defuse a "third wave" of Covid-19 infections fueled by faster-spreading mutations
AstraZeneca Plc may have released outdated information about its Covid-19 vaccine trial, giving an "incomplete" view of the efficacy of the shot, said the leading U.S. agency on infectious diseases
The European Union and Britain are pursuing talks to break their deadlock over AstraZeneca Plc's coronavirus shots
Quick look at global markets courtesy of Newsquawk
Asian equity markets deteriorated throughout the session with the initial euphoria from the tech-led gains on Wall Street and the softer yield environment derailed as Chinese markets entered the fray following the latest sanctions announcements. ASX 200 (-0.1%) began positively amid strength in utilities and telecoms although gains were then wiped out as financials suffered due to softer yields and amid insurance claims from the ongoing flooding with warnings issued for Victoria state and east of the country. Nikkei 225 (-0.6%) was lifted at the open following the positive handover from US peers and with Goldman Sachs raising its 12-month target for the Nikkei 225 and TOPIX by 8.8% and 10.8% to 32,250 and 2,150, respectively, before the index eventually succumbed to the headwinds from currency inflows. Hang Seng (-1.3%) and Shanghai Comp. (-0.9%) were the worst performers and dragged down their regional peers after the US, Canada, UK and EU announced an array of sanctions on China over Uyghur Muslims to which China responded with its own travel bans and stated that the measures were based on lies and disinformation, while Baidu's Hong Kong debut was viewed as a damp squib in which the Co.'s shares reversed early minimal gains. Finally, 10yr JGBs traded indecisive but held on to Monday's gains with price action contained amid an indecisive risk tone and softer demand at the enhanced liquidity auction for 2yr, 5yr, 10yr and 20yr JGBs, while New Zealand yields were hit overnight with the 10yr down over 6bps following the government announcement of a NZD 3.8bln fund to accelerate housing supply and curb the rising house prices.
Top Asian News
Central Bank of Erdogan Has Foreign Cash Exiting Turkey; Turkish Stocks Sink, Flipping Circuit Breakers for Second Day
China's Stock Benchmark Falls Back to Key 5,000 Support Level
Singapore Joins Wall Street in Planning for Return to Office
Thai Billionaire Betting on Tourism Rebound Eyes Troubled Hotels
Stocks in Europe kicked off the session with relatively broad-based losses across the board, but have since lifted off worst levels (Euro Stoxx 50 -0.3%) despite a distinct lack of fresh news flow throughout the morning and following on from a mixed APAC lead. Major bourses see broad-based losses, with the Euro Zone initially experiencing volatility in the DAX (-0.2%) as Germany is facing more stringent COVID-related measures during the Easter period. However, the FTSE MIB (-0.8%) currently stands as the laggard amid its large exposure to cyclicals coupled with some potential jitters over the COVID situation in neighbouring countries. Elsewhere, the FTSE 100 (-0.4%) underperformed at the open amid currency dynamics and losses across oil majors, but the UK index now trades in-line with regional peers somewhat aided by pressure in GBP. US equity futures are also subdued but with the cyclically led RTY (-1.3%) the clear underperformer vs the NQ (-0.2%), YM (-0.4%), and ES (-0.4%). This anti-cyclical tone is also reflected across European sectors as Autos, Oil & Gas, Leisure and Basic resources reside at the bottom. Autos continue to be hit by the ongoing chip shortages, with the EZ lockdowns only adding to the glum tone. Oil & Gas has been hit by notable losses in the crude complex. Travel & Leisure is battling with the less rosy outlook for the sectors, with reports via UK press also suggests that the threat of penalties for holidaying to remain in place until end-June, although the UK Health Secretary remarked that timings do remain unchanged. Nonetheless, the EZ measures to stem the rising infection rates have hindered the sectoral recovery. The upside meanwhile sees defensive sectors, with Consumer Staples, Utilities and Telecoms in the green whilst Healthcare is pressured by Roche (-1.4%) as the group discontinued trials of their Huntington's disease treatment candidate tominersen based on the results of a pre-planned review of the data. Further downbeat omens for the sector could also emanate from AstraZeneca (-1.2%) as US officials said the Co. might have included outdated information from its Covid-19 vaccine trial, providing an "incomplete" view of the data. In terms of individual movers, Volvo (-6.7%) resides as a notable laggard at the foot of the Stoxx 600 after its stated that the global semiconductor shortage will have a substantial impact on Q2 production and is expected to hurt earnings and cash flow.
Top European News
Carlyle Agrees to Buy $1 Billion U.K. Online Luxury Retailer END
Hungary's Doctors Plead for Harsh Lockdown as Deaths Hit Records
Trustpilot Surges in Debut as London IPO Raises $655 Million
Denmark Says Lockdowns Can End Once All Over-50s Vaccinated
In FX, almost all change down under as the Kiwi unwinds all and more of its recovery gains through 1.0800 vs the Aussie to slide below 1.0850 and not far from 1.0900 in wake of the NZ Government launching a Nzd 3.8 bn housing fund to boost supply and curb a rise in prices with the ultimate aim of preserving economic stability. The moves takes some of the onus off RBNZ monetary policy following an amendment to the remit to incorporate property price inflation and aside from Nzd weakness it also resulted in a relatively steep retreat in bond yields. Nzd/Usd is now testing new y-t-d lows around 0.7025 ahead of trade data, while Aud/Usd is holding above its 2021 trough circa 0.7621 and 0.7650 in advance of PMIs.
DXY – The demise of its Antipodean rivals may have provided the Greenback with traction and a solid overnight platform to build on, but the subsequent rebound has been much more broad-based with only the Yen evading the Dollar's clutches in G10 land and Lira putting up some resistance alongside the Yuan on the EM front. Moreover, the index gathered more momentum and bullish technical impetus once 92.000 was breached as counterparts lost psychological and key chart levels and the DXY is now just shy of 92.155 vs 91.753 at worst in the run up to a raft of Fed speakers, more US housing data and the start of this week's auction schedule in the form of Usd 60 bn 2 year notes.
CHF/GBP – Little surprise to see Monday's outperformer concede quite a lot of ground to the bouncing Buck, as the Franc retreats abruptly from another test of 0.9250+ terrain towards 0.9300 and to 1.1050 or so against the Euro from not far off 1.1000 at one stage. Similarly, Sterling has lost more momentum approaching 1.3900 and pulled back through the 50 DMA at 1.3830 before losing 1.3800+ status altogether and is now looking even more prone around the 1.3760 pivot point that prefaced Cable's rally, while Eur/Gbp is back in the ascendency after a fleeting test of underlying bids/support around 0.8600, with the deriving little if anything from mixed UK labour and wage data.
CAD/EUR- Also recoiling vs their US peer, with the Loonie struggling to stay afloat of the 1.2600 handle against the backdrop of collapsing crude prices and awaiting comments from BoC's Gravelle for any independent impetus, while the Euro is striving to stay within sight of 1.1900 and stop the rot before getting too close to the 200 DMA (1.1860).
JPY – As noted above, the Yen is bucking the overall trend and revisiting peaks beyond 108.50 vs the Greenback on a wave of pre-month end buying, but also benefiting from the fact that US Treasuries are rebounding and the curve re-flattening post-Tuesday's official JGB close. However, decent option expiry interest at the 108.00 strike (2 BN) and just above may underpin Usd/Jpy.
In commodities, WTI and Brent front month futures have started the session on a markedly softer footing and have been selling off throughout the European morning. Currently, WTI trades below USD 59.00/bbl (vs high USD 61.35/bbl) and Brent trades mid USD 61.00/bbl (vs high USD 64.30/bbl), ahead of last week's lows around USD 58.30/bbl and USD 61.50/bbl respectively. Additionally, the Brent May and April curve has flipped into contango for the first time since January. Moreover, the softer sentiment seen could largely be down to the slow vaccine rollouts and increasing COVID infection rates across large Eurozone economies. Consequently, it has led to new pandemic measures which can be in illustrated in Germany, Europe's biggest oil consumer, who announced over Easter (April 1st to April 5th) people should stay at home and only food shops will be open. This also comes as France observes its respective lockdown whilst reports via UK press suggested that international travel could be affected, although the UK government later poured cold water on this. Elsewhere, Saudi Arabia is proposing a peace initiative to the Houthis to end the Yemen war, which would include a nationwide ceasefire. This could potentially be of interest as it may put the Saudi Aramco facility at ease and reduce the likelihood of it getting targeted in the interim. In terms of bank commentary, Barclays expects US crude oil output to grow by 600k BPD Q4 2020 to Q4 2021 and be priced at USD 62/bbl, whilst for 2022 output is seen growing 800k BPD and WTI trading at USD 68/bbl. For Brent, Barclays forecasts prices at 66/bbl and USD 71/bbl for 2021 and 2022 respectively. Today's notable risk events include Fed's Powell & weekly private inventory data, although market sentiment, lockdown/virus developments are likely to hold the narrative. Onto precious metals, spot gold has traded choppily and currently resides in marginally firmer territory whereas silver has seen pronounced downside all morning, which could be tied into the Dollar upside. XAU trades just above USD 1,740/oz (vs low USD 1,731/oz) and XAG is marginally above USD 25.50/oz (vs high USD 25.81/oz). Moving onto base metals, LME copper follows the general sentiment and is softer whilst trading just above USD 9,000/t at the time of writing. Overnight, the most-actively-traded Shanghai aluminium futures hit limit-down and its lowest level in a month amid reports China is contemplating over whether to sell aluminium state reserves to cool prices. Dalian coke futures fell for a third straight session potentially due to the weak demand, and in tangent with the steel mills in Shanxi and Hebei lowering their buying prices because of plentiful stocks.
US Event Calendar
8:30am: 4Q Current Account Balance, est. -$188b, prior – $178.5b
10am: March Richmond Fed Index, est. 16, prior 14
10am: Feb. New Home Sales MoM, est. -5.7%, prior 4.3%
10am: Feb. New Home Sales, est. 870,000, prior 923,000
Central Banks
9am: Fed's Bullard Discusses Economy at LSE Event
10:10am: Fed's Bostic Discusses Economic Inclusivity
11am: Fed's Barkin Takes Part in Virtual Discussion
12pm: Powell, Yellen Appear Before House Panel on CARES Act
1:30pm: Fed's Brainard Gives Speech on Climate Change
2:45pm: Fed's Williams Takes Part in Virtual Discussion
3:45pm: Fed's Brainard Discusses Economic Outlook
4:20pm: Fed's Bullard Takes Part in Discussion at NABE
DB's Jim Reid concludes the overnight wrap
Markets drove it straight down the middle yesterday and got the week off to a strong start on the whole as lower sovereign bond yields proved supportive for global equities. Not even Turkey struggling deep in the rough was enough to derail the day. In fact, markets had generally erased the previous week's moves surrounding the Fed meeting by yesterday's close, with yields on 10yr US Treasuries down -2.6bps to 1.695%, which puts them only slightly above where they'd been prior to the Fed's decision last week, and well below the intraday high of 1.753% reached last Thursday. Over in equity markets it was a similar story, with the S&P 500 up +0.70% to nearly reverse the previous week's declines. Unsurprisingly given the fixed income moves, it was tech stocks that led the way, as the NASDAQ (+1.23%) and the NYSE FANG+ (+1.32%) both recorded strong performances. Predictably financials suffered at the other end of the spectrum with the S&P 500 Banks group shedding -2.27%. Energy stocks, the other cyclical darling of recent weeks, fell back -1.01% even as oil prices moderated following last week's large loss.
Looking at the moves in more depth, the declines in Treasury yields were concentrated at the long end of the curve, with 30yr yields down -3.5bps, whereas 2yr yields were down just -0.2bps, though they were actually up for the majority of the day. Furthermore, it was lower real rates rather than inflation expectations that drove the moves, with 10yr real yields down -4.1bps and breakevens up +1.5bps. In fact, long-term inflation expectations recorded fresh milestones yesterday, with 30yr breakevens up another +1.9bps to 2.294%, reaching levels not seen since 2014.
Over in Europe there was also a move lower in yields, with those on 10yr bunds (-1.7bps), OATs (-1.3bps) and BTPs (-1.7bps) all falling slightly. That came as data showed the ECB's net purchases under their Pandemic Emergency Purchase Programme (PEPP) rose to €21.1bn in the week to March 19, which was the fastest pace since December, though we won't get the gross number until today. It was broadly in line with what was expected. Equity markets were more subdued than their US counterparts however, with the STOXX 600 (+0.19%) and the DAX (+0.25%) both seeing modest rises. The big continental loser yesterday was Spain's IBEX 35 (-1.76%), which was hurt by BBVA's decline (-7.72%) as a result of its exposure to Turkey.
Markets in Asia are trading lower though with the Nikkei (-0.39%), Hang Seng (-1.34%), Shanghai Comp (-1.18%) and Kospi (-0.93%) all declining. The underperformance of Chinese bourses is likely due to the US, UK and Canada joining the EU to impose sanctions on the country over alleged human rights abuses on the Uyghurs in Xinjiang. Futures on the S&P 500 are down -0.19% while those on the Nasdaq are down a greater -0.35%. European ones are pointing to a weaker open too. Sovereign yields continue to soften with those on 10y USTs down -2.6bps to 1.671% driven by a decline in 10y real yields. Australia (-2.8bps) and New Zealand's (-6.5bps) 10y yields are also trading softer. In Fx, the New Zealand dollar is -1.12% lower after the government took steps to arrest a bubble in housing such as removing tax incentives for property investors and unlocking more land to increase supply. Elsewhere WTI and Brent crude oil prices are also down -1% this morning.
In other news, US Treasury secretary Yellen emphasised in her prepared remarks that encouraging economic data shouldn't distract from the progress still to be made while Fed Chair Powell reaffirmed that the Fed will continue to support the US economy for as long as it takes, in a speech for his accompanying appearance. These remarks will be part of their appearance before the House Financial Services Committee later today. So soon after the FOMC there are unlikely to be any major surprises. Meanwhile, Bloomberg has reported that the BoJ's plan to stop buying the Nikkei 225 ETF won't take effect until the start of next month as this will allow the central bank and trust banks it employs to make the necessary preparations for the adjusted buying program. Elsewhere, Bloomberg reported that Microsoft is in talks to acquire Discord Inc., a video-game chat community, for more than $10bn.
On the pandemic, the news came through just after we hit your inboxes yesterday that the AstraZeneca vaccine was 79% effective in a US trial at preventing symptomatic Covid cases, and 100% effective at preventing severe disease and hospitalisation. Furthermore, among the over-65s, the efficacy was 80%, and in a specific review of thrombotic events, no increased risk was found among the 21,583 participants who received at least one dose in the trial. AstraZeneca said that they planned to submit their data and analysis to the US FDA, in order to obtain an Emergency Use Authorization "in the coming weeks". However, overnight the National Institute of Allergy and Infectious Diseases has said in a statement that the Data and Safety Monitoring Board has expressed concern that AstraZeneca may have included outdated information from the trial, which provided an incomplete view of efficacy data. The NIAID statement further added that the body urges AZ to work with DSMB to review efficacy of the data and ensure the most accurate, up-to-date data be made public as quickly as possible.
Staying on the pandemic, Germany extended its lockdown a further 4 weeks taking it to April 18, while nearby Austria cancelled its reopening plans, which were scheduled to start just after Easter. Overnight Bloomberg has reported that Germany will go into a hard lockdown for 5 days from April 1 (over Easter) to help reverse a "third wave" of Covid-19 infections. Under the hard lockdown plan, all stores will be shuttered for the five days, except for food stores which will open on April 3. Citizens will be encouraged to remain at home while private gatherings will be limited to one other household and a maximum of five people, and public meetings banned.
Meanwhile, the question of whether the EU would impose export controls on the AstraZeneca vaccine remained in the headlines, ahead of the EU leaders' summit on Thursday and Friday. In the UK however, Prime Minister Johnson struck an emollient tone, saying that "I am reassured by talking to EU partners over the last few months that they don't want to see blockades." Nevertheless, it was confirmed that Johnson had spoken to President Macron and Chancellor Merkel on Sunday regarding the issue, which threaten to increase tensions further between the two sides if imposed, and could lead to retaliatory measures by the UK side. Notably however, there doesn't seem to be unanimity within the EU on the merits of vaccine controls, with Irish Prime Minister Martin saying yesterday in an RTE interview that they'd be a "retrograde step" and "counterproductive". There was some good news late last night as Bloomberg reported that EU leaders were in negotiations with the UK to share the output from a Dutch AZ plant. Meanwhile the US continues its vaccine programmes, with more states lowering eligibility ages in an effort to get the population vaccinated quickly in an efficient manner. NY state lowered the age to 50 and over, while Arizona lowered it all the way down to 16.
There wasn't a great deal in the way of data yesterday, though existing home sales in the US fell to a 6-month low, down at an annualised rate of 6.22m in February (vs. 6.49m expected). In addition, the Chicago Fed's national activity index fell to -1.09 (vs. 0.72 expected), marking the first decline since April last year.
To the day ahead now, and the main highlight will likely be the appearance of Fed Chair Powell and US Treasury Secretary Yellen before the House Financial Services Committee. Other central bank speakers include the Fed's Bullard, Bostic, Barkin, Brainard and Williams, as well as BoE Governor Bailey, Deputy Governor Cunliffe and Chief Economist Haldane, along with the ECB's Villeroy. Data highlights from the US include February's new home sales and March's Richmond Fed manufacturing index. Meanwhile the UK will be reporting its employment data for January. Finally, today sees parliamentary elections taking place in Israel.
Tyler Durden
Tue, 03/23/2021 – 07:57