Futures Slide On Doubt Biden Can Pass $1.9 Trillion Stimulus; Reflation Trade Fizzles
Futures Slide On Doubt Biden Can Pass $1.9 Trillion Stimulus; Reflation Trade Fizzles
US equity futures and global shares slumped on Friday after Joe Biden unveiled his massive – and perhaps untenable – stimulus plan as concerns grew that the president-elect will struggle to gain support for his $1.9 trillion pandemic relief plan. Stocks dropped while bonds were mixed.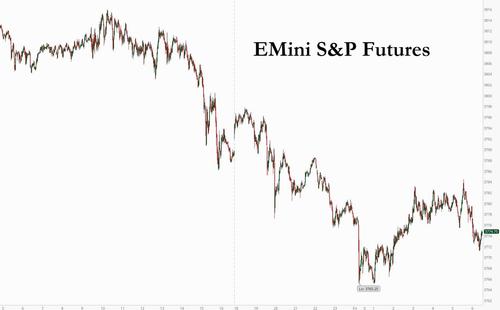 In prime-time remarks, Biden outlined a proposal that includes $415 billion aimed at the COVID-19 response, some $1 trillion in direct relief to households, and roughly $440 billion for small businesses and communities hard hit by the pandemic.
But that initial boost later faded as risk appetite waned, lifting bond prices and the dollar, and hitting equities as attention turned to how much of the package will ultimately get passed by Congress, with the go-big price tag and the inclusion of proposals set to be opposed by many Republicans. As lawmakers wrangle over details, U.S. jobless claims published Thursday painted a dismal picture and the U.S. is leading all countries in virus deaths with New York state reporting more than 200 daily fatalities for the first time since May.
"People are saying it's a big number but markets are almost acting like its a disappointment," said James Athey, investment director at Aberdeen Standard Investments. "I think maybe the market was pricing an additional $2,000 cheque going to the U.S. population, but what's being proposed is a top-up of $1,400 to take the total to $2,000 because $600 has already been agreed."
That… plus markets are realizing that the plan is unlikely to pass in its format, because if even one centrist Democrats objects the entire plan may fall apart. Investors also digested the prospect of rising taxes to pay for the plan.
"The concern is what it's going to mean from a tax stand point," said Tim Ghriskey, chief investment strategist at Inverness Counsel in New York. "Spending is easy to do but the question is how are you going to pay for it? Markets often ignore politics but they don't often ignore taxes."
"Biden's big fiscal plans are out of the bag, and now the current dire situation is countering U.S. reflation hopes," Antoine Bouvet, a senior rates strategist at ING Groep NV, wrote in a note. "It is unlikely going to get any better soon, given the currently slow rate of vaccine rollouts."
Biden's comments came after Federal Reserve Chair Jerome Powell struck a dovish tone in comments at a virtual symposium with Princeton University. Powell said the U.S. central bank is not raising interest rates anytime soon and rejected suggestions the Fed might start reducing its bond purchases in the near term.
Investor concerns over the prospects for a global economic recovery were also raised after France strengthened its border controls and brought forward its night curfew by two hours to 6 p.m. for at least two weeks to try to slow the spread of coronavirus infections, while Germany Chancellor Angela Merkel called for "very fast action" to counter the spread of variants of the coronavirus.
As a result, the MSCI world equity index was 0.2% lower. S&P 500 e-mini futures shed 0.3% to 3,779. Chinese smartphone manufacturer Xiaomi tumbled 10% after the Trump administration unexpectedly blacklisted the company for alleged military links along with the country's third-biggest oil company over its drilling in the South China Sea.
European stocks followed Asian markets lower, with the pan-European STOXX 600 down 0.4% as energy firms and miners led declines in the Stoxx 600 Index, with the gauge on course for its first weekly loss since since mid-December. Optimism about the U.S. aid package had helped spur the reflation trade, but the plan is far from a done deal. Biden's proposal could be watered down under Congressional opposition, and there's the possibility that some taxes could rise. London's FTSE 100 0.6% weaker, with the latter clobbered by data showing Britain's economy shrank in November for the first time since the initial COVID-19 lockdown last spring as social-distancing rules tightened.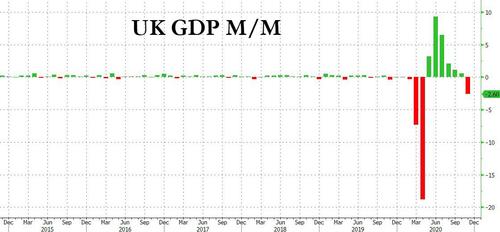 Earlier on Friday, an Asian regional stock benchmarks slipped, weighted down by Chinese smartphone maker Xiaomi after the Trump Administration blacklisted the firm and 10 other companies. Xiaomi plunged 10% on the unexpected move that means American investors will be prohibited from buying its securities and will have to divest holdings by November. South Korea underperformed as Samsung Electronics fell, while Japanese shares also declined, led by automakers on supply chain concerns and chip shortage. Uniqlo owner Fast Retailing dropped even after operating profit beat estimates. Taiwan shares gave up earlier gains despite Taiwan Semiconductor Manufacturing's advance. The chip giant reported upbeat earnings and disclosed plans for as much as $28 billion in capital spending in 2021. Chinese blue chips eased 0.2%, snapping a four-week winning streak, after on Friday the country reported the highest number of new COVID-19 cases in more than 10 months. Sentiment was also soured by a further strain in Sino-U.S. relations after the Trump administration imposed sanctions on officials and companies for alleged misdeeds in the South China Sea and an investment ban on nine more firms.
In FX, the dollar recouped most of Thursday's decline on comments by Federal Reserve Chairman Jerome Powell indicating that a rate rise is off the agenda.
In rates, Treasuries advanced on worries that Biden's $1.9 trillion relief plan may draw Republican opposition over big-ticket spending on Democratic priorities including aid to state and local governments. The 10-year Treasury yield eased 3bps near 1.10%, while Australian bonds jumped on AOFM issuance plan with 10-year yield near 1.08%. Aussie at the bottom of G-10 scoreboard, yen holds near 103.80/USD.
In commodities, oil slipped from a 10-month high and Bitcoin fluctuated around $38,000 after recovering from this week's rapid plunge. Oil prices, which had risen on a weak dollar and strong Chinese import data, dropped as COVID-19 concerns in China hit sentiment. Brent crude oil futures fell 1.2%, to $55.71 a barrel while WTI lost 0.9% to $53.11. Spot gold rose 0.2% to $1,850.16 per ounce.
Today the earnings season will kick into full swing with results from JPMorgan, Citigroup and Wells Fargo. Investors will be looking to see if banks are starting to take down credit reserves, resume buybacks, and provide guidance that shows the economy is improving, said Thomas Hayes, chairman of Great Hill Capital in New York.
Market Snapshot
S&P 500 futures down 0.4% to 3,777.25
STOXX Europe 600 down 0.4% to 410.39
MXAP down 0.6% to 209.00
MXAPJ down 0.5% to 698.28
Nikkei down 0.6% to 28,519.18
Topix down 0.9% to 1,856.61
Hang Seng Index up 0.3% to 28,573.86
Shanghai Composite up 0.01% to 3,566.38
Sensex down 1.1% to 49,025.22
Australia S&P/ASX 200 unchanged at 6,715.43
Kospi down 2% to 3,085.90
Brent futures down 1.6% to $55.50/bbl
Gold spot up 0.4% to $1,854.19
U.S. Dollar Index up 0.2% to 90.39
German 10Y yield rose 0.6 bps to -0.544%
Euro down 0.2% to $1.2137
Italian 10Y yield rose 4.3 bps to 0.532%
Spanish 10Y yield fell 0.3 bps to 0.058%
Top Overnight News from Bloomberg
Italian Prime Minister Giuseppe Conte is racing against time to forge a new majority that would keep him in power after a junior ally abandoned him, with the day of reckoning set for Tuesday in a Senate vote. But the premier's options — and his room for maneuver — are limited
The U.K. economy shrank less than expected during the lockdown in November, making it possible the nation will avoid a double-dip recession
China's current interest rates are appropriate and level of banks' reserve requirement ratios is not high, Sun Guofeng, head of PBOC's monetary policy department, says at a briefing
A quick look at global markets courtesy of Newsquawk
Asian equity markets were subdued as they failed to shrug-off the weak lead from US where the major indices were dragged heading into earnings season and amid discouraging jobless claims numbers, with participants also digesting the US blacklisting of additional Chinese companies and President-elect Biden's stimulus plans in which he announced a two-step rescue and recovery plan. The details of the USD 1.9tln rescue plan had been flagged beforehand which included a boost in stimulus payments to USD 2,000 and called for a USD 15/hour national minimum wage, while the recovery plan will be unveiled next month and he added the vaccination target is for 100mln shots in the first 100 days of his term. Biden also stated that the plan will not come cheaply and made a reference to everyone paying their fair share in taxes which subsequently saw some mild downticks in US equity futures to resume yesterday's mild declines. ASX 200 (U/C) closed flat as outperformance in tech helped keep the index afloat and amid hopes of further easing of restrictions with the Victoria state government planning to permit international students to re-enter the state, while Nikkei 225 (-0.6%) languished after recent detrimental currency inflows and calls for PM Suga to consider a nationwide state of emergency declaration. Hang Seng (+0.2%) and Shanghai Comp. (U/C) were indecisive despite the PBoC conducting a CNY 500bln 1-year MLF operation, with risk appetite sapped after US added nine companies to the list of firms it considers to be associated with the Chinese military including COMAC and Xiaomi which saw the latter decline by around 10%, while the US also included CNOOC and Skyrizon to its entity list due to threats to national security which subjects them to export restrictions. Finally, 10yr JGBs were steady with prices kept afloat by the uninspired mood in Tokyo and with firmer demand at the enhanced-liquidity auction for longer-dated JGBs doing little to spur prices.
Top Asian News
China May Accept Some Stranded Australian Coal Cargoes
Trump Blacklisting Jolts China's Ambitions to Take on Boeing
Japan Seeks Mid-February Pfizer Vaccine Approval
China Unexpectedly Drains Cash as Leverage Builds in Bonds
Core European indices see modest losses across the board (Euro Stoxx 50 -0.7%) after the region picked up the subdued/mixed baton from the Asia-Pac session. State-side, US equity futures conform to the lacklustre tone after US President-elect Biden announced the widely telegraphed stimulus package overnight which totals some USD 1.9tln – for which full analysis can be found here. Additionally, participants are digesting the latest escalation in US-Sino tensions after Washington added some large-cap Chinese industrial, energy and tech giants to its blacklist – albeit the general view is that China is unlikely to respond to the outgoing Trump administration in the hope tensions can be cooled with the incoming US President. Traders are also on standby for the official start of US earning season, with JP Morgan (11:55GMT), Wells Fargo (12:55GMT) and Citigroup (13:00GMT) all set to report. Sticking with the theme of banks, but in Europe, Exane expects three main themes to dominate the European banking sector this year: 1) the rapid fall in impairments resulting in sizeable EPS and DPS upgrades, 2) cyclical NII headwinds and 3) reflation – likely to matter most near-term. Meanwhile, JP Morgan and Goldman Sachs are bullish on the European stock market outlook, with the former stating "The potential better performance of value cyclicals, especially financials and commodities, is typically a big tailwind for Europe," and the latter suggesting "It seems likely that markets will be a bit bumpy, but the backdrop is still supportive of equities". Back to the European session, the FTSE MIB (Unch) was the only EZ gainer after PM Conte informed Italian President Mattarella that he has no intention of resigning as things stand – ahead of a reported confidence vote after Conte speaks to the lower house. Sectors meanwhile are mostly lower with no clear risk bias, but gains in the healthcare sector underpinning Switzerland's SMI (+0.1%) due to its large exposure to pharma. Financials are also propped up as Italian banks see tailwinds from the price action in BTPs. The other end of the spectrum sees Basic Resources and Oil & Gas as the laggards amid a pullback of prices in the respective complexes. In terms of individual movers, SAP (+1.5%) is supported after providing an overall positive Q4 update while noting FY FCF significantly exceeding raised outlook. On the flip side, Carrefour (-4.1%) shares yield after French Finance Minister Le Maire said "it is a firm and final no" to the potential acquisition after reports that Couche-Tard is prepared to invest EUR 3bln into Carrefour over the next five years. Finally, British American Tobacco shares (+1%) are kept afloat as the UK SFO discontinued the probe into the group with regards to corruption.
Top European News
U.K. Recession Risk Eases as GDP Declines Less Than Forecast
Clock Ticks for Italy's Conte as He Braces for Senate Vote
Scottish Fishermen Sail to Denmark as Brexit Jams EU Exports
Carrefour Falls on Govt's Firm Rejection of Couche-Tard Deal
In FX, the Dollar remains largely rangebound between 90.500-000 parameters in DXY terms, but appears to have survived another bout of selling pressure after US President-elect Biden essentially delivered what was anticipated on the fiscal front, and Fed chair Powell effectively extinguished the taper debate along with reiterating no lift-off in rates anytime soon. The latest Buck bounce comes amidst a broad downturn in risk sentiment as stock markets retrace in a 'buy rumour, sell fact' fashion, and the focus shifts to whether the incoming Democrat leader manages to get his first stimulus bill through Congress after inauguration on January 20. More immediately, data looms in the form of NY Fed Manufacturing, Retail Sales, PPI, IP and Michigan Sentiment and the macro releases could take on more importance after Thursday's worrying jobless claimant counts.
CAD/NZD/AUD/GBP – Almost all change for the so called cyclical currencies as the make way for the Greenback rebound and deterioration in risk appetite rather than anything major or new in terms of independent negative of bearish factors. The Loonie has recoiled towards 1.2700, perhaps in line with weaker crude prices even though the correlation has been sporadic of late, while the Kiwi is back below 0.7200 after little traction from a recovery in NZ food prices and the Aussie has retreated from the high 0.7700 area through 0.7750 irrespective of reports that China may lift its ban on some coal imports and COVID-19 restrictions in the state of Victoria could be eased further, or a marked pick-up in mortgage financing. Elsewhere, an end of week UK data dump after slim pickings so far was probably too conflicting or old to provide the Pound with much direction, as Cable continues to meet resistance around 1.3700 and find support into or circa 1.3600.
JPY/CHF/EUR – The Yen and Franc are marginally outperforming after paring declines vs the Dollar from sub-104.00 and 0.8900 lows on Thursday, with the former now eyeing its wtd peak just shy of 103.50 and latter looking at 0.8870 before 0.8850, both hit on January 15. Moreover, Eur/Chf is back below 1.0800 due to more localised or regional risk surrounding Italian politics as PM Conte looks set to face a confidence vote next Monday. Indeed, this is also keeping the Euro tethered/capped elsewhere, albeit not impeding a firm bounce in BTPs, as Eur/Usd fails to reclaim 1.2150+ status and Eur/Jpy reverses from 126.20 to 125.65.
SCANDI/EM – Highlighting the less upbeat tone, Eur/Sek has actually bounced from beneath 10.1000 in wake of firmer than forecast Swedish inflation data and Eur/Nok is over 10.3000 following a significant widening in Norway's trade surplus. Meanwhile, EMs are largely lagging the Usd for the same rationale, and with the Try only deriving partial support from reports that Turkey and Greece are set to hold military talks at NATO next week. Conversely, the Cnh/Cny are still holding up well in the face of growing China-US angst, as the PBoC injects more short and long term liquidity and set a firmer on-shore reference rate.
In commodities, WTI and Brent Mar futures trade with losses of almost USD 1/bbl apiece heading into the US market entrance amid the lacklustre mood in the markets alongside a firmer Dollar and as news flow remains light. That being said, prices remain in within recent ranges with WTI now sub-USD 53/bbl (vs. high USD 53.81/bbl) while its Brent counterpart gave up USD 56/bbl status (vs high 56.50/bbl). In terms of price forecasts, JP Morgan remains bullish on crude and sees prices overshooting USD 60/bbl in the near term as the market moves into a deficit. Elsewhere, precious metals eke mild gains following the announcement of the Biden stimulus package and as real yields are modestly softer – with spot gold oscillating on either side of USD 1850/oz and spot silver eyeing USD 27.50/oz to the upside. Meanwhile, base metals prices pull back amid the market tone, firmer Buck and US-China tensions, with LME copper below USD 8,000/t after reaching a weekly high of USD 8,115/t.
US Event Calendar
8:30am: PPI Final Demand MoM, est. 0.4%, prior 0.1%; PPI Ex Food and Energy MoM, est. 0.2%, prior 0.1%
8:30am: PPI Ex Food, Energy, Trade YoY, est. 0.9%, prior 0.9%; PPI Ex Food and Energy YoY, est. 1.3%, prior 1.4%
8:30am: Empire Manufacturing, est. 6, prior 4.9
8:30am: Retail Sales Advance MoM, est. 0.0%, prior -1.1%; Retail Sales Ex Auto MoM, est. -0.2%, prior -0.9%;
9:15am: Industrial Production MoM, est. 0.5%, prior 0.4%; Manufacturing (SIC) Production, est. 0.5%, prior 0.8%
10am: Business Inventories, est. 0.5%, prior 0.7%
10am: U. of Mich. Sentiment, est. 79.5, prior 80.7; Current Conditions, est. 87, prior 90; Expectations, est. 74, prior 74.6
DB's Jim Reid concludes the overnight wrap
While President-elect Biden gave a speech on his stimulus proposal well after markets had closed in the US, an outline of his plan was released during the last hour of trading and therefore impacted the session with both bonds and equities selling off. Bonds have reversed their late US sell-off in the Asian session though. The plan cited an initial ask of $1.9 trillion in fresh stimulus, composed of direct payments to individuals, small business aid, state and local government aid, and funding for a national vaccine rollout, among other initiatives. The measure will add $1400 to the $600 checks that congress approved last month, fulfilling the campaign promise that the new Georgia Senators and Mr Biden had pledged. The bill is also expected to extend the supplemental federal unemployment benefits, which are set to expire in March, along with rent relief. One measure that is sure to be a fairly large sticking point is the $15 national minimum wage, which would be a permanent change. The President-elect also made clear that he would be laying a second, broader economic recovery plan in February at a joint session of Congress. That plan will lay out infrastructure spending and plans to attack climate change. It seems it will also lay out tax raising plans which is catching the market off guard a little this morning. It was always coming but the mention of it might be a bit earlier than expected.
Indeed Asian markets are largely trading lower with the Nikkei (-0.52%), Hang Seng (-0.58%), Shanghai Comp (-0.83%) and Kospi (-1.54%) all down. Futures on the S&P 500 are also down -0.38% while European counterparts are also pointing to a weaker open. Not helping sentiment is also news that President Trump's administration has moved 9 Chinese firms including Xiaomi and Commercial Aircraft Corp. of China on a blacklist for alleged military links, a move that will restrict US investments in these securities. Amidst the risk off, spot gold prices are up +0.34% while Brent crude oil prices are down -0.58%.
While the new administration is focused on providing fiscal stimulus to support the economic recovery through the end of the pandemic and beyond, Fed Chair Powell earlier made clear that the central bank was not ready to discuss an exit from the current very easy monetary policy stance. Chair Powell said ," "We know we need to be very careful in communicating about asset purchases," saying that the central bank had learned a lesson from the process following the Global Financial Crisis. He went on to promise that the FOMC will "communicate very clearly to the public …well in advance of active consideration of beginning a gradual taper of asset purchases." He noted that the committee will need to see inflation over 2% target for a while before acting in order for the new framework to be credible.
Treasuries were fairly muted in reaction to poor claims data yesterday (965k – their highest level since August and well above the 789k expected), but then yields started to rise sharply through Powell's remarks before getting an extra kick higher after the outline of Biden's $1.9 trillion stimulus plan hit. The 10yr closed +4.6bps higher at 1.129% after trading just above unchanged prior to the Fed chair's comments. Overnight, 10yr USTs have reversed much of yesterday's move higher and are down -3.1bps to trade at 1.099%. Meanwhile inflation expectations moved higher yesterday with 10yr breakevens +3.1bps to 2.09% – the highest since last Thursday but you have to go back to November 2018 for the next most recent reading at this level. Before the rally overnight, US rates bucked the international trend and in a sign of how far US rates have been diverging from Europe, the spread of 10yr Treasury yields over German bunds widened to 167bps yesterday, the biggest gap since the initial pandemic selloff back in March. Bund yields fell -2.8bps yesterday.
Back to Mr Biden, if you want more info on what the first 100 days of the administration are likely to look like, we've just released a podcast with DB's Frank Kelly and Matthew Luzzetti running through some of the issues (link here – it's available on most major podcast platforms). For us while it's all about the size of the stimulus for now, the pips will likely be squeezed later in the year as the Democrats craft broader infrastructure and tax legislation, which is set to make the US tax system more progressive, with corporates and those at the top end of the income distribution the targets. We discussed this in our chart of the day yesterday (link here) which looked at the effects Biden's tax plan would have on different parts of the income distribution. The reality is that a tight senate means that tax rises are likely to be more limited than the pre-election plan but they will be coming.
Even as investors took in the promise from Powell for the Fed to be on the accommodative side for longer and Biden's big fiscal opening salvo, large cap US equities dropped slightly with the Dow Jones (-0.22%), the S&P 500 (-0.38%) and the NASDAQ (-0.12%) all closing just shy of their record levels. Meanwhile the small-cap Russell 2000 (+2.05%) climbed to fresh all-time highs. In Europe the STOXX 600 (+0.72%) rose to a fresh post-pandemic high. However, Italian assets underperformed thanks to the renewed bout of political instability in the country following the previous evening's move by former PM Renzi to withdraw his party's ministers from the governing coalition. The decision means that PM Conte no longer has a majority in Parliament, although the odds of early elections are still low for the time being. In response, the FTSE MIB ended the session down -0.47%, while the spread of Italian 10yr yields over bunds widened by +7.1bps to a 1-month high, with 10yr BTPs +4.3bps.
Earnings season will now start in earnest as financials are released from some of the biggest US banks today. Our Global Asset Allocation Team headed up by Binky Chadha is out with their Q4 preview (see here). They note that the consensus estimates for S&P 500 Q4 EPS has been rising, however the consensus still sees a decline from Q3. This comes even as some drivers of macro growth, a lower dollar and seasonality all argue for a rise in estimates. They see consensus estimates as too low across secular growth, defensives and cyclicals. Even though they see another quarter of robust beats of 13%, again led by the cyclical sectors, elevated positioning and valuations could mean below average returns during the upcoming reporting season.
There wasn't a great deal of news on the pandemic yesterday, though concerns grew over the spread of the Brazilian variant, as the UK banned travel from numerous South American countries, as well as Portugal given its strong travel links with Brazil. France announced that they will extend a 6 pm curfew across the country starting this Saturday and it will remain in effect for 15 days. Overnight, The Times has reported that the UK government is aiming to vaccinate all people over the age of 50 by end-March with the government preparing to more than double the pace of the program next week. Continuing with the UK, Bloomberg has reported that Steve Baker, a senior member of Parliament, has said in a letter to Tory colleagues that it could be a "disaster" if pandemic restrictions last until spring while urging them to contact Johnson's team to warn that the premier's position will be at risk unless he announces a route out of the current measures.
Looking forward now, tomorrow is an important day for Germany since the governing CDU will be selecting their new party leader ahead of September's federal election. Our German economists have more details on the contest (link here), but the candidates include the centrist premier of North Rhine-Westphalia, Armin Laschet, the conservative and economically liberal Friedrich Merz, as well as the MP and foreign policy expert Norbert Röttgen. We'll have more to say on Monday about the results, but this time it isn't a given that the new leader will be the CDU/CSU chancellor candidate in September's election, since health minister Jens Spahn and the CSU's Markus Söder are also seen as potential alternatives. According to our German economists, the CDU is likely to wait until after the regional elections in mid-March before it decides on their chancellor candidate with its Bavarian sister party, the CSU. They're currently polling well ahead of the other parties, having seen their fortunes boosted by the Covid-19 pandemic, though with Chancellor Merkel not running for re-election after four terms in power, Germany will soon be under new leadership irrespective of which party wins in September.
To the day ahead now, and data highlights include US retail sales, industrial production and PPI for December, along with the Empire State manufacturing survey for January and the preliminary University of Michigan sentiment indicator for January. Over in Europe, there's also November data on UK GDP and the Euro Area trade balance. From central banks, we'll hear from the Fed's Kashkari and the ECB's Visco, while earnings releases include JPMorgan, Citigroup and Wells Fargo.
Tyler Durden
Fri, 01/15/2021 – 07:00