Futures Trade Near Record As Nasdaq Jumps On Netflix Blowout Quarter
Futures Trade Near Record As Nasdaq Jumps On Netflix Blowout Quarter
S&P futures rose with European stocks on Wednesday, buoyed by earnings and hopes for more stimulus as Joe Biden prepared to take charge as US President at his inauguration, while Netflix soared after reporting a surge of subs in Q4 and saying it will no longer need to borrow billions of dollars to finance its TV shows and movies. The dollar edged lower alongside Treasuries.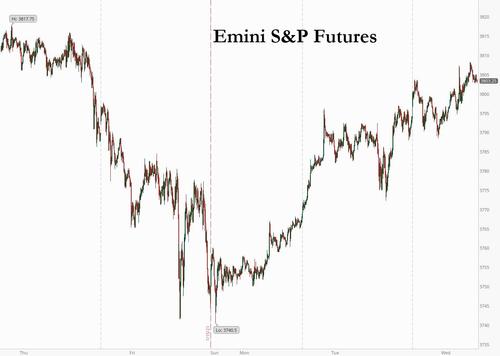 At 0700 am ET, Dow E-minis were up 33 points, or 0.11% and S&P 500 E-minis were up 12.5 points, or 0.33%. Nasdaq 100 E-minis were up 104.5 points, or 0.8%. Shares of Netflix surged 13% in premarket trading, helping boost futures tracking the broader Nasdaq 100 index which was up 0.8%, also boosted by chipmaker ASML Holding NV. Procter & Gamble Co. jumped in pre-market trading after boosting its sales and profit outlook on at-home demand. UnitedHealth Group Inc slid 0.3% after the health insurer's quarterly profit slumped nearly 38%, weighed by costs related to its programs to make COVID-19 testing and treatment more accessible for its customers. Boeing added 1% after Berenberg upgraded the stock to "hold" from "sell", saying the worst has passed and believes restarting of 737 MAX aircraft deliveries in December marked a turning point towards planemaker's financial recovery.
Stocks ended higher on Tuesday after Treasury Secretary nominee Janet Yellen urged lawmakers to "act big" to save the coronavirus-ravaged U.S. economy and worry about debt later.  At her confirmation hearing on Tuesday, Yellen said the benefits of a big stimulus package to counter the coronavirus pandemic were greater than the expenses of a higher debt burden.Pandemic relief would take priority over tax increases, she said, calling for corporations and the wealthy – both winners from Republican tax cuts in 2017 – to "pay their fair share".
Yellen – who could be confirmed as soon as Thursday – said that help for the unemployed and small businesses would provide the "biggest bang for the buck." She urged lawmakers to act in efforts to rescue an economy battered by the coronavirus. She also said the U.S. is prepared to take on China's "abusive" trade and economic practices, and that the Biden administration won't pursue a weak dollar.
"They realised that there is some limits to what monetary policy can do to effect change in the real economy," said Shaniel Ramjee, senior investment manager at Pictet Asset Management. "The Fed will continue buying bonds issued by the U.S. Treasury in order to fund the fiscal programs."
With earnings season ramping up, S&P 500 earnings are expected to rise by 24% in 2021 after falling 15% in 2020, according to Refinitiv data. With stock market valuations sitting close to a 20-year high, investors are hoping corporate results and profit outlooks will help them determine to what degree the valuations are justified.
On the political front, Joe Biden, due to take over as the 46th President of the United States just after noon on Wednesday, will waste little time trying to turn the page on the Trump era, advisers said, signing a raft of 15 executive actions on issues ranging from the pandemic to the economy to climate change.
The MSCI world equity index, which tracks shares in almost 50 countries, was last up 0.1%. In Europe, the Stoxx 600 gained 0.5%, with the DAX and FTSE MIB rising a similar amount. Italy's benchmark FTSE MIB index gained as much as 0.6%, outperforming other major western European markets, after Italian Premier Giuseppe Conte secured the support of 156 senators in a confidence vote on Tuesday.  The FTSE 250 rallied over 1.2%, trading at the week's best levels. Miners, autos and tech names lead relatively broad-based strength with only utilities in the red.
Earlier in the session, Asian stocks continued to set records with benchmarks surging in Hong Kong and Indonesia. The MSCI Asia Pacific Index was set for its 15th gain in 19 sessions dating back to Christmas.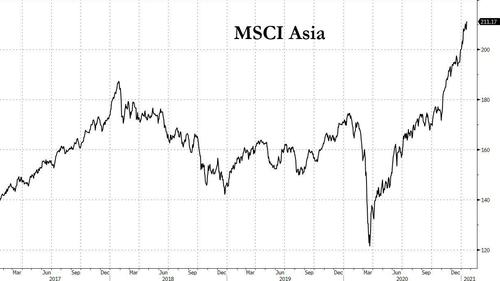 Chipmaker TSMC and online gaming giant Tencent provided the biggest boosts while Alibaba shares jumped after Jack Ma reappeared after a 3 month absence amid escalating scrutiny over his internet empire. Hong Kong shares extended recent gains, with the Hang Seng Index hovering just under the 30,000-point level as mainland traders continued to flood the market with cash. Indonesia stocks rose as the government readied removing restrictions on foreign investment in the energy, communications and tourism sectors. Financial stocks led gains in Malaysia after the central bank kept its benchmark interest rate unchanged. Japanese stocks fell after signs that their recent rally had become too stretched. Vietnamese shares swung between gains and losses after dropping more than 5% Tuesday, their worst decline since July
In rates, Treasury futures were lower in early U.S. session, yields cheaper vs Tuesday's close by 1bp-2bp from belly to long end. The 10-year yield is higher by 1.2bp at 1.10% with front-end anchored, steepening 2s10s, 2s5s by around 1bp each; U.K. 10- year keeps pace with German 10-year little changed, outperforming. The Treasury Department plans $24b reopening of 20-year bond at 1pm ET, one hour after presidential inauguration. Fixed income in Europe traded in a narrow range: German curve bear steepens slightly with 30y supply comfortably absorbed. Cash USTs bear steepen, short end recovers after early flattener interest. Long end gilts trade ~2bps cheaper to bunds, with U.K. 5s30s at session steeps. Peripheral bonds are mixed: Italy reverses an early tightening move with 10y BTP/Bund back above 110bps. Italian 10-year bond yields dropped to their lowest since Jan. 11 – before Conte lost his majority – at 0.533%, down 2 basis points on the day.
In FX, the Bloomberg Dollar Spot Index fell a third day following Janet Yellen's testimony to the Senate Finance Committee, which reinforced expectations of more spending to revive growth. The greenback was lower versus most of its Group-of-10 peers, amid a rally that was led by commodity currencies and the pound, however it traded off the lows. The pound advanced a second day against the dollar, rising to a two year high above 1.37 and benefiting from broad weakness in the greenback; U.K. inflation remained subdued in December, picking up 0.6% from a year earlier, slightly higher than economists' forecast of 0.5%. Sweden's krona inched lower after central bank's first deputy governor Cecilia Skingsley said the bank's experience of negative policy rates "was on the whole benign."
"We remain bearish U.S. dollar, and expect the downtrend to resume as U.S. real yields top out," said Ebrahim Rahbari, FX strategist at CitiFX.
Emerging-market assets rose after U.S. Treasury Secretary nominee Janet Yellen said that low interest rates offered scope for a large stimulus plan. MSCI Inc.'s index of developing-nation stocks jumped 1% to a new record, with investors shifting their focus to president-elect Joe Biden's inauguration on Wednesday for hints of more stimulus to fight the pandemic. The South African rand, Mexican peso and Turkish lira — often seen as barometers of risk appetite — led developing-nation currency gains as the dollar declined
In commodities, crude futures extended Asia's gains; WTI rallies 1% to $53.50 before stalling, Brent runs into resistance around $56.50. Spot gold comes off best levels having printed highs of $1,852/oz so far, gaining as the dollar eased following commentary on the U.S. currency, the merits of massive stimulus, and the outlook for trade from President-elect Joe Biden's cabinet nominees. Base metals traded well with LME copper rallying over 1%, outperforming after breaching Monday's highs.
Looking at the day ahead, and the highlight later will be Joe Biden's inauguration as US President. There are also an array of earnings releases, including Procter & Gamble, UnitedHealth Group, Morgan Stanley and BNY Mellon. Data releases include the December CPI readings from the UK and Canada, as well as the NAHB housing market index for January from the US. Finally from central banks, the Bank of Canada will be deciding on rates, and Bank of England Governor Bailey will be speaking.
Market Snapshot
S&P 500 futures up 0.4% to 3,804.00
Stoxx Europe 600 up 0.5% to 409.86
MXAP up 0.5% to 212.31
MXAPJ up 0.9% to 716.00
Nikkei down 0.4% to 28,523.26
Topix down 0.3% to 1,849.58
Hang Seng Index up 1.1% to 29,962.47
Shanghai Composite up 0.5% to 3,583.09
Sensex up 0.9% to 49,844.40
Australia S&P/ASX 200 up 0.4% to 6,770.40
Kospi up 0.7% to 3,114.55
Brent futures up 0.8% to $56.34/bbl
Gold spot up 0.8% to $1,854.49
U.S. Dollar Index little changed at 90.45
German 10Y yield unchanged at -0.525%
Euro down 0.07% to $1.2121
Italian 10Y yield fell 4.3 bps to 0.477%
Spanish 10Y yield fell 0.3 bps to 0.066%
Top Overnight News from Bloomberg
The ECB is buying bonds to limit the differences between yields for the strongest and weakest economies in the euro zone, according to officials familiar with the matter, with one person saying the central bank has specific ideas on what spreads are appropriate. An ECB spokesman declined to comment
President-elect Joe Biden plans to begin immediately unwinding President Donald Trump's policies on immigration, climate and other issues on Wednesday with at least 15 executive actions, including moves to reverse U.S. withdrawals from the Paris Agreement and the World Health Organization, and stop construction of a border wall
Pfizer Inc. and BioNTech SE built the case that their Covid-19 vaccine will protect against the new variant of the coronavirus that emerged in the U.K. with results of another lab trial
Donald Trump granted clemency to dozens of people on Wednesday, including his former strategist Steve Bannon, the rapper Lil Wayne and former Detroit Mayor Kwame Kilpatrick, in one of his final official acts as president
BOE chief economist Andy Haldane, who has been the most publicly optimistic of the central bank's rate-setting committee, said the economy may be growing quickly enough by the second quarter to absorb the 1 million people who lost their jobs in the coronavirus crisis
A quick look at global markets courtesy of Newsquawk
Asian equity markets were mostly positive as the region partially sustained the momentum from the tech-led gains on Wall St, where participants reflected on earnings results and sentiment was underpinned by stimulus hopes as Treasury Secretary nominee Yellen asserted the need for fiscal support, while she also suggested focus is on providing relief not raising taxes and that although President-elect Biden will tweak the 2017 tax cuts, it would not be a complete repeal. ASX 200 (+0.4%) was higher with gains led by tech after similar outperformance stateside and with miners lifted including BHP which reported higher quarterly iron ore output, record HY iron ore shipments and raised its FY iron ore production guidance. Nikkei 225 (-0.4%) failed to hold on to opening gains with the index pressured by currency effects as the JPY reverses some of the recent outflows and KOSPI (+0.4%) was choppy despite reports policymakers were considering extending the short-selling ban by 3 months and with Kia Motors advancing by around 9% on news that the Co. could build the Apple self-driving car at its Georgia plant. Hang Seng (+1.0%) and Shanghai Comp. (+0.4%) were kept afloat after the PBoC boosted its liquidity efforts and maintained its Loan Prime Rates for a 9th consecutive month as expected, with Alibaba shares also boosted after its founder Jack Ma made his first appearance since October through a video conference which dispelled concerns he may have been detained. However, the upside in Chinese stocks was restricted after comments from US President-elect Biden's Secretary of State Blinken which suggested the incoming administration is likely to maintain its pressure on China as he noted that the US must ensure it does not import goods made with forced labour from China's Xinjiang and agreed with the White House's determination of 'genocide' regarding China's repression of Uighur Muslims. Finally, 10yr JGBs traded higher following on from the short-covering in USTs and as Japanese stock markets lagged against, with the BoJ also present in the market for nearly JPY 1.3tln of JGBs with 1yr-10yr maturities
Top Asian News
As Thailand's Troubles Grow, the King Moves to Bolster His Image
Malaysia Holds Key Rate Amid Lockdown to Curb Virus Surge
Turkey Stock Investors Say Rally Not Over, It's Just Slowing
Done With Day Trading, China's Stock Investors Turn to Funds
European stocks kicked the mid-week session off with respectable gains across the board (Euro Stoxx 50 +0.6%), after the region picked up the baton from a mostly positive APAC session, and as markets brace for a pick-up in earnings and eye the inauguration of President-elect Biden and VP-elect Harris – with sentiment underpinned on stimulus hopes and Europe also supported by prospects of a fruitful relationship with the US. That being said, US equity futures vary in terms of performance, with the tech-led NQ (+0.8%) outperforming vs the value cyclical-driven RTY (-0.1%) – with some citing potential "sell the news" play, albeit the breadth of price action is still somewhat contained. The outperformance in the NQ could also be attributed to tailwinds from post-earnings Netflix (+12% pre-market) whose shares soared after-hours on a strong rise in subscriber growth and the prospect of share buybacks. Meanwhile, State-side earnings today include updates from the likes of UnitedHealth Group (+0.8% pre-market post-earnings) – the largest weighted Dow component with a 7.5% weighting as of yesterday, alongside Procter & Gamble (12:00GMT/ 2.8% DJIA weighting) and Morgan Stanley (12:30GMT). Note – some banks have a tendency to report earlier than expected. Back to Europe, sectors are mostly firmer and portray more of a cyclical bias, with IT the stand-out outperformer amid Netflix's earnings coupled with numbers from ASML (+4.2%) whereby revenue topped estimates, 2020 dividend increased by 15% and the group also expects "another year of growth driven by strong Logic demand and continued recovery in Memory". Auto names also reside among the winners in light of an update from Volkswagen (+2%) in which it expects China's overall car market sales to exceed 2019 levels and the Co's own sales will see "substantial growth". On the flip side, Oil & Gas resides towards the bottom of the pile due to a modest pullback in oil prices. In terms of individual movers, Hugo Boss (+5.8%) is bolstered on reports that Fraser Group's (+0.6%) Mike Ashley has increased his stake in Hugo Boss to 15.2% (prev. 5.1%) through stocks and derivatives. Elsewhere, Burberry (+5%) trade with firm gains post earnings, whilst Danone (-1.0%) is pressured after French Finance Minister Le Maire stated that France needs to be vigilant regarding the Co's situation, referring to the Bluebell Capital Partners' call for Danone to replace its CEO Faber following what it said has been a period of "disappointing" share price performance.
Top European News
ECB Is Capping Bond Yields But Don't Call It Yield Curve Control
Germany Posts Highest Daily Death Toll as Infection Gauge Eases
ASML Beats Estimates, Grapples With Chip Supply Shortage
Hugo Boss Jumps After Mike Ashley Firm Increases Stake to 15%
In FX, the Dollar continues to retreat on a mixture of broad risk factors and US specifics following confirmation that Treasury Secretary-in-wating Yellen favours bold fiscal stimulus and market forces when it comes to the Greenback's value, while she also intimated that increased spending should not necessarily raise the tax burden for businesses extortionately (or proportionately). The index is trying to keep tabs on the 90.500 level having declined to 90.272 and hold above support ahead of 90.000 via the 21 DMA that comes in at 90.141 today. Conversely, Sterling is back in the ascendency, and across the board as Cable sets sights on 1.3700+ again and Eur/Gbp tests bids into 0.8850 amidst reports of heavy selling interest after the cross breached 0.8900. Firmer than forecast UK inflation metrics may have prompted some upside, but the Pound's revival appears more corrective and positional in advance of another speech from BoE Governor Bailey.
AUD/CAD/NZD – All extending recent recovery rallies vs their US counterpart, with the Aussie eyeing 0.7150 before top tier data in the form of jobs and retail sales, while the Loonie is pivoting 1.2700 awaiting Canadian CPI and the BoC and Kiwi is close to 0.7150, but losing a bit more ground to its Antipodean peer below 1.0800 towards 1.0850. Note, 1.1 bn option expiry interest in Usd/Cad from 1.2700 to 1.2715 looks more influential than 1 bn expiries in Aud/Usd between 0.7690-0.7700 at this stage.
JPY/EUR/CHF – The Yen has eked further gains through 104.00 against the Buck even though risk sentiment remains buoyant and the BoJ is widely expected to stand pat on all policy elements at the end of its 2-day meeting that kicked off today pending the results of a framework review due in March. However, the Euro and Franc seem to be losing momentum after the former failed to sustain gains beyond 1.2150 and latter revisited Tuesday's best around 0.8865. Indeed, Eur/Usd is now in the low 1.2100 area and Usd/Chf back up near 0.8900, with Eur/Chf hovering just under 1.0800 in wake of Italian PM Conte surviving the 2nd and more challenging Senate confidence vote.
SCANDI/EM- Another upturn in oil prices may be fuelling the Nok, but relative Sek underperformance could well be down to tentative signs of divergence in Norges Bank vs Riksbank policy leanings ahead of Thursday non-MPR convene in Norway and after more talk about returning to NIRP in Sweden, this time courtesy of Skingsley. Elsewhere, the Zar is carving climbing further beyond 15.0000 vs the Usd alongside Xau on a break above Usd 1850/oz, with little reaction to in line SA inflation data, while the Mxn has overcome key technical resistance at 19.6600 (200 WMA) on the way to a 19.5900+ peak
In commodities, WTI and Brent futures remain firm in early European trade in a continuation of the upward price action seen overnight on the inauguration day of US President-elect Biden, with some positive omens emanating from reflationary hopes, whilst a weaker Buck also underpins the complex. That being said, the short-term outlook for crude prices remain somewhat clouded amidst the tightening of COVID-related restrictions – with Germany extending its lockdown yesterday and Beijing entering a partial lockdown more recently. That being said, the ramp-up in vaccinations (barring delays) and OPEC+ support help to keep prices elevated. Brent Mar holds its USD 56/bbl status (low USD 55.88/bbl) whilst its WTI counterpart trades around USD 53.50/bbl (vs low USD 53.07/bbl). In terms of forecasts, Goldman Sachs maintained its positive outlook for oil in 2021/2022 and expects demand to recover this year, while Standard Chartered sees WTI averaging USD 49/bbl in 2021 and USD 56/bbl in 2022, while it forecasts Brent to average USD 51/bbl in 2021 and USD 59/bbl in 2022. Elsewhere, spot gold sees constructive gains as the yellow metal made its way above its 200 DMA (c. USD 1845.50/oz) and then the USD 1850/oz psychological mark as it sets its sight on its 50 DMA, 21 DMA and 100 DMA at USD 1859/oz, USD 1875/oz and USD 1883/oz respectively. Some base metals meanwhile remain supported by the reflationary play with LME copper trading on either side of the USD 8,000/t mark. Finally, mining giant BHP forecasts record annual iron ore output of 244-253mln tonnes as it resumed production at the Samarco plant.
US Event Calendar
7am: MBA Mortgage Applications, prior 16.7%
10am: NAHB Housing Market Index, est. 86, prior 86
DB's Jim Reid concludes the overnight wrap
After what have been an incredibly eventful 4 years in the US, today marks the end of the Trump presidency as Joe Biden is inaugurated at 12pm EST. With the pandemic still raging and an economic crisis overlaid on top of that, Biden's presidency will begin with a pretty full in-tray, and the policy measures can be expected to come thick and fast as the new administration aims to hit the ground running. Indeed it's already been trailed that today will see a number of Executive Orders signed by Biden, including the re-entry of the US into the Paris climate change agreement, the extension of a ban on evictions and foreclosures thanks to the pandemic, a federal mask mandate that will require the wearing of masks in federal buildings and on inter-state travel, as well as the reversal of President Trump's travel ban on a number of Muslim-majority nations. On top of this, Biden has of course already unveiled a $1.9tn stimulus proposal that's a first basis for negotiation but one that he wants to pass quickly through Congress, as well targeting 100m vaccinations within his first 100 days in office.
Ahead of all that, risk assets turned higher yesterday and the reflation trade appeared to be back on, thanks to helpful comments from Biden's nominee for Treasury Secretary Janet Yellen, as well as the Italian government's survival in a confidence vote. Indeed by the close, US equities had resumed their upward march, with the S&P 500 (+0.81%), the NASDAQ (+1.53%) and the Dow Jones (+0.38%) all moving higher, with growth and cyclical stocks leading the way in the US at the expense of defensives such as consumer staples (-1.33%) and real estate (-0.54%). Energy stocks (+2.08%) were stronger on the back of higher oil prices, while semiconductors (+2.87%) and media (+2.30%) stocks were the other outperformers. After the close, Netflix reported earnings, indicating that it no longer needed to rely on debt to fuel growth. The streaming service also announced that it passed 200 million subscribers and the company's shares rose +12.3% after the bell. Elsewhere in earnings yesterday, US bank stocks were flat (-0.02%) as Bank of America's (-0.73%) fourth-quarter sales and trading revenue missed estimates and as Goldman Sachs shares fell -2.28% despite record profits fuelled by equity-underwriting.
Meanwhile Treasuries and the dollar (-0.29%) weakened as investors moved out of traditional havens, with 10yr yields up +0.5bps to 1.089%. 10yr US breakevens hit a fresh 2-year high of 2.11% after 12 days of stalling at the previous post Georgia election highs.
Incoming Treasury Secretary Janet Yellen had her confirmation hearing before the Senate Finance Committee yesterday and laid out her top priorities and concerns in what was a very highly anticipated appearance. The three-hour hearing covered a broad range of important topics. On the incoming administration's dollar policy, Yellen noted that "the United States does not seek a weaker currency to gain competitive advantage and we should oppose attempts by other countries to do so." The dollar index slid in the early US morning ahead of Yellen's remarks before trading rather flat during them. She advocated and defended Democratic initiatives in a way that was unseen during her time as Fed chair. She defended President-elect Biden's plan to raise the minimum wage to $15 – citing economic literature on the experiment in individual states – as well as tying the threat of climate change to the risks it creates in the financial system.
On China, she said the second largest economy "is clearly our most important strategic competitor," and that the US needs "to take on China's abusive, unfair and illegal practices." Her comments highlight the fact that while Biden may offer a different tone and approach to the US-China relationship than his predecessor, the adversarial nature will continue. Yellen received a quite a few questions on the incoming administration's tax policy. She emphasised that tax reform would not be an immediate priority, with focus remaining on the economic recovery as we get out of the pandemic. She went on to say that Biden does not intend to reverse the entirety of the 2017 tax cuts, but that eventually parts of that bill will be repealed, and cited that she would work with OCED on what the appropriate corporate tax rate should be. Lastly, when asked about the possibility of a 50yr Treasury bond, Yellen said she would examine the possibility of one and left the door open to super long duration paper.
A quick refresh of our screens this morning shows that Asian markets are mostly trading higher outside of the Nikkei (-0.50%). The Hang Seng (+0.63%), Shanghai Comp (+0.05%) and Kospi (+0.37%) are all posting gains. Futures on the S&P 500 are trading up +0.13% while those on the Nasdaq are up +0.42% on the back of the buoyant earnings from Netflix mentioned above. In Fx, the US dollar index has continued to decline this morning (-0.15%). Elsewhere, spot gold prices are up +0.47% overnight.
In other overnight news, Bloomberg has reported that the ECB is buying bonds to limit the differences between yields for the strongest and weakest economies in the euro zone while adding that the central bank has specific ideas on what spreads are appropriate. This is not new news but confirmation of what market participants already thought was happening. Another piece of news that is doing the rounds this morning is that suggesting outgoing US President Trump is floating the idea of forming a new party with several aides and other people close to him (per Bloomberg). It is said to have a working title of the "Patriot Party." So there is still some room left for substantial shifts in the US political landscape. This could have quite substantial implications if it materialises. Even if such a party captures a small amount of the GOP vote it could dramatically enhance the Democrats subsequent election chances.
Meanwhile in Europe, sentiment was buoyed yesterday by the Italian government's survival, with the Senate voting 154-140 in the government's favour – there were 27 absences or abstentions. This means that Prime Minister Conte will be allowed to try and consolidate power. Bloomberg reported yesterday that a group of senators have indicated that they will back him later today. Our economists have put out a Q&A on the implications overnight. See it here for more. Ahead of the vote, the spread of 10yr Italian BTP yields over bunds narrowed by -4.3bps, reflecting investors' expectations that the government was likely to win the vote. However, the gains for BTPs weren't seen elsewhere, with yields on 10yr bunds (+0.1bps) and OATs (+0.1bps) both holding steady. In addition, equity indices fell across the continent, with the STOXX 600 (-0.19%), the DAX (-0.24%) and the FTSE 100 (-0.11%) all moving lower on the day.
In terms of the latest on the coronavirus, the German lockdown was extended from the end of January until February 14, amidst rising concern over the spread of new variants. The extension comes along with some tightening of measures as Chancellor Merkel announced closures to non-essential businesses and increased movement restrictions in the hardest hit regions. Merkel also warned of border closures if neighbouring nations can't coordinate their efforts. Elsewhere, according to their Health Minister, the Netherlands will announce further lockdown measures later today that will last until at least Feb 9, which could include a curfew and a limit on the number of visitors to one's home. Furthermore, the UK sadly reported a record number of daily Covid-19 deaths, at 1,610, albeit spread over a number of dates. However, the recent reductions in case numbers should mean that deaths should also begin to fall soon, with the number of new cases falling yesterday to a 3-week low of 33,355. Finally in New York City, concern grew over vaccination supply, with Mayor de Blasio saying that the city could have to close vaccination sites if they didn't get more supply. In our case and fatality table in the pdf we've now included Israel so we can track over time if the impressive vaccine roll out there starts to reduce these numbers. Although we mostly track larger countries, Israel will be key to follow with evidence already that it's making a difference even if it's top on current case numbers. See below for the vaccine table.
On the data front, there weren't a great amount of releases yesterday, though the German ZEW survey surprised to the upside, with the expectations reading rising to 61.8 (vs. 59.4 expected), while the current situation reading also eked out a slight increase to -66.4 (vs. -68.3 expected). Elsewhere, the pandemic's impact was showcased in the number of EU car registrations in 2020, which were down -23.7% compared with the previous year.
To the day ahead, and the highlight later will be Joe Biden's inauguration as US President. There are also an array of earnings releases, including Procter & Gamble, UnitedHealth Group, Morgan Stanley and BNY Mellon. Data releases include the December CPI readings from the UK and Canada, as well as the NAHB housing market index for January from the US. Finally from central banks, the Bank of Canada will be deciding on rates, and Bank of England Governor Bailey will be speaking.
Tyler Durden
Wed, 01/20/2021 – 07:50