GameStop Shares Jump 6% As CEO Quits In Latest C-Suite Departure
GameStop Shares Jump 6% As CEO Quits In Latest C-Suite Departure
GameStop CEO George Sherman has become the latest, and most senior, in a string of GameStop executives who have left the company recently, stumbling out one by one, all presumable victims of GameStop Chairman/savior Ryan Cohen's housecleaning.
Sherman announced Monday that he will be stepping down, effective July 31. His exit is hardly a surprise; Reuters first reported on rumors that the company had already started the search for Sherman's successor earlier this month. Other executives who have left the firm since Cohen's ascension to the chairman's seat in January include: include chief financial officer Jim Bell and chief customer officer Frank Hamlin.
The company has hired several executives as well – a series of current and former Amazon employees brought on to execute Cohen's e-commerce vision. They include Elliott Wilke, who will serve as the company's chief growth officer, Jenna Owens, who will serve as chief operating officer, and Matt Francis, who will serve as the company's first chief technology officer.
RC Ventures, Cohen's investment firm, has amassed an approximately 13% stake in GameStop, which it is working to transform into a major e-commerce player that sells a wide variety of merchandise with fast shipping.
Although the news had been telegraphed well in advance, that didn't stop GameStop shares from ramping 6% in premarket trading.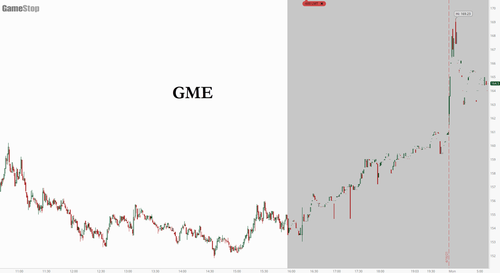 Shares had climbed as much as 9.4% to $169.23 earlier Monday after Reddit user Keith Gill, who helped fuel the rise in the stock this year, doubled down on his bet on the video-game retailer. As we reported over the weekend, Gill now owns more than 200,000 share.
Speaking of Gill – better known by (one of) his online handle(s) "RoaringKitty" – might Cohen find a way to bring the independent millionaire investor into the fold as well (maybe even as CEO)? Regardless of whether that would make sense from an organizational standpoint, it could propel the stock higher.
Tyler Durden
Mon, 04/19/2021 – 06:33