Gamma-geddon Sparks Stocks' Biggest Weekly Loss Since Halloween
Gamma-geddon Sparks Stocks' Biggest Weekly Loss Since Halloween
Complacency is extreme. With the put-call ratio near record lows…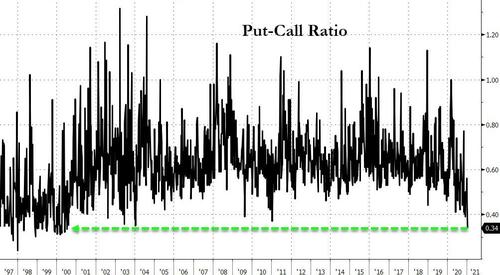 Source: Bloomberg
One measure of risk in the options market is flashing the reddest of red lights possible, as dealer's gamma exposure reaches a record high…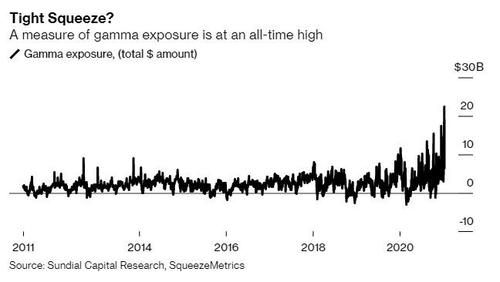 Source: Bloomberg
"Dealers are short calls due to the unprecedented call activity previously mentioned, and as a result have been forced to chase stocks higher to hedge," Chris Murphy, Susquehanna's co-head of derivatives strategy, wrote in a note to clients.

"The unwind could potentially be violent given all the excess euphoria. It is more likely a question of when and not if."
Small Caps managed gains on the week…But, the gamma unwind is evident as stocks tumbled to push the market to its worst week since Halloween…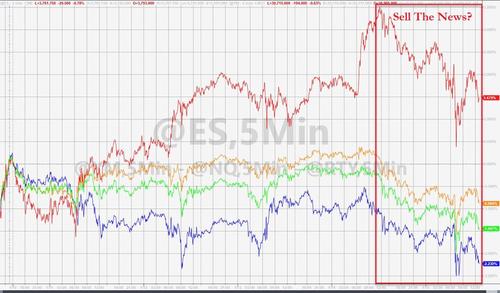 Which is quite a pathetic fact given the NYSE Composite was only down 0.5%.
Leaving Nasdaq unchanged year-to-date (and Small Caps up 8%)…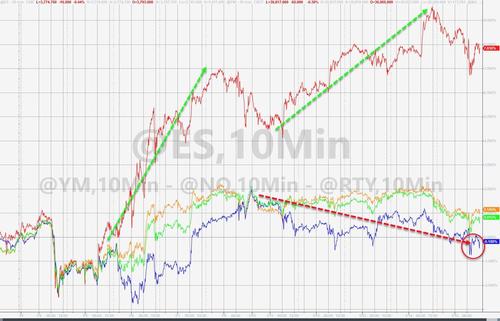 Stocks saw a massive short-squeeze on Thursday dominate the week as the ongoing overall squeeze since Halloween remains in place… (the most-shorted stocks have squeezed higher for 9 of the first 11 days of the year)…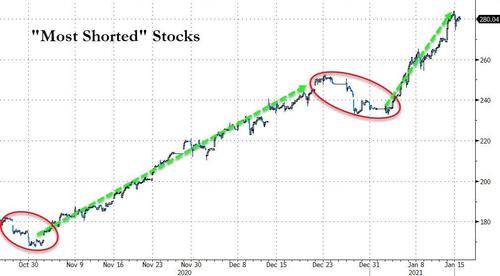 Source: Bloomberg
Tech stocks were the week's biggest losers as the energy sector continued to soar this week, despite a big knock today on XOM probe headlines…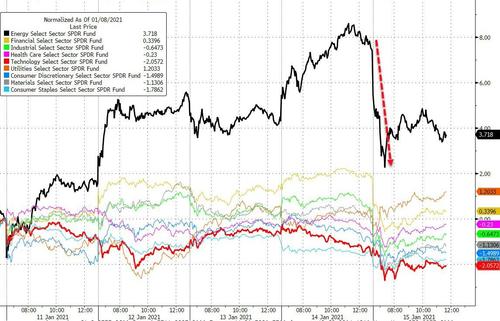 Source: Bloomberg
Was today a "sell the news" day after Biden's bailout bonanza was unveiled? Growth and Value tumbled today, but growth was definitely weakest on the week…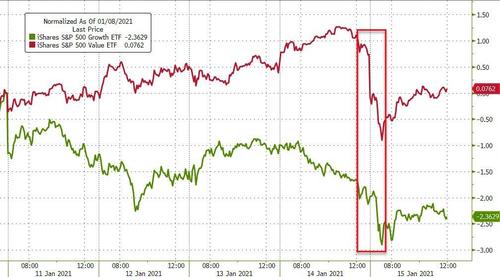 Source: Bloomberg
Treasury yields ended the week marginally (2-3bps) lower…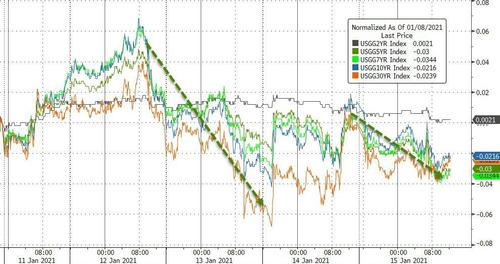 Source: Bloomberg
As the 1.10% line in the sand appears to hold once again for 10Y yields…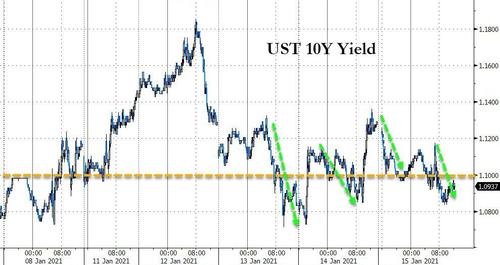 Source: Bloomberg
Real yields tumbled on the week to one-week lows (decoupling from gold's weakness)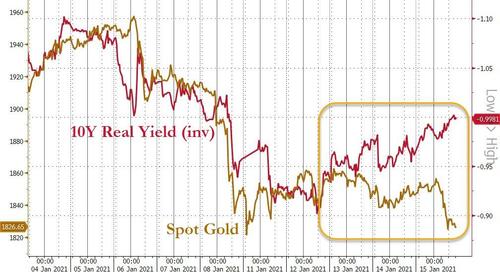 Source: Bloomberg
The dollar managed very modest gains on the week…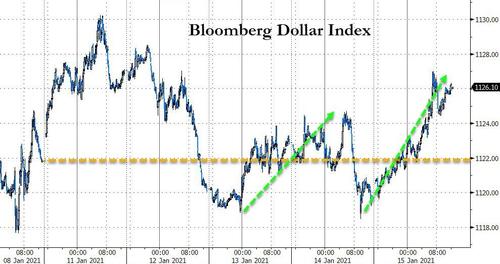 Source: Bloomberg
Helped by weakness in Euro (as Italian and Dutch politics mixed with vaccine issues dominated)…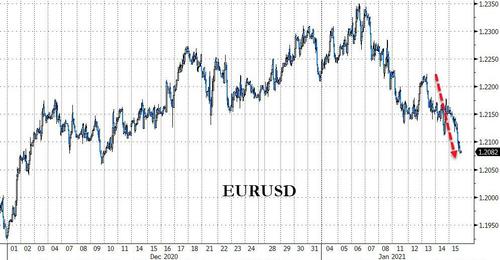 Source: Bloomberg
Cryptos had an ugly week…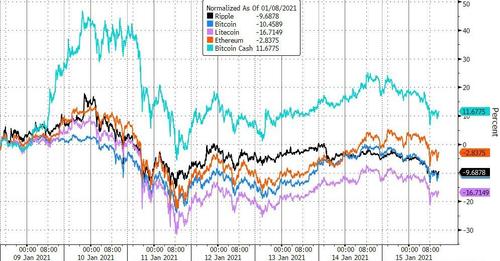 Source: Bloomberg
With Bitcoin's worst week in 4 months (and only second down week since the end of September)…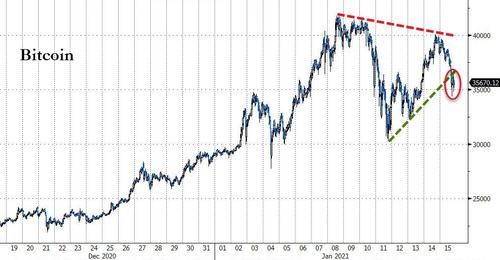 Source: Bloomberg
Dollar strength weighed broadly on the industrial commods and precious metals….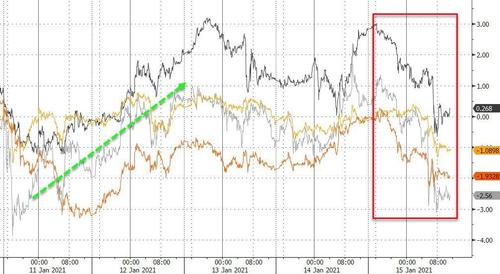 Source: Bloomberg
Gold tumbled back below $1850…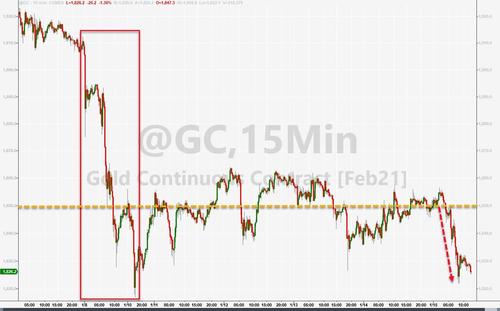 But, Ags continued to explode higher this week, led by wheat…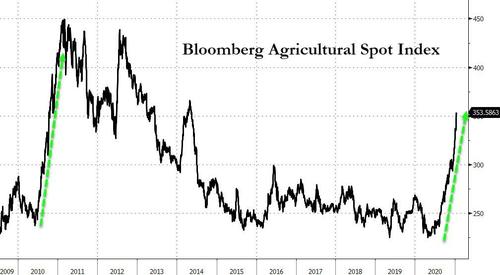 Source: Bloomberg
And finally, did the Trump-tweet-juice really kill the market's momo igniting algos?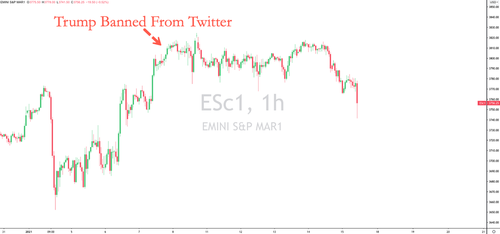 And some good news on the virus – despite constant terrifying headlines, the US hospitalization rate is tumbling… We saw a 2,091 person decrease in the number of people hospitalized in the US with Covid-19 over the last week, the first decline since September 23rd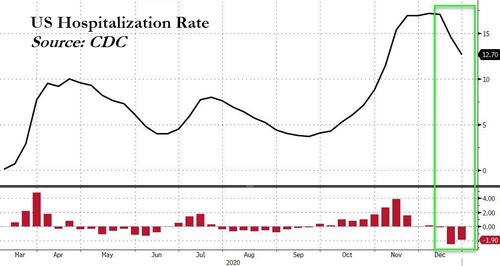 Source: Bloomberg
And LA County sees a decline in the number of hospitalizations…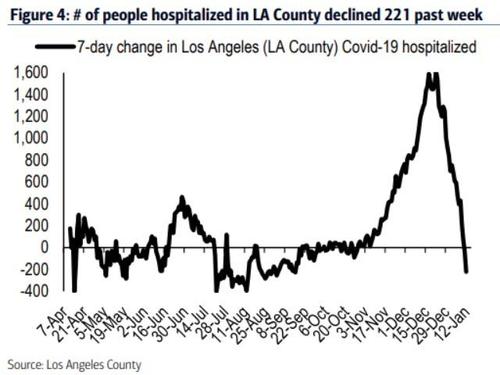 Which is odd given that LA County's Board of Supervisors is considering even more draconian business closures and lockdown orders.
Tyler Durden
Fri, 01/15/2021 – 16:00