Germany Moves To Extend COVID Lockdown, UK Scientist Warns Summer Travel Unlikely As 3rd Wave Worsens
Germany Moves To Extend COVID Lockdown, UK Scientist Warns Summer Travel Unlikely As 3rd Wave Worsens
AstraZeneca released data from its US trial on Monday morning showing the jab is 79% effective at preventing COVID, while researchers insisted they saw no signs of patients exhibiting rare blood clots like those seen in a few dozen cases in Europe (cases that inspired local health authorities in two dozen countries to halt approval of the jab).
Still, a recent survey shows the halts caused confidence in the jab to crater across Europe. And as COVID cases continue to accelerate due, in part, to the growing presence of several increasingly contagious COVID variants. This prompted France, Italy and others to halt their reopening efforts last week. And now, Germany – Europe's biggest economy – has decided to pause its reopening efforts and potentially extend its lockdown efforts for another month.
Germany is set to extend its latest COVID-inspired lockdown into its fifth month according to a draft proposal seen by several European media outlets. The draft says lockdown should continue until April 18 and that an "emergency brake" agreed at the last meeting will be applied to halt any further reopening measures in areas where cases are above the 100 per 100K threshold.
The draft was prepared by Chancellor Angela Merkel's office ahead of Monday's planned videoconference of regional and national leaders to discuss and decide on the next round of COVID measures.
At their last meeting early this month, the leaders agreed a cautious opening, overriding the Chancellor's objections. Merkel argued at the time that the growing risks posed by variants would make the situation difficult to control.
The Robert Koch Institute for Infectious Diseases said the number of cases per 100,000 population over a week stood at 103.9 nationwide on Sunday, which is north of the threshold at which ICU capacity could be threatened. New cases adjusted for population have been steadily climbing across the Continent, while numbers in the UK and US have continued to decline.
Germany isn't alone in exploring whether to extend its lockdown. As UK PM Boris Johnson becomes the latest European leader to warn about the "third wave" of COVID infections sweeping the Continent, ministers in the Netherlands and Belgium are also warning about tightening restrictions.
Germany isn't the only country meeting to discuss more measures on Monday: In Austria, the government will meet on Monday with health officials and opposition parties as rising infection rates force it to reconsider plans to ease curbs on parts of the economy.
An earlier proposal, circulated by the Social Democrats (the junior partners in Merkel's coalition), that all travelers returning to Germany face mandatory quarantine, even if they had not been in a coronavirus risk zone, was included in brackets in the latest draft measures, meaning the proposal is under discussion.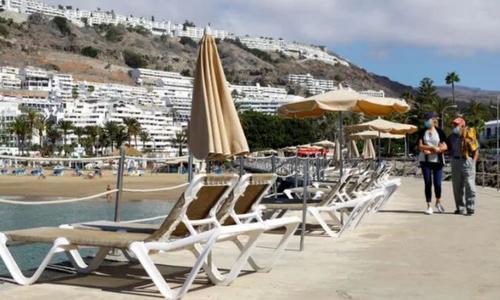 Polls show Germans are becoming increasingly disgruntled with the emergency measures, and an extension of the lockdown could trigger a backlash, especially since just a few weeks ago the government was teasing an imminent rollback of restrictions. Still, new cases have accelerated since some measures were rolled back in February. Fortunately, Merkel's proposal reportedly would allow for Germans to visit families over the upcoming Easter holiday, which could help assuage public anger.
Elsewhere in Europe, the battle between Brussels and London over whether the bloc will continue to export AstraZeneca jabs to the UK is intensifying. Meanwhile, British government scientist Mike Tildesley, who sits on an important government advisory body, said the risk of importing vaccine-resistant variants back into the UK means the summer vacation season would likely be cancelled once again.
"I think international travel this summer is, for the average holidaymaker, sadly I think, extremely unlikely," Tildesley, a professor of infectious disease modelling at the University of Warwick, told BBC Radio on Saturday. Those comments circulated more widely on Monday morning as European travel and hospitality stocks took a hit on the expectations that tourism-dependent EU economies might be facing another summer of slow-to-no business – something that could create serious problems for countries like Spain and Greece, whose economies are dependent on spending by tourists.
Asked about international travel, health minister Matt Hancock said on Saturday that the government would say more on April 12, when it is due to present the details of how and when travel can take place.
"We'll look at the rates both here and abroad and the impact of new variants to understand whether its safe to make that move," Hancock told Sky News.
Finally, Britain has demanded that the EU allow shipments of AstraZeneca jabs produced in a Dutch factory after Brussels said it would halt vaccine exports to Britain, a move that has been widely interpreted as backlash for the British leaving the EU. Some blamed AstraZeneca for over-promising deliveries of its jabs to buyers in the UK and Europe. At any rate, UK PM is reportedly due to speak to top EU leaders in a phone call ahead of a Thursday summit where Brussels is expected to decide whether it will move ahead with the export freeze.
The EU has fallen behind both the British and the US in terms of the percentage of its population that has been fully vaccinated.
Tyler Durden
Mon, 03/22/2021 – 09:21