Global PC Demand Grew At Fastest Pace Since Dot Com Years 
Global PC Demand Grew At Fastest Pace Since Dot Com Years 
Demand for computers is still extraordinarily high, continuing a boom that began last year during the virus pandemic when tens of millions of people were forced into government lockdowns as they needed new computers to work at home. 
Worldwide PC shipments jumped 32% in 1Q21 over the same period last year, according to research firm Gartner. They estimate that 69.9 million laptops and desktops were shipped in the first quarter. In terms of the month's growth rate, PC shipments to retailers and other vendors were at the highest level since 2000. 
According to the report, the top PC makers are Lenovo, HP, Dell, Apple, Acer, and Asus.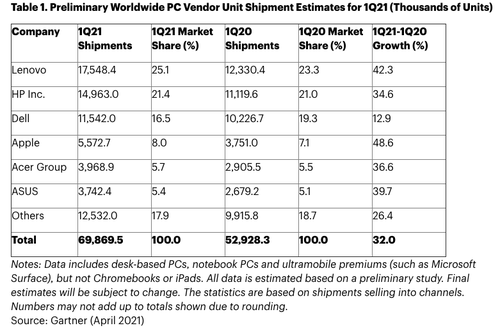 In the early days of the virus pandemic, PC shipments plunged before rapidly increasing months after as companies adjusted to remote-work or hybrid work environments for their employees. Total PC shipments worldwide have been siding for years and just registered their highest level since 2015, when they printed at 71.7 million.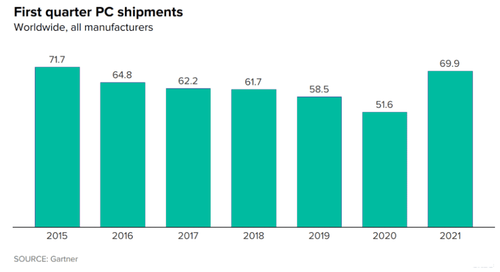 Monday's report suggests the abrupt shift to working from home may become normalized in a post-COVID world. The future remains uncertain, but PC shipments globally continue to rise, lending credit that the pandemic will forever change how some people work.
An increase in PC demand will require exceptional demand for chips and other components during a worldwide semiconductor shortage. This could result in lower PC shipment numbers as semiconductor component markets remain tight. 
Days ago, we told readers how an inexpensive $1 display chip was wreaking havoc across global supply chains. The shortage of driver chips has made it remarkably painful for supply chains of auto and tech industries who have scaled back or suspended production of certain products in recent months due to their inability to source chips. 
To make matters worse, cold weather in Texas in February knocked a decent chunk of US production. A fire at a Japanese chip factory in March forced production to shut down for a month. 
Semiconductor companies like Samsung Electronics and Taiwan Semiconductor Manufacturing warned they're both struggling to keep up with demand despite running factories at over 100% capacity. 
"The supply chain was completely disrupted one year ago, and the supply chain is disrupted right now because of a global semiconductor shortage," Gartner researcher Mikako Kitagawa told CNBC.
 One striking feature of the semiconductor shortage is that it could hurt the economic recovery. Goldman Sachs economist Jan Hatzius told clients the chip shortage is not the only shortage and could persist into 2022.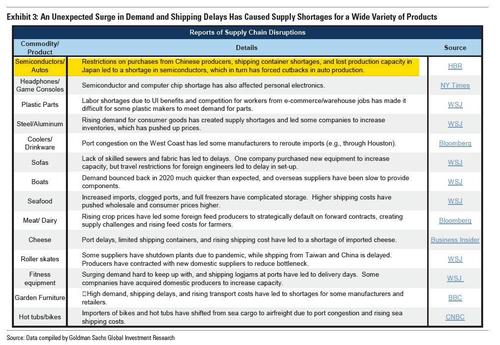 Kitagawa added, "We believe, at least this year, especially in the first half of this year, PC demand will remain strong. The question is how strong it's going to be in the second half of this year to next year." 
It's reasonable to conclude that PC demand worldwide will remain elevated even after stay-home restrictions ease because of a permanent shift of people working at home or at least on a hybrid work basis. 
Another analysis via research firm Canalys estimates worldwide PC market increased by a whopping 55% in the quarter, and IDC estimates 55% growth as well.
Soaring PC demand during one of the worst ever global chip shortages is not an ideal combination as it could damper future PC production. 
Readers should ask how long will all of this pull forward in PC demand will last? 
Tyler Durden
Wed, 04/14/2021 – 04:15