GM Prints Record Highs After Its Self-Driving Startup Ropes In $2 Billion From Microsoft
GM Prints Record Highs After Its Self-Driving Startup Ropes In $2 Billion From Microsoft
Update 0955 EST: Just 25 minutes into the session, GM has made record all time record highs, trading above $54. 
—
GM stock is surging to start the shortened trading week after news that Microsoft is investing in the company's driverless car startup, Cruise. The stock is up about 8% in early trading on Tuesday.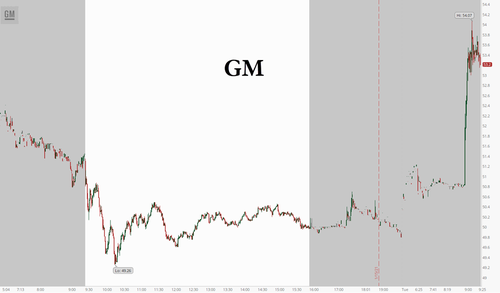 Microsoft is part of a group of companies that will invest more than $2 billion in Cruise, which is majority owned by GM, according to the Wall Street Journal. The stakes in Cruise raise its valuation to $30 billion, up from $19 billion in Spring 2019.
GM is also adding to its Cruise investment as part of the funding round and is going to maintain its majority stake. Among other companies investing is Honda, who is already a stakeholder, and "other institutional investors". Cruise had previously pulled in $7 billion during 2018 and 2019 from investors that included Softbank.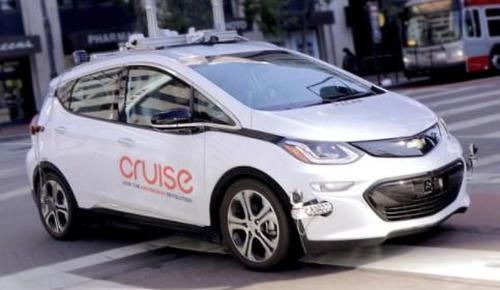 The terms of the deal state that Cruise will use Microsoft's Azure cloud service to help it roll out autonomous vehicle services. Cruise has been testing vehicles in San Francisco and plans on rolling out a robot-taxi service eventually. Meanwhile, Tesla's promise of "a million robo-taxis" on the road seems to be a distance memory. 
GM also noted that Microsoft is going to be its preferred cloud provided and will help streamline the company's supply chains. Cruise has signaled that it is getting "closer to commercializing its technology" at the same time investor appetite in EVs and self-driving seems to have reached mass adoption. 
As The Journal notes, self-driving companies are seeing profound bumps in their respective valuations:
Startup Aurora Innovation Inc. had a valuation of around $10 billion following its recent acquisition of Uber Technologies Inc.'s autonomous unit, up from about $2.5 billion in 2019. The market value of Luminar Technologies Inc., which makes laser-based sensing technology for self-driving cars, has rocketed to around $10 billion following its initial public offering last month. Waymo LLC, the autonomous-vehicle division of Google parent Alphabet Inc., raised at least $3 billion last year and recently began providing rides to the general public in the Phoenix area.
This marks the first major investment round in Cruise in more than 18 months.
GM is surging on the news, as we noted – but the biggest question becomes whether or not the legacy automaker's tie up with a major tech giant and pivot to self-driving could see its stock catch the same euphoria that has pushed certain other auto stocks into the stratosphere…
Tyler Durden
Tue, 01/19/2021 – 09:54