Goldman Smashes Revenue, Profit Expectations As Loss Provisions Slide
Goldman Smashes Revenue, Profit Expectations As Loss Provisions Slide
Unlike its larger money center peers, which in addition to sale and trading and i-banking are burdened by trying to make money from net interest income in a time of record low rates, Goldman was and (mostly, with the exception of the whole Marcus fiasco) remains a pureplay taxpayer backed hedge fund. Which is why going through its financials is relatively easy, especially when they are solid like they were in the past quarter, when the company smashed consensus expectations.
In Q4, Goldman reported the following:
Revenue of $11.74BN, almost $2BN more than the $9.99BN consensus estimate; and up 27% Y/Y "reflecting higher net revenues across all segments, with particular strength in Global Markets and Investment Banking"
Q4 operating expenses were lower YoY, primarily due to significantly lower net provisions for litigation and regulatory proceedings and lower compensation and benefits expenses.
Net Income of $12.08, a whopping 60% more than the $7.47 expected (of note, Goldman's "2020 effective income tax rate was 24.2% up from 20.0% for 2019 primarily due to an increase in provisions for non deductible litigation in 2020 compared to 2019")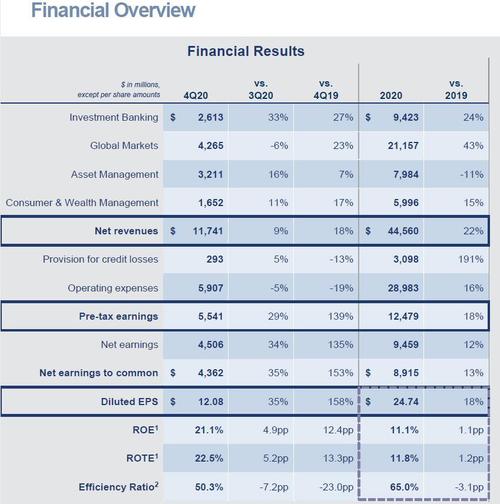 Of note: compensation expense dropped 19% to $2.48 billion, well below the estimate $3.02 billion. Why this is important? Well, higher bank revenues and much lower comp: this is the end of an era for ibankers/traders who used to share in firm upside as they no longer are "irreplaceable"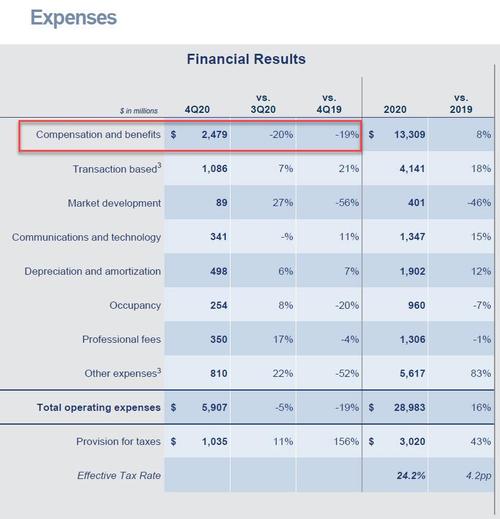 Also of note, in Q4 Goldman took a tiny provision for credit losses of only $293MM, down 13% from a year earlier. According to the bank, "4Q 20 provision for credit losses included reserve reductions on wholesale loans reflecting stabilization in the broader economic environment following the impact of the COVID 19 pandemic earlier in the year, partially offset by higher provisions from growth in credit card loans, as compared with 4Q 19."
In short, first JPM, then Wells, and now Goldman are all giving the all clear for the economy… at least until the next recession and next multi-trillion bailout forces another spike in credit loss provisions, rinse, repeat.
Looking at the various segments, Goldman's "global markets", i.e., trading beat for both FICC and equities, with total trading revenue rising 23% Y/Y to 4.27BN, and beating estimates of 3.98BN:
FICC revenue +6.3% Y/Y at 1.88bln (exp. 2.02bln); "reflecting significantly higher net revenues in credit products and commodities and higher net revenues in currencies, partially offset by significantly lower net revenues in interest rate products and lower net revenues in mortgages."
Equities revenue +40% Y/Y at 2.39bln (exp. 1.96bln); "reflecting significantly higher net revenues in both derivatives and cash products. Net revenues in Equities financing were lower, reflecting higher net funding costs, including the impact of lower yields on the firm's global core liquid assets."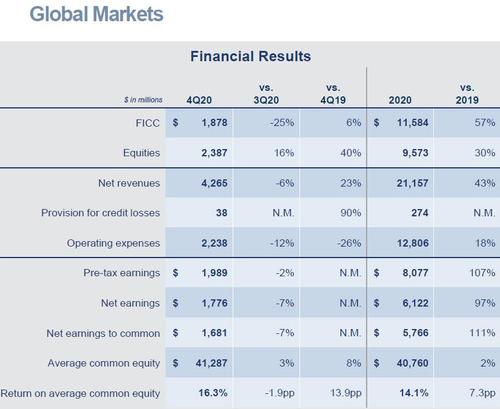 Some more details on the FICC and equities breakdown: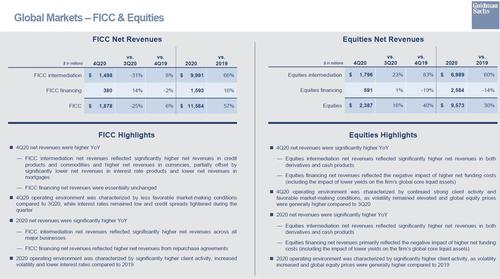 Investment Banking was also solid, with revenue rising 27% to 2.61BN, smashing estimats of $2.05BN; The revenue "reflected significantly higher net revenues in Underwriting and Financial advisory, partially offset by a net loss in Corporate lending"
Some more details:
Financial advisory net revenues of $1.091BN "reflected an increase in completed mergers and acquisitions transactions"
Underwriting net revenues of $1.641BN, "reflected significantly higher net revenues in Equity underwriting (reflecting higher industry wide activity), partially offset by lower net revenues in Debt underwriting (particularly in asset backed underwriting)"
Corporate lending loss of $119MM, "reflected net mark downs on corporate loans in 2020 compared to net gains in 2019"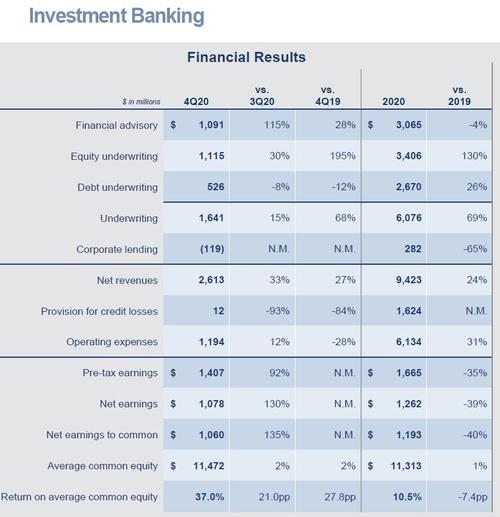 And yes, while Goldman is still mostly a trading and ibanking operation, it has been trying to get into the lending game, and here is a breakdown of its net interest income, which rose 32% to $1.41BN from $1.065BN, beating the estimate of $1.15BN.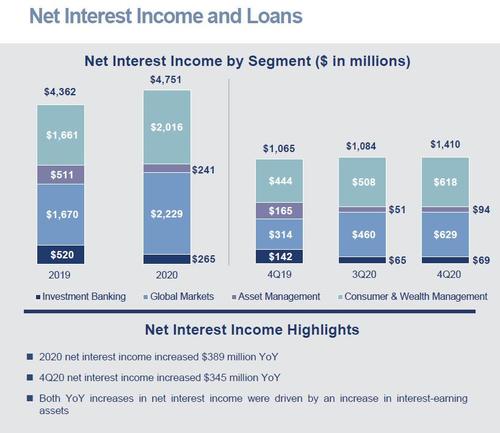 Finally, on the liability side, Goldman announced that total loans rose $7BN to $116BN, while the total allowance for loan losses was a tiny $4.43 billion, up $2.63BN Y/Y and included $3.87BN for funded loans. The company's provision for credit losses of $3.1BN in 202 was up about 50% or $1.1BN from 2019.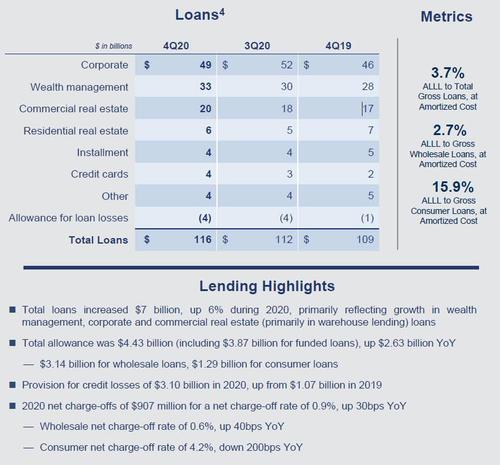 And with these mostly spotless and quite strong earnings, coupled with the unexpected decline in banker comp,  it is understandable why Goldman stock is surging premarket.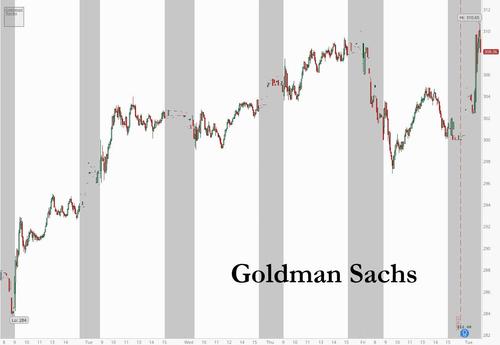 Full Goldman earnings results below (pdf link):
Tyler Durden
Tue, 01/19/2021 – 08:06