"Good Riddance": China Sanctions 28 Trump Officials Including Pompeo, Bolton, Navarro & Bannon
"Good Riddance": China Sanctions 28 Trump Officials Including Pompeo, Bolton, Navarro & Bannon
With Joe Biden now sworn in as US President as of 12:01pm, China has slapped sanctions on a who's who of top outgoing Trump administration officials.
Significantly, 28 Trump admin figures will be permanently barred from travel or doing business either on the Chinese mainland or Hong Kong.
"China announces decision to sanction 28 U.S. figures who it alleged to have severely violated China's sovereignty, including officials in the Trump administration, according to a statement from the Chinese foreign ministry," Bloomberg reports shortly after Biden took the oath of office Wednesday.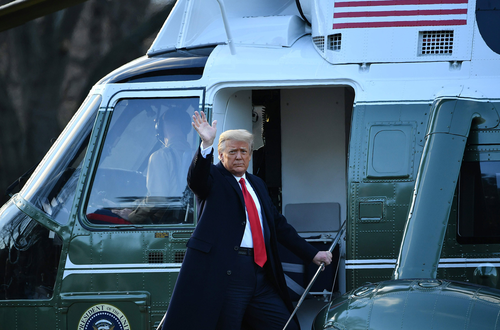 "Sanction forbids these people and their family members to enter China mainland, Hong Kong and Macau, and any entities associated with them won't be able to do business with China," the report added.
This will further include any companies associated with them; for example, companies which have a sanctioned individual on their board or in an executive capacity. Here's state-run Global Times with the official rationale for the punitive measures: 
Over the past few years, some anti-China politicians in the United States, out of their selfish political interests and prejudice and hatred against China and showing no regard for the interests of the Chinese and American people, have planned, promoted and executed a series of crazy moves which have gravely interfered in China's internal affairs, undermined China's interests, offended the Chinese people, and seriously disrupted China-U.S. relations. The Chinese government is firmly resolved to defend China's national sovereignty, security and development interests. China has decided to sanction 28 persons who have seriously violated China's sovereignty and who have been mainly responsible for such U.S. moves on China-related issues.
And here's a partial list of the top names:
They include Michael R. Pompeo, Peter K. Navarro, Robert C. O'Brien, David R. Stilwell, Matthew Pottinger, Alex M. Azar II, Keith J. Krach, and Kelly D. K. Craft of the Trump administration as well as John R. Bolton and Stephen K. Bannon. These individuals and their immediate family members are prohibited from entering the mainland, Hong Kong and Macao of China.
Crucially the statement added: "They and companies and institutions associated with them are also restricted from doing business with China."
Good Riddance, Donald Trump! https://t.co/kYNQ0jTCfH pic.twitter.com/UoDm8RIT6V

— China Xinhua News (@XHNews) January 20, 2021
The dramatic parting shot came after a series of colorful statements out of Chinese state sources:
"Good riddance, Donald Trump!" read a gleeful tweet from Chinese state news service Xinhua in the early morning hours on Wednesday, shortly before President Donald Trump left the White House for the last time. The post linked to a column that blasted the waning days of the Trump administration as a "preposterous show" and decried allied politicians of continued efforts to impose economic and diplomatic sanctions on Beijing.

Moments later, Chinese Foreign Ministry spokeswoman Hua Chunying in a press conference called outgoing Secretary of State Mike Pompeo a "doomsday clown."
Over prior months Trump and Pompeo had ramped up sanctions and travel restrictions on a slew of top Chinese officials, particularly over their alleged interference in Hong Kong's affairs, particularly given the past summer's harsh national security law giving police broad powers to crack down on pro-independence activists. 
Tyler Durden
Wed, 01/20/2021 – 12:49