'Hope' Sparks Modest Rise In Consumer Confidence In January
'Hope' Sparks Modest Rise In Consumer Confidence In January
After December's mixed bag (present situation tumbled as expectations rose modestly), analysts expected a modest rise in consumer confidence in January as vaccine hope trumped lockdown fears and Biden hope trumped Trump fears and it did, with the headline Conference Board sentiment rising from 88.6 to 89.3 (vs 89.0 exp).
However, the picture was mixed yet again with a further drop in "present situation" and a further modest rise in 'hope'…
Present situation confidence fell to 84.4 vs. 87.2 last month.

Consumer confidence expectations rose to 92.5 vs. 87.0 last month.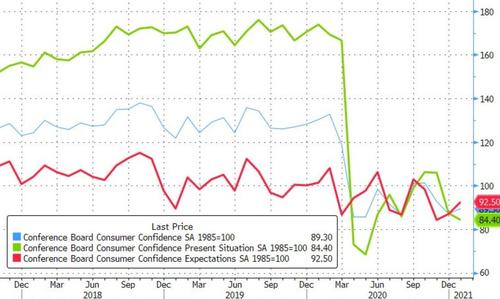 Source: Bloomberg
Not exactly the picture one would hope for as Biden begins his reign and stocks are at record highs.
Tyler Durden
Tue, 01/26/2021 – 10:05