Huge Beat: March Jobs Soar By 916K, Smashing Expectations
Huge Beat: March Jobs Soar By 916K, Smashing Expectations
It wasn't quite the whisper number of 1 million jobs, but it was close: moments ago the BLS reported ago that in March the US added a total of 916K jobs, smashing expectations of 660K, nearly triple the original February print of 379K and was the strongest payrolls report since last August. Of this total, private payrolls rose 780K vs 643K estimate, and up from an upward revised 558k.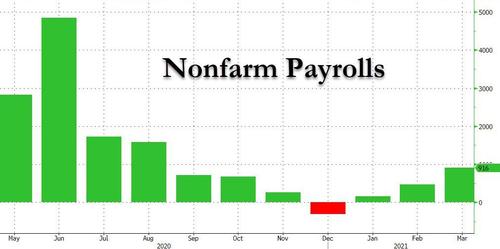 Putting the beat in context, it was an almost 2-sigma beat to consensus estimates, if not quite as high as some outlier expectations such as BofA's, which saw a 1MM print today.

Then again, if one also includes the previous monthly payroll revisions – which saw January revised up by 67,000, from +166,000 to +233,000, and February revised up by 89,000, from +379,000 to +468,000 – resulting in a January and February combined upward revision of 156,000 higher than previously reported, then we easily get a whopping 1MM plus change in payrolls.
As a result of the burst in new hiring, the unemployment rate dipped from 6.2% to 6.0%, in line with expectations, with both black and hispanic unemployment declining modestly.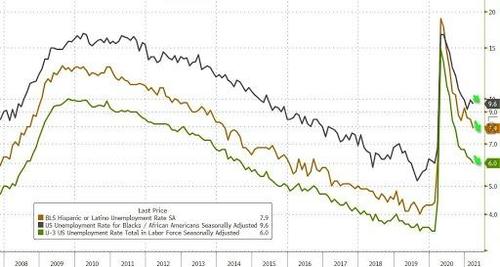 The participation rate resumed its modest increase, rising to 61.5% from 61.4% last month.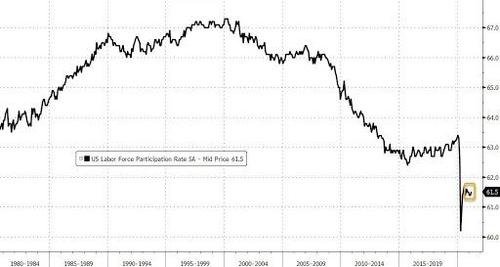 The closely watcged number of unemployed people on temporary layoffs declined again, if more modestly, from 2.229MM to 2.026MM. The smaller number of workers left on temporary layoff reduces the scope for the rapid pace of gains seen last summer, but it remains a positive factor relative to the pre-coronavirus pace of job gains.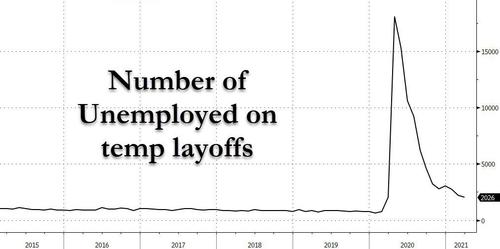 Looking at wages, there was some disappointment here, with average hourly earnings declining -0.1% M/M, below the 0.1% estimate, and down from 0.3% last month, while annual earnings growth rose 4.2% also missing the 4.5% estimate and down from 5.2% last month.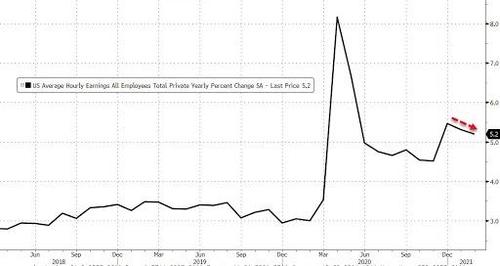 Developing
Tyler Durden
Fri, 04/02/2021 – 08:35