"I Ain't Going Anywhere": Ted Cruz Fires Back At AOC After She Calls For His Resignation
"I Ain't Going Anywhere": Ted Cruz Fires Back At AOC After She Calls For His Resignation
Not ones to ever let a good "crisis" go to waste, liberal politicians including AOC and Ilhan Omar immediately took to social media over the last 48 hours to decry the group of protestors who breached the U.S. Capitol, using it as a crutch to not only justify the billions of dollars in damage done over the summer across U.S. cities during BLM riots, but also to suggest impeaching and/or ousting the current sitting President using the 25th Amendment.
Articles of impeachment have already been drafted and are ready for introduction. They were prepared and finalized by @IlhanMN while she was extracted in a secure location, and members are signing on. pic.twitter.com/FJCpmp64OV

— Alexandria Ocasio-Cortez (@AOC) January 7, 2021
They also hilarious called for the expulsion of several members of congress – an idea that was unfathomable while people like Senator Kamala Harris were stoking the flames of BLM riots over the summer. AOC led the idiocy (as usual) suggesting that Senator Ted Cruz and Senator Hawley "must resign" and, if they don't, they Senate should move for their expulsion.
The comments from AOC came after Cruz made a Tweet calling the Capitol riots "terrorism", stating: "The attack at the Capitol was a despicable act of terrorism and a shocking assault on our democratic system. We must come together and put this anger and division behind us. We must, and I am confident we will, have a peaceful and orderly transition of power."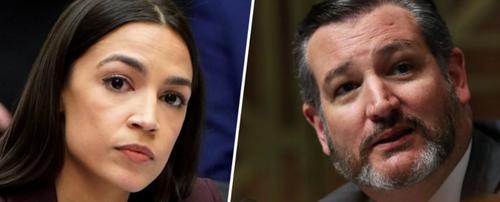 "Your complete refusal to acknowledge any of the above harm, wrongdoing, or even misjudgement; & your lack of any self-reflection in how these acts contributed to yesterday's chaos is alarming. It is unbecoming of any elected official and makes you unfit for the office you occupy. Resign," AOC later wrote. 
Here's a great primer of what the next two years is going to look like:
Sen. Cruz, you must accept responsibility for how your craven, self-serving actions contributed to the deaths of four people yesterday. And how you fundraised off this riot.

Both you and Senator Hawley must resign. If you do not, the Senate should move for your expulsion. https://t.co/O2m6T59LYP

— Alexandria Ocasio-Cortez (@AOC) January 7, 2021
Cruz then called AOC a "liar" and said "I ain't going anywhere". 
"When you and your socialist buddies try to massively raise taxes, when you try to pass the green new deal & destroy millions of jobs, when you push for amnesty, when you try to pack the Supreme Court w/ activists to undermine our Constitutional rights… I will fight that every step & stand with the People," he wrote.
1/2 @AOC You are a liar.

Leading a debate in the Senate on ensuring election integrity is doing our jobs, and it's in no way responsible for the despicable terrorists who attacked the Capitol yesterday.

And sorry, I ain't going anywhere. When you and your socialist buddies… https://t.co/UoKBOC8ZU7

— Ted Cruz (@tedcruz) January 7, 2021
We can't help but think this is only the beginning of the left using the Capitol protests to try and push their agenda further forward. And it sure this isn't going to be the last chapter in the Cruz vs. AOC battle that the stage has been set for in the coming years…
Tyler Durden
Fri, 01/08/2021 – 09:01