In 2nd Subpar Auction Of The Day, Record Big 5Y Treasury Sale Tails Amid Weak Demand
In 2nd Subpar Auction Of The Day, Record Big 5Y Treasury Sale Tails Amid Weak Demand
Just 90 minutes after subpar buyside demand saw the latest record 2Y auction tail in one of the last Treasury auctions of the year, moments ago the Treasury sold another record batch of debt, this time in the form of $59 billion in 5Y coupons, the biggest amount for the tenor sold on record.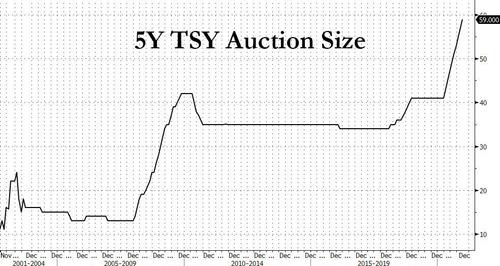 And just like this morning's 2Y auction, the 5Y also tailed the When Issued, pricing at 0.394%, virtually unchanged from last month's 0.397%, and a 0.3bps tail to the 0.391% WI.
The bid to cover was also lackluster, printing effectively flat for the third month in a row at 2.39 vs 2.38 in Oct and Nov.
Finally, the internals were also disappointing because with Indirects taking down 57.1%, this was below the 61.2% six-auction average, if just above last month's 56.5%. And with Directs poking a bit higher, and at 18.1% the highest since April – the same as today's 2Y auction – Dealers were left with 24.9% of the final allotment, virtually on top of the 23.9% recent average.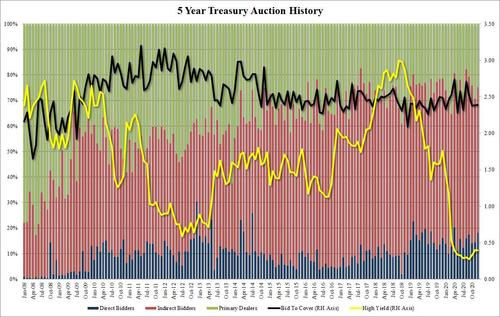 Overall, another lackluster auction, which leave just tomorrow's $59 billion 7Y auction before we close the book on 2020's Treasury sales for ever.
Tyler Durden
Mon, 12/28/2020 – 13:16