In Surprise To Markets, BOJ Buys Smallest Amount Of ETFs In Four Years
In Surprise To Markets, BOJ Buys Smallest Amount Of ETFs In Four Years
The Bank of Japan bought just 50.1BN yen of ETFs on Monday – the first day of 2021 – the smallest amount it has bought in more than four years on a day when it has made a purchase as part of its ETF buying program.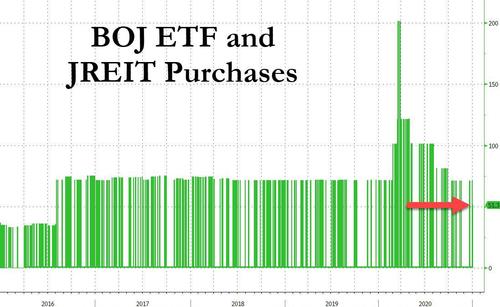 The reason this is notable is two-fold: i) it made headlines on Bloomberg, demonstrating that in this centrally-planned "normal" what really matters is how much risk assets central banks buy (and at least the BOJ is sincere about its intentions to prop up the stock market no matter the optics, unlike its "shy" peers at the Fed), and ii) the central bank buying "only" 50bn yen in stocks is a newsworthy event.
As a reminder, in August 2016, after increasing its annual purchase target to 6 trillion yen, the BOJ more than doubled its daily purchase amount to over 70BN yen.
Since then it has never purchased less than 70b yen on days when it buys ETFs as part of its main program, although most days it does not make purchases; the BOJ separately buys 1.2b yen in ETFs every day to support companies' investments in "physical and human capital."
That changed on Monday when the BOJ inexplicably bought 20BN less than it normally buys on a day ending in "y."
As shown in the chart above, the bank raised its buying to a peak of more than 200BN yen during the market crash in March, before lowering that amount gradually back towards 70BN yen; In 2020, the BOJ bought a total of 7.14t yen.
This is concerning for two reasons: the BOJ may be telegraphing to the market that its implicit support of the stock market will now be about 20% less, which would likely hammer Japanese stocks which will now have to reprice far less support from Kuroda and co; Worse, the BOJ wouldn't be making such an implicit shift in its equity support in a vaccum, and if it is indeed confirm that this wasn't some one off fluke, other central banks may soon follow suit.
While we wait for the answers, keep an eye on how many ETFs the BOJ will buy today: another 51BN day and things may get interesting. And another potential concern: on Tuesday the BOJ also reduced the amount of JGBs it purchased in the 1-3 year bucket from 500bn previously to "only" 450BN: are central banks starting to phase back their support of risk assets?
Tyler Durden
Mon, 01/04/2021 – 21:10