Incoming $1400 "Stimmy" Checks Could Push The S&P Over 4,000
Incoming $1400 "Stimmy" Checks Could Push The S&P Over 4,000
There's no doubt that the $600 stimulus checks that went out earlier this month put a charge into the market. Will the coming $1,400 checks push the market even higher? We think so.
We believe that another round of stimulus – at more than 2x the amount of the previous round – is an obvious catalyst that will move the market higher once again. We noted as such on January 13 when we posted to Twitter that the top 3 banks were "probably right" in suggesting calendar spreads because stimulus would pave the path for the S&P to breach 4,000.
So… top 3 bank pitching calendar spreads because $2K stimmy hits in March which will be catalyst for SPX 4K. They are probably right

— zerohedge (@zerohedge) January 13, 2021
This question was also explored by Bloomberg on Sunday morning, who arrived at a similar conclusion. Noting that the recent $600 checks caused option trading to explode and penny stock volume to skyrocket, the report points out that people "can't help notice how tiny traders with money to spend keep turning up in the vicinity of almost every market spectacle these days".
Then, the obvious question becomes: where does that extra money come from? 
Brrr…
Peter Cecchini, founder and chief strategist of AlphaOmega Advisors LLC, commented: "If the additional $1,400 goes to the same income levels it did before, we are highly likely to see additional speculation in stocks, which could continue to inflate an already-existing bubble. If it goes to people with below-average incomes, speculation will be less likely."
Data suggests that people who got a stimulus check, across all income groups, traded 30% more in the first 10 days of January than at the start of December. Those who earn less than $75,000 per year saw a 53% jump in their trading, Bloomberg wrote.
And the coming $1,400 will hit bank accounts during a "full-blow market mania". Speculation is rampant not just in risky asset classes like cryptocurrencies, but in penny stocks, dubious startup companies and cash burning entities across all exchanges in the U.S. – we are at peak euphoria. In fact, the options market saw its second busiest day ever for bullish equity calls this week and penny stock volume is up 6x from last year.
Retail stocks, as we have noted many times on Zero Hedge, are blowing away hedge fund favorites and the S&P 500 index: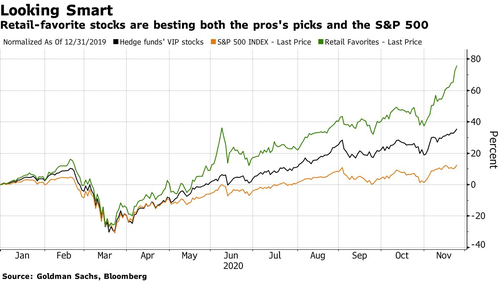 And while people certainly need the stimulus to help offset rising costs and job losses, many will instead divert their checks to the market. 
23-year-old Ava Frankel of Boston, who works in the financial services sector, said: "I told my friends, if you're going to spend your stimulus check on shoes, you might as well just put it in Robinhood instead. The $600 check was just something extra I didn't need so I just threw it in the stock market."
Frankel put her entire $600 check in to a SPAC that is reportedly in talks with Lucid Motors and says she would consider doing the same with the next check she gets. "I would love to see a pullback in the tech sector because I would like to add to my positions in the tech names," she also said. 
Chris O'Keefe of Logan Capital Management concluded: "If there is a bubble being created within the financial markets, to some degree, those checks do add to it because I think they're going to chase performance. It used to be you added money to the economy and people went out and bought things — cars and furniture — now it seems to amplify what's going on in the financial markets."
Or, in other words:
Stimmy, stimmy stimmy can't you see, sometimes your fiat just hypnotize me.

— Michael Krieger (@LibertyBlitz) January 14, 2021
Tyler Durden
Sun, 01/17/2021 – 17:25