India Discovers First "Double-Mutant" COVID Strain As New Cases Surge
India Discovers First "Double-Mutant" COVID Strain As New Cases Surge
Time to crank the fear gauge up to '11'.
Following a series of reports warning about mutated COVID strains first identified in Brazil, the US and elsewhere spreading across Latin America, the US and Europe, scientists in India are one-upping them by identifying what they described as "a double-mutant" strain of the ubiquitous virus.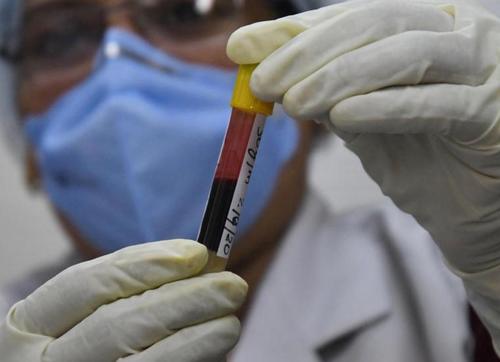 The 'double-mutant' was identified, along with 770 other strains, gleaned from samples collected across 18 Indian states. Of the 10,787 samples collected, 736 tested positive for the UK variant, 34 for the South African variant and one for the Brazilian variant. The report comes as COVID cases in India are climbing once again after the nation managed to bring numbers close to zero. The country has reported a total of 11.7MM cases, and 160.4K deaths.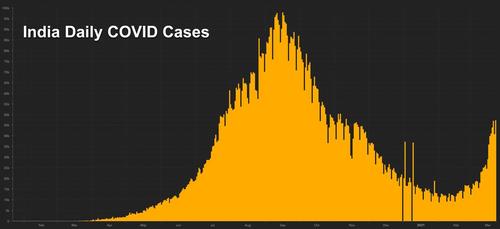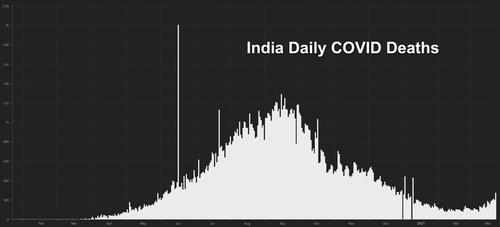 While the Indian government insists there's no link between the variants and the surge in cases (India rolled back most of its virus-inspired restrictions on business and movement months ago). India became the fifth country in the world to sequence the COVID virus's genome last January.
Still, a consortium of 10 national laboratories working with India's government said this week they would monitor the new double-variant, which was traced to Mahahrashtra state. Although scientists said none of the variants appeared to be circulating widely enough yet to be causing the surge in cases, they called on authorities to ramp up testing and ensure new cases caused by the variant are swiftly isolated. In response, the government is ramping up certain restrictions, along with its vaccination drive.
As far as the remaining COVID restrictions are concerned, hundreds of thousands of Indians ignored them last week when they came out to celebrate Holi, a week-long affair commemorating the advent of spring.
But what, exactly, is a "double-mutant"? A scientist who spoke with the BBC explained why the double-mutation could make the strain more infectious, and more virulent.
A double mutation, virologist Shahid Jameel explains, is "two mutations coming together in the same virus"

"A double mutation in the key areas of the virus's spike protein may increase these risks and allow the virus to escape the immune system and make it more infectious," he adds.

Spike protein is the part of the virus that it uses to penetrate human cells.

The government said that an analysis of the samples collected from India's western Maharashtra state shows "an increase in the fraction of samples with the E484Q and L452R mutations" compared with December last year.

"Such [double] mutations confer immune escape and increased infectivity," the Health Ministry said in a statement.

Dr Jameel added that "there may be a separate lineage developing in India with the L452R and E484Q mutations coming together".

But the government denied that the rise in case numbers was linked to the mutations.

"Though VOCs [variants of concern] and a new double mutant variant have been found in India, these have not been detected in numbers sufficient to either establish a direct relationship or explain the rapid increase in cases in some states."
India's Serum Institute is expected to play a major role in supplying the world with enough COVID jabs to vaccinate the entire population of the planet. But given the speed of the worrying surge in cases, Indian states have already begun re-introducing restrictions, including curfews and intermittent lockdowns, to control the spread of the virus. At least two major cities, capital Delhi and financial center Mumbai, have ordered randomized rapid testing at airports, train stations, shopping malls and other crowded areas. India's fe is also expanding
Tyler Durden
Wed, 03/24/2021 – 21:50