Is A 20%-Stronger US Dollar On The Cards?
Is A 20%-Stronger US Dollar On The Cards?
Authored by Martin Enlund and Andreas Steno Larsen via Nordea,
The USD should be rising 20% in YoY terms instead of falling 15% according to relative growth expectations. Unless the Biden-administration annihilates the USD, there are strong reasons to expect a sound USD comeback this year.
Quote of the week
 "Mhmm. I do." –  Joe Biden in response to being asked whether he thinks Putin is a killer
The price action in USD yields reminds us of the Swedish Eurovision winning song by Loreen: "We are going UP UP UP UP UP UP UP". We have long warned of this move, why we are tempted to sing "Diggi-loo diggi-ley, life is goin' my way, when I'm walkin' in my golden shoes".. Joking aside, The Fed almost surely thought that Wednesday's message would lead to lower bond yields, but instead they ended up accelerating the long-end of the yield-curve (again). Central bankers simply don't get market dynamics.
The Fed wasn't in any hurry to hike rates or taper its bond purchase program in March, as was broadly expected. While bad news for longer-dated bonds, we believe this still puts the Fed in a more hawkish camp when compared to its peers such as ECB or RBA which are promising to become even more aggressive. As the Fed seems "hands off" for now with regards to US 10y Treasury bonds, then we would argue this is good news for the dollar. The twin deficit idea can be boiled down to that either i) US yields needs to rise, or ii) the USD needs to weaken so as to attract enough foreign funding of the US budget and current deficits. It thus follows that higher US yields means less downside pressure for the dollar.
Chart 1. Massive hikes to 2021 growth forecasts – but primarily for the US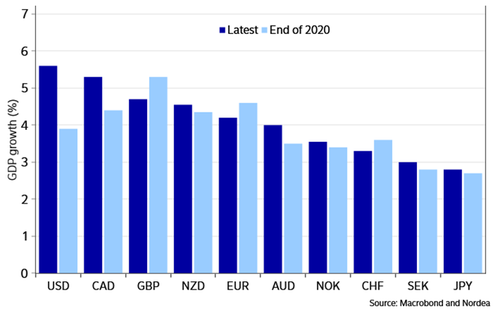 We have been asked a lot about our chart on the dollar vs relative growth expectations. As some of you were doubtful, we double-checked our numbers and found that they do seem to keep up. Consensus economists – on Bloomberg data – have seemingly been falling over themselves in a fight to lift their 2021 US growth forecasts, and this has not been as evident for most other G10 countries.
In terms of relative growth forecasts, or in term of revisions to said forecasts, the USD should be in a very strong spot – rising 20% yoy instead of falling 15% yoy(!).
Chart 2. USD/G9 vs relative growth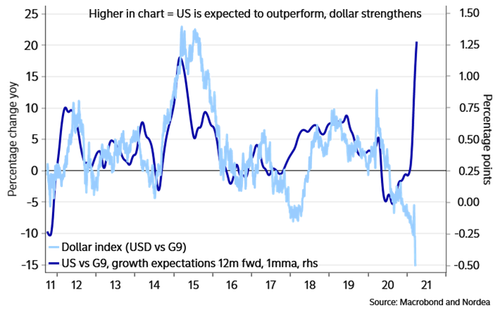 Also when we weigh the forecasts with the DXY weights, the USD should be gaining rather than weakening – though not as much as when we look at an equal-weighted average of G9 forecasts (since these are held down by Sweden, Switzerland and Norway). This is not the prettiest chart we have made, but we figured we'd show it anyway.
Chart 3. Dollar index (DXY) vs relative growth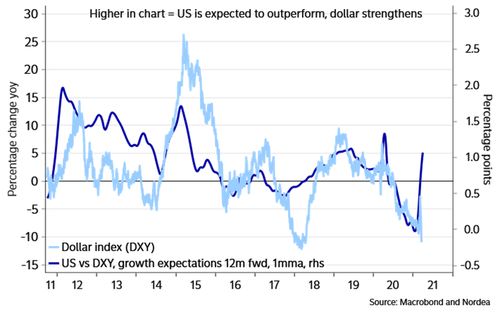 Japanese investors seem to have been on a buyer's strike of US Treasuries lately, but US 10y are now offering the highest yield since 2015 after adjusting for the cost of rolling a 3-month FX hedge. The Bank of Japan's YCC shenanigans is out of the way, kind-of, and the Fed has furthermore provide clarity on the SLR. Perhaps the new Japanese fiscal year (April 1) could prompt a pick-up in purchases? This is something to ponder, and should be tracked closely in the weekly bond purchase data (if Japanese accounts jump into USTs, this might lessen the tailwinds for the dollar).
Chart 4. US 10y Treasury bonds offer the highest yield since 2015 when FX-hedged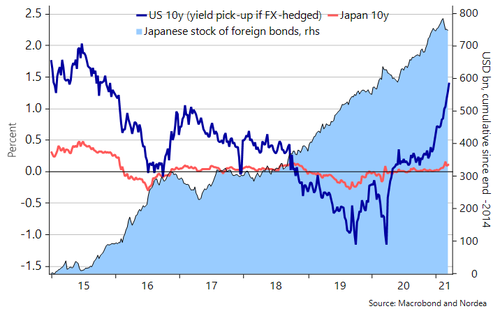 The Fed may have made one costly mistake last week, even if almost no one has noticed yet. Powell said that the FOMC members "have resisted the temptation to try and quantify what that means, but when we are above target… we can do that" referring to the "moderate overshooting" on inflation, which means that Fixed Income tensions should build up again ahead of the April inflation print. Powell and the FOMC risk building up a pent-up tantrum scope by refusing to address inflation until it is actually at a point which augurs tightening of the policy. This still holds the potential to turn into Powells taper tantrum.
We remain short EUR/USD with a target of 1.1750 and look for (at least) 2% in the 10yr Treasury Yield already before summer.
Chart 5. Mind the gap? Bond yields are headed higher still..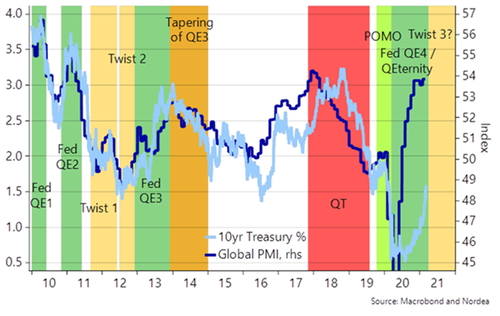 We have already had several questions on whether a 10yr Treasury yield above 2% (and potentially a Bund yield above 0%) would be an issue for debt affordability. We remain unconvinced of it being a material issue. Average debt servicing costs are lower than ever, more than 1/3 of the debt is effectively already cancelled via central bank ownership (bond coupon payments are being paid back to Treasuries) and real rates are clearly negative. The US Treasury would even be able to fund the entire Biden-nomics package via 10yr bonds without increasing the average interest rate in the debt portfolio.
Chart 6. Debt affordability? No problem…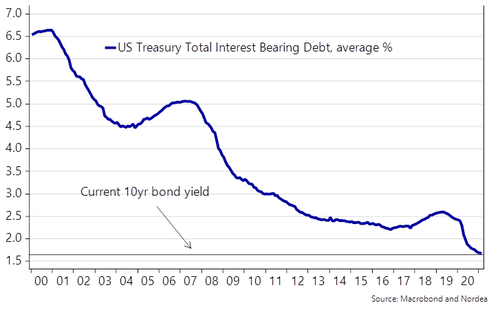 Meanwhile, we have had the hawks-on-parade in EM space, which is probably one of the best signals you can get that inflation is running hot globally. Rates have been hiked in Ukraine, Armenia, Turkmenistan, Brazil, Georgia, Zambia and Turkey – the latter even led to another lay-off of a CBRT governor. We have said it before, and we will gladly repeat it. We will not turn bullish on TRY as long as Erdogan is effectively running the central bank, and the renewed TRY-bulence is by the way a bigger issue for EUR than the USD.
Chart 7. PMIs are in hiking territory and the EM-hawks have accordingly been on parade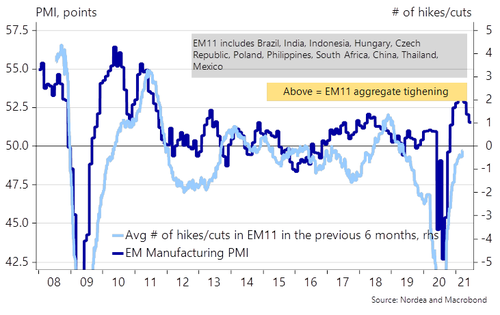 Could the hawks-on-parade prove be a canary in the commodity coal-mine? This is another key question as oil prices have started to look shakier in response to the list of larger-than-consensus hikes in EM space and the continued higher highs in USD rates. And is there even a risk of G10 central banks trying to hawk things up during Q2? Historical linear relations between nominal growth and hikes/cuts would suggest as much already this summer. The so-called "commodity super cycle" could accordingly run into trouble already during April, which is one reason why we stay short AUD/NZD (and EUR/USD).
Chart 8. Who will hike first in G10+China? Norway, China or the US?
We find the risk of monetary policy mistakes elevated compared to the risk of a too early withdrawal of fiscal stimulus as gigatons of spending are pre-promised for 2022 and 2023 already. Will the central bankers prove to be the post-crisis Ordo-liberalists? Trichet would at least have been warming up for a premature rate hike by now.
Political risks rather stem from the geopolitical scenery with the current vaccine-nationalism being a good sign of structural deglobalization trends. The EU acted in a naïve way assuming good behaviour from peers while Europe has been left at the platform by the US and the UK in the vaccine-rollout. Canada e.g. imports Pfizer vaccines from European manufacturing sites instead of from the Michigan manufacturing site just across the border as the Trump administration (cleverly) put America first in the vaccine program.
The European Union reluctantly has to accept a flush of "Putin-water" as a consequence, and the Biden-administration just watches as the EU moves closer to Russia. Is it by the way a complete coincidence that the Astra Zeneca vaccine suffers from huge headwinds in the press just as Russia is trying to board Sputnik in the EU vaccine programme? We will let you decide on that question yourselves.
We remain short EUR vs. smarter vaccine peers such as the US and the UK.
Chart 9. The US and the UK lead the West in the vaccine roll-out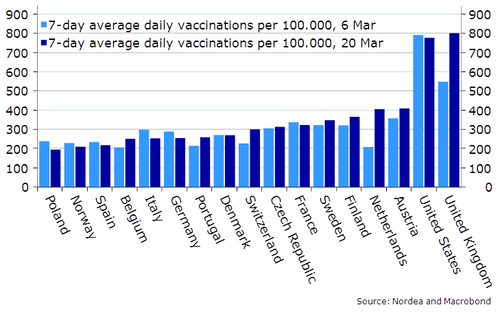 Speaking of the Biden administration… When was the last time a US President called another statesman a murderer? And can the US really manage making enemies of both China and Russia while also annoying Germany and the EU? In contrast to maligned Nixon playing China against the Soviet Union and doing so successfully, the new US administration seems to aim at solidifying the bonds between Putin and Xi, while also annoying the Germans and parts of the EU. At least Biden has the Quad (Australia, Japan, India, the US – with the UK a likely sidekick), though one wonders whether they should have gone with Oceania as a more apt moniker? An Oceania, as Orwell wrote, had "always" been at war with Eurasia. Despite media pundits mostly arguing to the contrary, we believe Biden is a (much)"riskier" president in terms of geopolitical tensions. Bombing Syria and calling Putin a murderer, is probably just the start.
*  *  *
If you want to receive a copy of Nordea's FX weekly directly in your inbox, you can sign up via this link.
Tyler Durden
Mon, 03/22/2021 – 12:20