ISIS Kills 28 Syrian Troops Near Palmyra In Most Devastating Ambush In Years
ISIS Kills 28 Syrian Troops Near Palmyra In Most Devastating Ambush In Years
This week ISIS terrorists carried out a devastating attack on a passenger bus that was carrying dozens of Syrian Arab Army (SAA) soldiers and civilians in the eastern region of the country.
On Thursday the Islamic State announced responsibility for the attack that claimed the lives of at least 20 Syrian Army soldiers and eight civilians between the cities of Palmyra (Tadmur) and Deir Ezzor.
The attack, which was carried out on December 30th at 4 P.M. (Damascus Time), was the deadliest single ambush of the year by the Islamic State and one of the few attacks they have carried out in the eastern region of the country recently.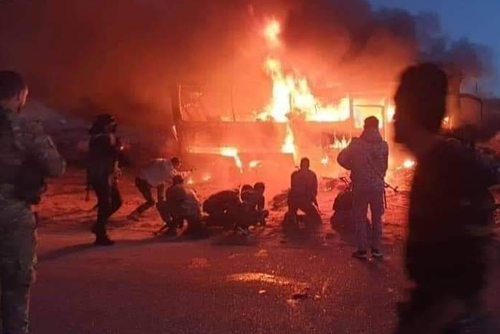 Al Jazeera detailed that a bus "carried soldiers and pro-government fighters who had finished their leave and were on their way back to their base in the desolate, sparsely populated area."
"Another source said at least 30 soldiers were killed, mostly from the Syrian army's elite Fourth Brigade, which has a strong presence in the rich oil-producing province since the ISIL, also known as ISIS group fighters were pushed out at the end of 2017," Al Jazeera added.
In response to the devastating attack by the Islamic State, the Russian Aerospace Forces unleashed a massive barrage of airstrikes over the central and eastern regions of Syria, hitting several terrorist sites in the Badiya Al-Sham region.
Remember when think tanks spent years saying we need to team up with Erdogan rebels in Syria to make progress against ISIS because the Syrian army never fights them? The biggest conflict zone of the decade was dominated by fake news. https://t.co/dcbf7jWrAb

— Max Abrahms (@MaxAbrahms) December 31, 2020
According to a field source in the Homs Provinice, the Russian Aerospace Forces launched dozens of strikes on the terrorist positions, inflicting heavy losses within the ISIS ranks.
Furthermore, the Syrian Arab Army also carried out a number of artillery strikes and air raids over the terrorist positions, hitting the ISIS positions in the Homs, Deir Ezzor and Sweida governorates.
The Islamic State has increased their attacks against the Syrian Arab Army in 2020, moving between different governorates to wreak havoc in the Arab Republic.
Tyler Durden
Thu, 12/31/2020 – 20:35