Israel Using Gen. Milley To Pass Messages To Biden On Iran
Israel Using Gen. Milley To Pass Messages To Biden On Iran
Authored by Dave DeCamp via AntiWar.com,
According to a report from Axios, Israel used a recent visit from Chairman of the Joint Chiefs of Staff Gen. Mark Milley to pass messages about Iran to the incoming Biden administration.
Israel opposes Joe Biden's plan to work with Iran to return to the 2015 nuclear deal but has yet to open formal contacts with Biden's team. Milley could stay in his position beyond the transition period, so the Israelis see him as a potential conduit.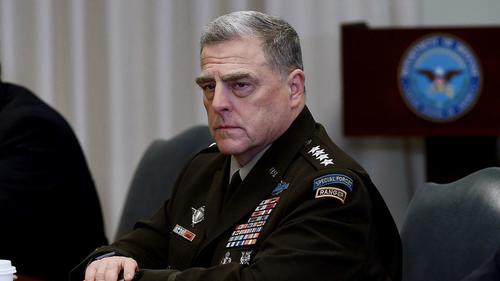 An unnamed Israeli official told Axios that Israel expressed its opposition to Biden rejoining the nuclear deal to Milley while the general visited the country last week. "We stressed that the starting point of any talks with Iran is much better for the US today than it was in 2013. What is needed now is to be tough in order to get a better deal," the Israeli official said.
"We wanted to make our case to the new administration on Iran through someone who is still going to be in the room when Biden assumes office and is going to play a substantive role in any policy review that will take place," the official added.
Israel's stance on the nuclear deal, known as the JCPOA, is a non-starter for negotiations with Iran. Tehran has made it clear that they have no interest in talks before the US provides sanctions relief. Iranian officials have repeatedly said that Iran will quickly come into compliance with the JCPOA if the US lifts sanctions.
The Israelis also told Milley that Biden should be more open to relationships with Saudi Arabia and the UAE, despite human rights concerns. The Israelis hope Biden continues the normalization deals started by the Trump administration.
Saudi Arabia, the UAE, and other Gulf states are also opposed to Biden's plan to revive the JCPOA. The Gulf states are hoping to be involved in future negotiations between Iran and the US. Iran is in favor of dialogue with its neighbors but believe the US should stay out of regional talks.
Tyler Durden
Thu, 12/24/2020 – 15:40