"It's A Very Good Vaccine" – Dr. Fauci Tries To Rationalize AstraZeneca's Latest "Unforced Error"
"It's A Very Good Vaccine" – Dr. Fauci Tries To Rationalize AstraZeneca's Latest "Unforced Error"
During an interview where the good doctor also reassured the public that the troubled AstraZeneca COVID jab is still "a very good vaccine", Dr. Anthony Fauci, senior advisor to President Biden, head of the NIAID, and head of the US delegation to the WHO, warned that Europe's third wave could portend another surge in infections in the US.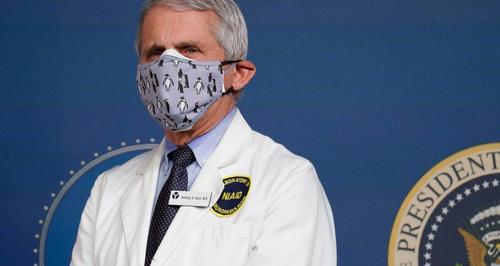 With cases rising week over week in more than half of US states, and reports about the AstraZeneca trial data baffling the public, Dr. Fauci appeared on "Good Morning America" Tuesday to try and explain exactly what is going on.
Fauci started by assuring his audience that he was "optimistic" about the AstraZeneca vaccines' effectiveness and expressed hope that AstraZeneca's vaccine would soon join the other three approved for use in the US.
As for the AstraZeneca vaccine, Dr. Fauci explained during the interview that the DSMB, the agency overseeing all the COVID vaccine trials in the US, became incensed after it saw AstraZeneca publish a press release outlining the main findings from the trial data. That release – which the company later admitted was based on an "interim analysis" – was apparently seen as unsuitably premature by the regulator, which angrily rebuked AstraZeneca in "a rather harsh note" saying they thought the data in the press release "was somewhat outdated and might in fact be misleading a bit" – according to Dr. Fauci's description (he said he had been copied on the email between the DSMB and AstraZeneca).
Dr. Fauci addresses concerns that Astrazeneca "may have included outdated information" in its U.S. clinical trial results that could impact the reported efficiency of its COVID-19 vaccine. https://t.co/4Gp7pjXj6l pic.twitter.com/Y57BIXz8VM

— Good Morning America (@GMA) March 23, 2021
He concluded that releasing the data prematurely was "an unforced error" on AstraZeneca's part, but that the jab would nonetheless be proven reliable and safe.
While Dr. Fauci's attempt to explain away the latest AstraZeneca controversy took up most of the interview, the Associated Press noted that Dr. Fauci also warned about a surge in US cases.
Although vaccinations have eclipsed 105MM in the US and are continuing to climb at a staggering pace of more than 2M per day, an uptick in new cases, coinciding with genetic sequencing showing infectious mutated strains are responsible for much of the spread, has got policymakers worried. As more states reduce COVID lockdown restrictions, or abandon them entirely, many fear the US numbers could rise, following a pattern seen in Europe.
After Fauci's stint on the popular morning show, GMA moved on to another story that might help explain all the panic about rising case numbers: pretty soon, the card people receiving displaying proof that they have received their COVID jabs might be more used for more than taking selfies. Pretty soon, proof of vaccination could become like a hall pass for life, permitting bearers to access everything from air travel to dine-in seating. But to justify this, governments need people to keep taking vaccines – and right now, demand far outstrips supply.
Tyler Durden
Tue, 03/23/2021 – 11:05