Jeep Debuts All-Electric Wrangler Concept That Is "Stealthy, Quiet, And Quick" 
Jeep Debuts All-Electric Wrangler Concept That Is "Stealthy, Quiet, And Quick" 
Jeep fans got a surprise this week, with the company debuting a new all-electric Wrangler called "Magneto." The car's design is based on the 2020 Jeep Wrangler Rubicon but is only a "concept" at the moment.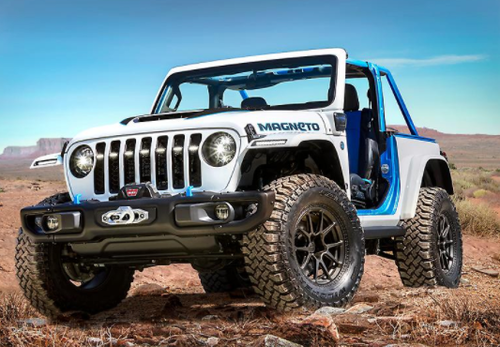 Jeep said, "Wrangler Magneto concept is a fully capable BEV that is stealthy, quiet, quick, and an unmistakable rock-climbing force." The electric motor offers 273 pound-feet of torque and 285 horsepower. All that instant torque via its 800-volt system across four battery packs could be a gamechanger for offroad Jeep enthusiasts.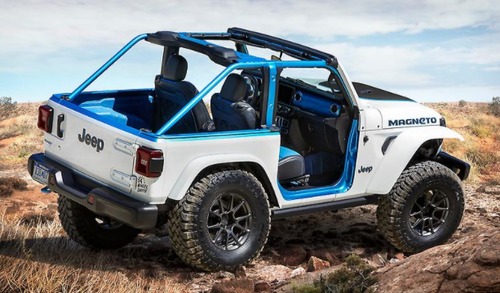 Jeep's parent company Fiat Chrysler (now called Stellantis), has been behind the curve in releasing electric vehicles. GMC's Hummer EV and Rivian's R1T pickup truck are set to be available in the near term.
Morgan Stanely told clients earlier this month that Tesla saw its share of the electric vehicle market shrink from 81% in February '20 to 69% in February '21. Mainly because Americans were more fascinated by the Ford Mustang Mach-E than Model 3 or S. Ford is also testing the all-electric F-150 that could be released as early as 2H22. 
This all suggests that Tesla is set to continue to lose market share as some of America's most popular vehicles, such as the F-150, Hummer, Mustang, Wrangler, have been electrified and are already selling or are still in concept with testing underway and near-term release.
When it comes to brands, Americans tend to gravitate to ones they trust, such as Ford, Chevy, GMC, Dodge, Jeep, etc… 
Tyler Durden
Thu, 03/25/2021 – 18:00