Jefferies Responds To Goldman Junior Banker Crisis By Gifting Analysts Free Pelotons, iPads
Jefferies Responds To Goldman Junior Banker Crisis By Gifting Analysts Free Pelotons, iPads
The very same social media account that was instrumental in helping leak out the Goldman Sachs slides that junior bankers made to complain about recent working conditions has now posted that investment bank Jefferies may be trying to avoid a similar PR disaster. 
Jefferies may be trying to get ahead of having the same crisis as Goldman Sachs by "gifting analysts & associates a choice of Peloton, Mirror, or an Apple package," Twitter user @litcapital wrote late Thursday. 
They attached what appeared to be a Tweet from Jefferies, to analysts, claiming that the bank was "incredibly grateful for all of the Analysts and Associates across Jefferies around the world who support so much of what we do every day."
"We have tried to express this through our continuing efforts to support your training, learning and work/life balance," it continues. "Today, we want to go one step further in expressing our appreciation for all you are doing by asking you to click here now to select for yourself one of three gifts below from Jefferies."
Jefferies responding to the GS presentation by gifting analysts & associates a choice of Peloton, Mirror, or an Apple package 💀 pic.twitter.com/PYJQ06HcNH

— litquidity (@litcapital) March 18, 2021
The e-mail lists the three gifts as a "Peloton bike with a one year subscription", "MIRROR Home Workout System with a one year subscription" or an "Apple Package" which includes an Apple Watch, an iPad Air Plus and Airpods.
"You have given us your all these past 12 months," the email says. "…these gifts are a sign of our deep appreciation for your dedication, sacrifice and contribution to our success…"
Yeah, and are our tools for helping avoid the same amount of money we would have spent dealing with a PR crisis. Meanwhile, the last time we saw a promotional email telling workers they had to click through to get a bonus, it was an internal campaign to protect against email phishing. We're guessing that's not the case here. 
Recall, we noted on Thursday that 13 first year analysts at Goldman Sachs had expressed their "burnout" from working 100 hour work weeks due to the SPAC boom in a presentation that was making its way through social media. The slides had been authenticated by people close to the source, according to a CNBC writeup.
One Goldman analyst commented:
"The sleep deprivation, the treatment by senior bankers, the mental and physical stress … I've been through foster care and this is arguably worse." A second analyst commented: "My body physically hurts all the time and mentally I'm in a really dark place."
The slides making their rounds online looked like this: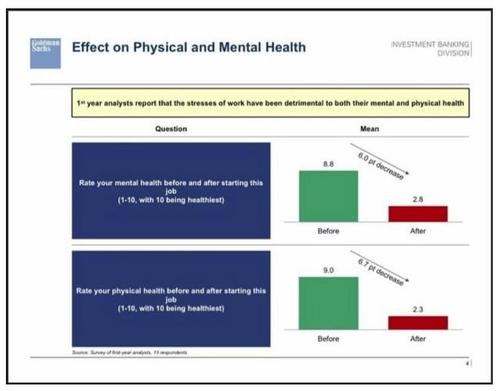 In traditional Goldman-slide format, they include color coded charts and have been formatted to look just like a normal investment banking deck. 
"Junior bankers should not be expected to do any work after 9 p.m. Friday or all day Saturday without a pre-approved exception, as that is the only safe-guarded personal time that we get," one slide says. Another suggests limiting a work week to 80 hours maximum. 
The deck was created by "disgruntled analysts," the report notes.
Goldman has reportedly commented that it is taking the concerns "seriously" and that executives had met with the employees last month an assured them they would be adding junior bankers to help tackle the massive workload. A Goldman spokeswoman said: "We recognize that our people are very busy, because business is strong and volumes are at historic levels. A year into COVID, people are understandably stretched pretty thin, and that's why we are listening to their concerns and taking multiple steps to address them."
Yes, but are you giving them free Pelotons?
Tyler Durden
Fri, 03/19/2021 – 13:25