Job Openings Beat Expectations, Hires Jumped Ahead Of December Job Market Plunge
Job Openings Beat Expectations, Hires Jumped Ahead Of December Job Market Plunge
While we already knew that the US labor market closed 2020 with a dude after Friday's December jobs report showed the first decline in US payrolls since April, moments ago the BLS reported that in November the labor market was still relatively solid – a now meaningless indicator considering all the much more recent data – with job openings in the US declining by just 105K to 6.527MM from a downward revised 6.632MM, well above the 6.4 MM consensus estimate. Of course, as everyone knows this is a stale number – JOLTS is 2-months delayed – and as such we can only imagine the December print when it is unveiled in February will be far uglier.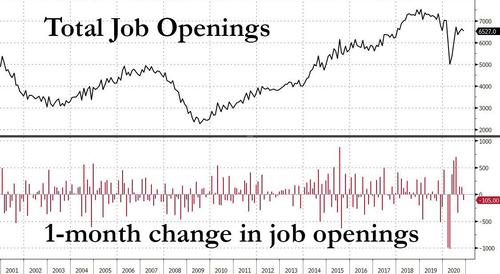 In any event, focusing on the data we do have, according to the BLS, job openings decreased in durable goods manufacturing (-48,000), information (-45,000), and educational services (-21,000), while geographically, the number of job openings was little changed in all four regions.
Separately, while it has long been the case that the series of 24 consecutive months in which there were more job openings than unemployed workers ended with a thud in March, in April it was an absolute doozy with 18.1 million more unemployed workers than there are job openings, the biggest gap on record. Since then the the gap has closed somewhat, and in November there were 4.2 million more unemployed than available job openings (after 4.4 million in October).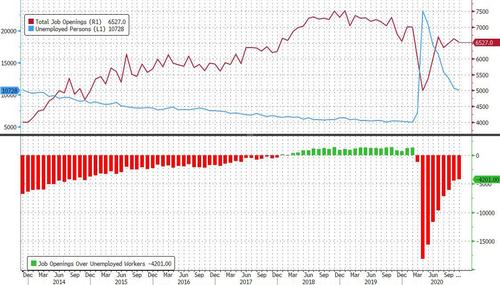 As a result, there was continued improvement in the job availability series, and in October there were just under 1.7 unemployed workers for every job opening, down from 4.6 at the peak crisis moment in April.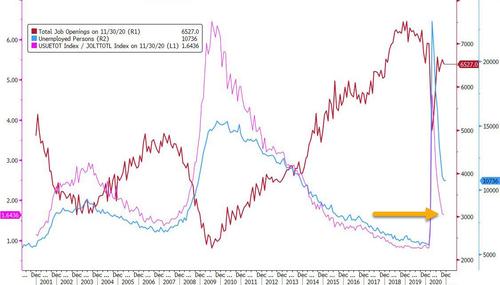 Meanwhile, after a positive month for hiring in October, when 5.912MM people were hired, in November hiring accelerated (if not for long) and rose to 5.979M, an increase of 67K for the month after a 26K increase in October, (both of which were well below the record hiring pace set in May with 7.2MM new hires).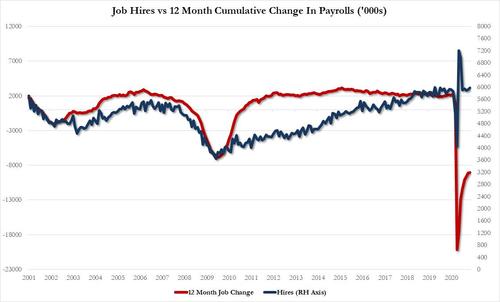 Hires increased in professional and business services (+175,000) and mining and logging (+13,000). Hires decreased in  acommodation and food services (-73,000), other services (-67,000), and information (-43,000). The number of hires in November (not seasonally adjusted) was little changed over the year. Hires increased in professional and business services; transportation, warehousing, and utilities; and nondurable goods manufacturing. Hires decreased in accommodation and food services and in information. The number of hires increased in the South region. The number of hires was little changed in all four regions.
While hires increased modestly, the number of total separations jumped by 271K to 5.4 million, with separations increasing in accommodation and food services (+326,000), and decreasing in federal government (-70,000) and real estate and rental and leasing (-27,000). The total separations level increased in federal government (+109,000), largely the result of separations of temporary 2020 Census workers.  Total separations increased in the West region.
Finally, after the record surge in the number of American quitting their jobs reported back in June, the number of quits continued to increase modestly, and in November rose for the third consecutive month when an additional 6K people quit their job, bringing the total to 3.156MM. Quits increased in accommodation and food services (+64,000). The quits level decreased in health care and social assistance (-52,000), real estate and rental and leasing (-17,000), and federal government (-6,000)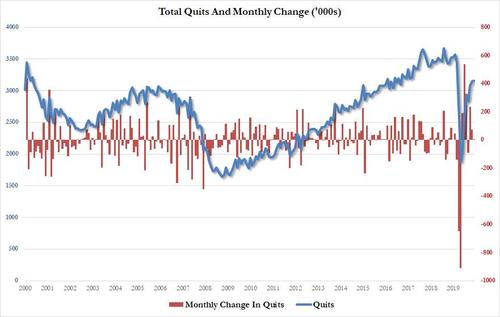 d
Tyler Durden
Tue, 01/12/2021 – 10:29