JPM Reports Record Revenue Offset By Surprise Jump In Credit Loss Provisions
JPM Reports Record Revenue Offset By Surprise Jump In Credit Loss Provisions
JPMorgan has officially launched the Q4 earnings season with earnings that were broadly stronger than expected, reporting record adjusted profits of $12.1 BN (which however include $2.9BN in reserve releases) although a higher than expected loan loss reserve provision initially hit the stock, sparking the usual question of what does JPM – the largest US bank – know that the rest of us don't.
Here is what JPM reported for Q4:
EPS $3.79 vs. $2.57 Y/Y, beating est. of $2.62
Record adjusted net income $12.1, up 42% Y/Y
Adjusted Revenue of $30.2BN vs $29.2BN Y/Y, up 3.3% Y/Y, and also beating est. of $28.6

Adding to the bullish picture, JPM's trading desk as usual had another stellar quarter, with FICC, equities and IBanking all beating expectations:
FICC sales & trading revenue $3.95 billion, +15% y/y, estimate $3.92 billion, driven by "strong performance in Credit, Currencies & Emerging Markets and Commodities"
Equities sales & trading revenue $1.99 billion, +32% y/y, estimate $1.79 billion, driven by "strong client activity in derivatives and Cash Equities"
Investment banking revenue $2.50 billion, +37% y/y, estimate $2.06 billion
Curiously, despite the surge in trading revenue, the company slashed trader comp again: "Expense of $4.9B, down 9% YoY,  driven by lower compensation and lower legal expense." How long before JPM's superstar traders start quitting?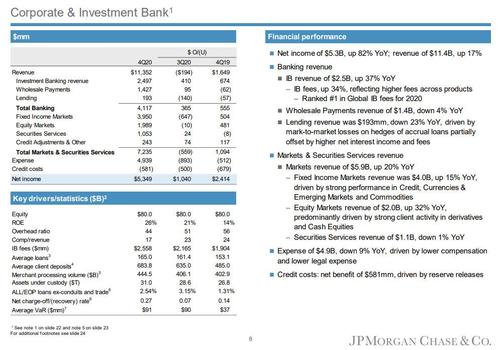 But while the top and bottom line numbers were all stronger than expected, what surprised traders was the unexpectedly high credit loss provision, which at $1.89BN was half a billion higher than the $1.39BN expected.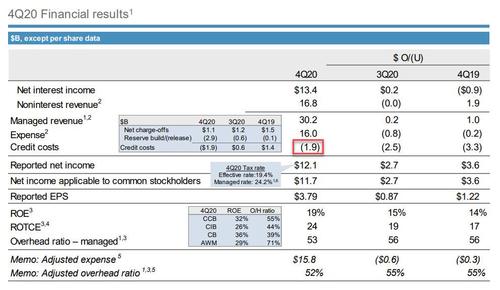 This was well above the loss provision recorded last quarter, and the highest in recent history except the covid crisis quarters: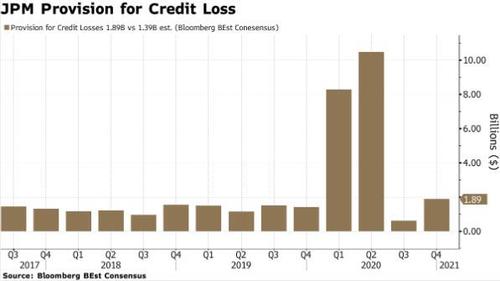 Adding to the confusion, JPM also unveiled a $2.9 billion reserve release in Q4, bringing total reserves from $33.8BN to $30.8BN in Q4: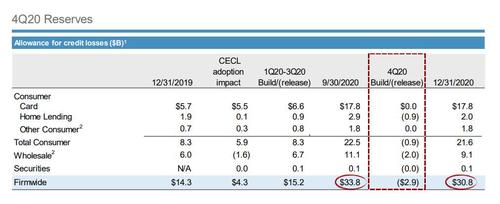 Since June 30 the bank has released $3.6 billion from its allowance for credit losses, which means that – all else equal – the bank's view on credit has gotten rosier (with the added benefit that the money flows right to the bank's bottom line). However, In his prepared remarks, Jamie Dimon warned of "near-term uncertainty", and cautioned that the reserve release was not to be taken as "core or recurring profits":
"JPMorgan Chase reported strong results in the fourth quarter of 2020, concluding a challenging year where we generated record revenue, benefiting from our diversified business model and dedicated employees. While we reported record profits of $12.1 billion, we do not consider the reserve takedown of $2.9 billion to represent core or recurring profits – essentially reserve calculations, while done extremely diligently and carefully, now involve multiple, multi-year hypothetical probability-adjusted scenarios, which may or may not occur and which can be expected to introduce quarterly volatility in our reserves. While positive vaccine and stimulus developments contributed to these reserve releases this quarter, our credit reserves of over $30 billion continue to reflect significant near-term economic uncertainty and will allow us to withstand an economic environment far worse than the current base forecasts by most economists."
Dimon also had some positive comments, seeing a solid improvement among US consumers:
"Within our consumer lending franchise, auto and retail mortgage originations were both up more than 20%. Consumer spending continued to recover, as reflected in combined debit and credit card spend being up for the full quarter."
Commenting on the results, Opimas CEO Octavio Marenzi wrote that "these are stellar earnings from JPMorgan Chase and will set the pace for other banks to come. As we have said for some time, JPMorgan appeared to over-reserve against credit losses in Q1 and Q2 in response to Covid, and now these reserves are being released, boosting the bank's earnings."
JPM also provided an update on its latest payment deferrals, which showed that while $24.2Bn of consumer loans (across residential, auto and credit card), remain in deferral, or 2.9% of total, some 91% of customers have no exited payment deferrals and are current.

An interesting tangent: as Bloomberg notes, the bank's marketing spend increased 54% from the third quarter to $725 million.
It's down from a year ago, but after two straight quarters of spending less than $500 million on marketing, the increase in Q4 suggests that the bank sees an opportunity to grow its customer base.
JPM also dedicated several slides to the surge in deposits, which as we have explained in previous years, is entirely due to QE. This is what JPM said: "Quantitative easing ("QE"), as part of the extraordinary response to COVID-19, has driven significant deposit growth in the U.S. banking system"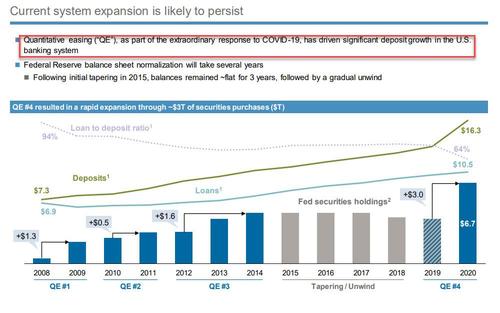 Why is this important? Because as Bloomberg notes, total assets rose 4% from the third quarter, and are up a whopping 26% from this time last year with deposits growing by 7% from the third quarter (and 37% from a year earlier!). But the same is not true of JPM's loans: the bank's loans-to-deposits ratio fell to 47%. It's down from 64% this time a year ago.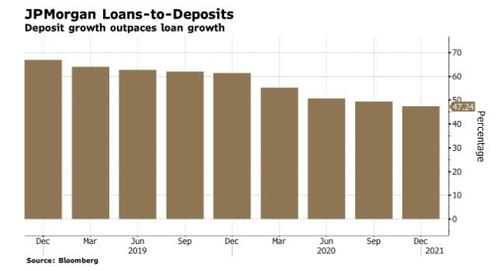 Looking ahead, JPM sees 2021 Net Interest Income of $55.5BN, up from $54BN previously, and up from the $55.0BN in 2020.  JPM also  sees Q1 Net Interest Income of $13.6BN, beating exp. of $13.25BN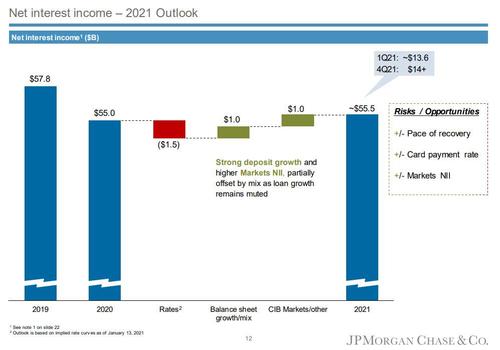 Offsetting this, however, JPM also now expects a big jump in 2021 noninterest expense, which it sees rising to $68BN + on $2.4BN of investments: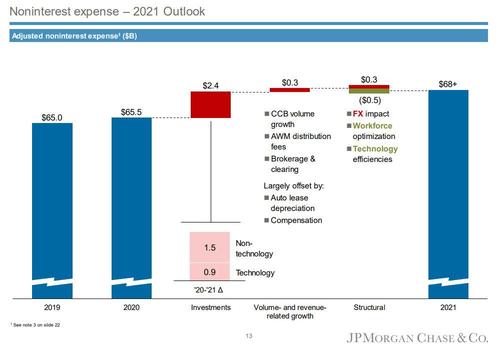 While the stock dipped initially, as traders were surprised by the unexpected jump in loan loss provisions it has since resumed its upward levitation, as attention turned to the latest spectacular results from JPM's trading desk: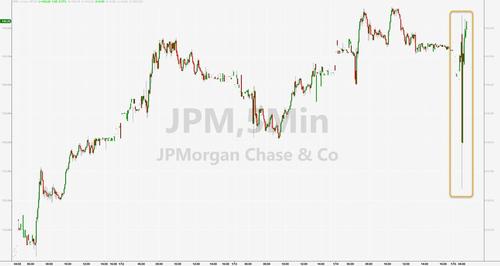 One possible reason for the rebound: the bank provided some more details on its $30 billion buyback authorization, which it said will resume in the first quarter with a net capacity of $4.5 billion.
Full Q4 earnings presentation below (pdf link):
Tyler Durden
Fri, 01/15/2021 – 07:30