JPM: The Entire Rates Complex Will Reprice If Fed Confirms That Lift-Off Is Coming In 2023
JPM: The Entire Rates Complex Will Reprice If Fed Confirms That Lift-Off Is Coming In 2023
Paul Meggyesi, head of FX Research at JPMorgan Securities, shares his thoughts on today's main event.
Today' FOMC is expected to symbolically validate what the market holds to be self-evidently true – that when economic facts change, especially radically, so too will policy. It shouldn't matter that the market already has the best part of three hikes priced for 2023, any acknowledgement by the Fed that lift-off is being brought forward into 2023 would effectively sanction the continued re-pricing of the entire rates complex.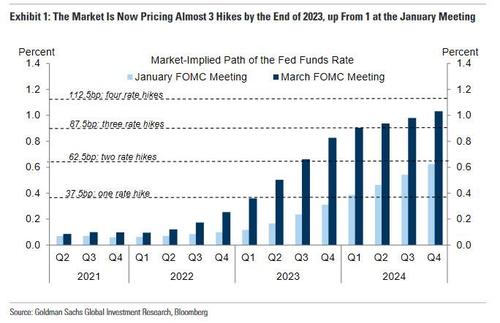 Certainly it is difficult to regard current market pricing as being stretched when the terminal funds rate is still priced below the Fed's long-run estimate. In all, the FOMC should mark an important milestone in the rehabilitation of the dollar's interest rate support, contingent upon the accelerated pace of vaccinations relieving the burden on public health and delivery of radical fiscal policy relieving the burden on monetary policy.
Europe obviously cannot rely on a similar pace of vaccinations to support its economic reopening nor, anywhere near the same magnitude of fiscal support; and, this contrast continues to warrant the pass-through of higher US yields into ever wider bond spreads, reinforcing the bullish read-through for the dollar.
It is noteworthy that the Bund/T-note spread is now back at its pre-pandemic level, and as a result FV for EUR/USD on out short-term model has edged lower yet again to 1.15. EUR/USD may not be exactly capitulating here but that doesn't mean to say that fundamental pressure is not building for a bigger move.
Tyler Durden
Wed, 03/17/2021 – 11:50