JPMorgan Clients Are Worried That Ramp Capital Is Dead
JPMorgan Clients Are Worried That Ramp Capital Is Dead
Back in 2013, long before anyone had heard of it or plagiarized it, we first defined the term 3:30 pm Ramp Capital to describe the clockwork meltup of stock in the last half hour of trading.
Invest In '3:30 PM Ramp Capital LP' For 26.6% Annualized Outperformance http://t.co/1zYG5yy0xq

— zerohedge (@zerohedge) April 8, 2013
In the nearly decade that has passed since then, both the term Ramp Capital and the phenomenon which it describes have become household items, so much so that JPMorgan's clients get upset when the requisite last hour lift is missing.
As the author of JPMorgan's daily market intelligence note, Andrew Tyler, writes "today was the second consecutive day where markets had a material sell-off in the afternoon, closing at/near the lows" and adds that "the conversations continue to center on Rates and Factor rotation/rebalance. While Rates appear to have found a level including two successful auctions this week, the residual uncertainty on direction/magnitude following last week remains in Equity markets. Further, there are a lot of conversations regarding quarter-end rebalance."
As a reminder, yesterday we previewed just this epic month-end tug of war between forced pension stock selling and quant/dealer buying, where the selling has so far dominated… but only in the last hour of trading.
To demonstrate just how forceful the EOD selling has been, here is an observations from Sentiment Trader who notes that "over the past 3 months, a net 29 days have seen stocks fall during the last hour of trading." And to visualize, ST shows a chart of the Cumulative Last Hour Indicator (not to be confused with the Smart Money Flow indicator) which reveals the biggest 3-month drop since 1997 even as the S&P has continued to levitate to all time highs.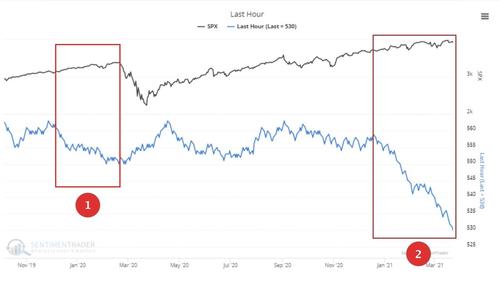 What is troubling is that the last time we saw a similar divergence was into the covid crash, and only the subsequent plunge in the S&P reversed the trend of "smart money" EOD selling. Will the S&P suffer a similar fate as last March if the Last Hour indicator continues to diverge from the broader market?
Tyler Durden
Wed, 03/24/2021 – 19:50