Kamala Harris-Promoted Fund That Bailed Out Violent Thugs Refuses To Share Records Of Criminals Sprung From Jail
Kamala Harris-Promoted Fund That Bailed Out Violent Thugs Refuses To Share Records Of Criminals Sprung From Jail
A fund established to bail out Black Lives Matter protesters – which helped free at least six men accused of domestic violence in two months – is refusing to disclose exactly who they've helped spring from jail.
The Minnnesota Freedom Fund (MFF), which was endorsed by Vice President-Elect Kamala Harris and has raised over $35 million, has bailed out an unknown number of accused thugs, rioters and other criminals. Finding information on exactly who they've bailed out has been an arduous task.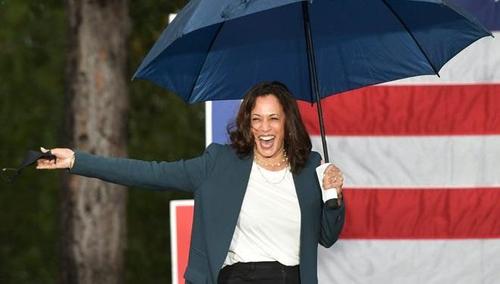 Here's what we do know about the Harris-endorsed bail recipients:
In August, the fund posted $15,000 bail for the release of Shawn McClinton, a convicted sex offender facing rape charges. According to prosecutors, McClinton raped a woman just weeks after his July release – and was back in custody facing prosecution over alleged rape, kidnapping, strangulation and other charges.
In September, the Daily Caller pored through court records, and found that the MFF had helped free several men suspected of heinous crimes – including accused child molester Timothy Wayne Columbus, who faces up to 30 years in prison on allegations that he sexually assaulted an eight-year-old girl.
31-year-old Dexter Boone was arrested on May 2 after allegedly breaking into his son's mother's apartment and strangled her in front of her minor children.
The fund also helped bail out 28-year-old Davlin Devonte Gates, who also allegedly strangled a woman just days after he moved in with her.
Matt Gaetz is right. For months Democrats encouraged and defended BLM and Antifa violence. Hell, Kamala Harris tweeted out for donations to a bail fund for rioters.
Thousands of small businesses destroyed, looted, and burned down — Democrats didn't care.pic.twitter.com/BBepHvZzDP

— Kyle Kashuv (@KyleKashuv) January 13, 2021
Now, for what we don't know.
According to Just The News, the MFF has refused to provide information on the men it's helped bail out.
Official bail records hard to locate

Yet a full accounting of the individuals bailed out by the fund last year was not available as of press time. 

A representative of the Minnesota Freedom Fund told Just the News via email this week that the records of those it has helped bail out "are available via the Hennepin and Ramsey County jail rosters." The group did not respond to repeated inquiries asking if it kept those records in its own files. 

The records within the jail rosters, meanwhile, are not easily accessible. 

Tom Lyden, a reporter with KMSP who originally broke that station's coverage of the controversies surrounding the bail fund, said that the documentation "is difficult to find and it is not available online."  

"You must go through items in the file, which you can only do at a live terminal," he said. 
In short, the next Vice President of the United States actively promoted a murky bail fund, which has helped known criminals get back on the streets, and which won't share details on exactly who they've helped. 
We're sure they'll enjoy exposure on multiple big tech platforms and won't face scrutiny for aiding rioters, thugs and other criminals.
Tyler Durden
Thu, 01/14/2021 – 20:40