Key Events This Holiday-Shortened, Quiet Week: Politics, PMIs, Claims
Key Events This Holiday-Shortened, Quiet Week: Politics, PMIs, Claims
The list of scheduled events in the final days of the year is relatively light, with just a few minor data releases and no Fedspeak scheduled. However, as Deutsche Bank notes, market participants will likely be focused on any incremental news from Washington, where in another last minute reversal, President Trump unexpectedly signed into law the covid stimulus package. The stimulus as currently tallied is about $900bn, with about $325bn in small business aid, an extension of federal unemployment benefit programs plus an additional $300 per week benefit, as well as $600 per person stimulus payments, just to name a few. Deutsche Bank has currently factored this $900bn stimulus package into its GDP forecast, which it sees rising 4.3% Q4/Q4 next year; in a note published overnight Goldman hiked its Q1 GDP forecast from 3.0% to 5.0% on the back of the fiscal deal.
On the data front, jobless claims on Thursday will be the highlight of the week, though ever-present issues seasonally adjusting the data around the holidays present some scope for potential volatility. Deutsche Bank expects initial claims (770k forecast vs. 803k previously) to improve some. However, the correlation between the change in claims and the growth in Covid cases across states remains high, suggesting that until fiscal stimulus actually begins to land in households' pockets, the spread of the virus remains the primary determinant of any recovery in the labor market and will likely weigh on job gains in the December employment report.
The other releases on Wednesday are relatively minor and largely serve to sharpen forecasters' estimates of current quarter GDP growth. Despite the dip in goods consumption in the November data, demand for goods remains elevated and should serve to drive the advanced goods trade balance (-$82bn vs -$80.3bn) slightly wider. Pending home sales (-0.5% vs -1.1%) are expected to continue to edge lower as the Covid-related surge in housing activity earlier in the year continues to fade. Finally, given the surge in Covid cases, the Chicago PMI (56.9 vs. 58.2) will likely dip further, mirroring the similar weakness seen in the consumer sentiment data.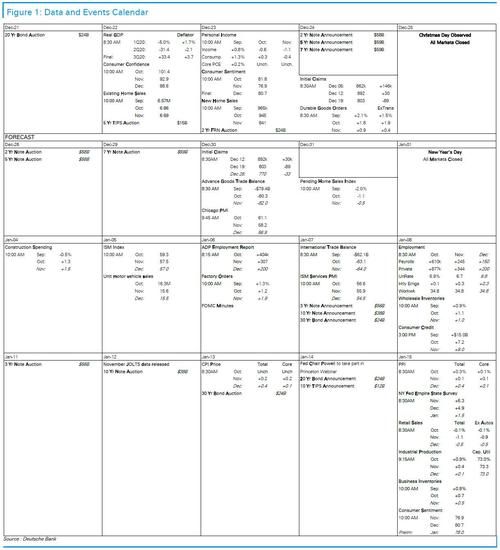 Looking at just the US, Goldman writes that the key economic data releases this week are the Chicago PMI on Wednesday and jobless claims on Thursday. There are no scheduled speaking engagements from Fed officials this week.
Monday, December 28
10:30 AM Dallas Fed manufacturing index, December (consensus 10.2, last 12.0)
Tuesday, December 29
09:00 AM S&P/Case-Shiller 20-city home price index, October (GS +1.1%, consensus +1.00%, last +1.27%): We estimate the S&P/Case-Shiller 20-city home price index rose by 1.1% in October, following a 1.3% increase in September.
Wednesday, December 30
08:30 AM Advance goods trade balance, November (GS -$81.0bn, consensus -$81.5bn, last -$80.3bn); We estimate that the goods trade deficit increased by $0.7bn to $81.0bn in November compared to the final October report, as imports and exports likely rose further.
08:30 AM Wholesale inventories, November preliminary (consensus +0.7%, last +1.1%); Retail inventories, November (last +0.8%)
09:45 AM Chicago PMI, December (GS 56.0, consensus 56.5, last 58.2); We estimate that the Chicago PMI declined by 2.2pt to 56.0 in December, reflecting a sharp rise in jobless claims in the region.
10:00 AM Pending home sales, November (GS -3.5%, consensus +0.1%, last -1.1%); We estimate that pending home sales declined by 3.5% in November, reflecting a further deceleration in regional home sales data.
Thursday, December 31
SIFMA recommends an early 2:00 PM close to bond markets.
08:30 AM Initial jobless claims, week ended December 26 (GS 810k, consensus 830k, last 803k); Continuing jobless claims, week ended December 19 (consensus last 5,337k): We estimate initial jobless claims increased to 810k in the week ended December 26.
Friday, January 1
New Year's Day holiday. There are no major economic data releases scheduled. NYSE will be closed. SIFMA recommends bond markets also close.
Source: DB, Goldman
Tyler Durden
Mon, 12/28/2020 – 09:16