Lira Crashes, Turkey CDS Soar As Erdogan Launches Another Epic Crisis
Lira Crashes, Turkey CDS Soar As Erdogan Launches Another Epic Crisis
Turkey has become the sovereign equivalent of a Swiss Watch: every 6 months or so Turkey has a brand new crisis, and the latest one arrived late on Friday when just days after the Turkish Central Bank hiked rates by 200bps, double the consensus expectation (a move which we correctly predicted would provoke Erdogan "to replace yet another CBRT governor"), Erdogan indeed announced that CBRT governor Naci Agbal – who was on the job just over 3 months after his November 2020 appointment – would be fired and replaced with some political zealot named Sahap Kavcioglu, whose only claim to fame is believing in the ludicrous and farcical concept of Erdoganomics where lower rates somehow magically lead to lower inflation. He is also the country's fourth central bank governor in the last two years.
Sadly for Erdogan (and Turkey's population) that's not how the real world works and now that Turkey's attempt to tighten and contain inflation by cutting rates inflation is about to explode in one of the most important Developing Markets; but what's worse for international investors – who once again took a gamble on Turkey and lost – is that Erdogan just single-handedly crushed what little credibility the country's central bank had built up in recent months and in early Asian trading, the Turkish Lira cratered as much as 17%, wiping out 5 months of progress, with the USDTRY soaring as high as 8.42, up some 120 pips its Friday close of 7.2185.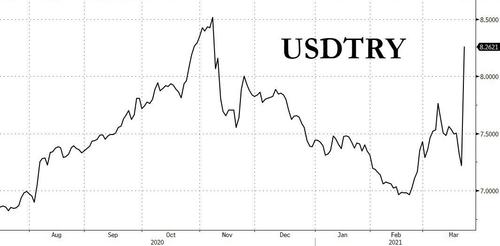 The currency was quoted at 8.2621 per dollar as of 4pm ET, the weakest since November just before Agbal was appointed in the midst of an aggressive rate hike cycle, one which will now rapidly reverse as the new top central banker cuts rates in response to the country's soaring inflation.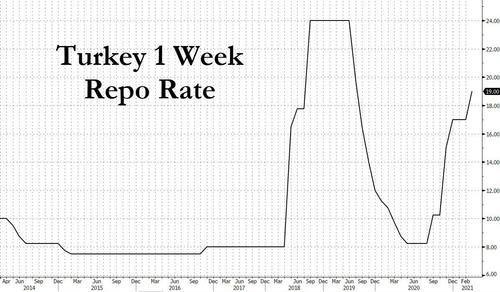 Erdogan's decision to fire Governor Naci Agbal, who had sought to restore the central bank's credibility, is a blow to investor confidence and raises concern the country will once again embark on a path of rock-bottom rates.
According to Bloomberg, "the initial backlash exceeded some analysts' estimates" – but not ours – "and marks a swift reversal of investor enthusiasm toward Turkish markets." Ironically, headed into today, the lira had been the best carry-trade currency of the year, outperforming every other EM as money managers cheered Agbal's move to raise interest rates and efforts to bring inflation under control."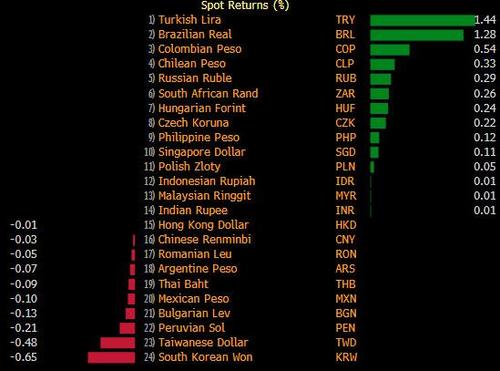 However, as we also correctly said last Thursday, Agbal, "was damned if he did and damned if he didn't: on one hand the lira was plunging angering Erdogan, so he had to stabilize it… on the other the only way to do so was by hiking rates, which would anger Erdogan even more."
In the end, Agbal's tightening proved too much for Erdogan to handle, and now comes the real pain.
"Capital will flow out on Monday and the CBRT has limited resources left to protect the lira," according to Per Hammarlund, chief EM strategist at SEB AB in Stockholm, referring to the central bank. "A hawkish central-bank governor cannot be replaced by a dovish governor without markets expecting a shift in policy. The circumstances of Agbal's dismissal coming two days after a rate hike will produce an even sharper shift in investor expectations."
Let this be (another) lesson to all real money accounts: if you invest in banana republics, be prepared to lose all your money and get nothing more than a banana in return (if you're lucky).
Agbal's replacement, Kavcioglu, pledged on Sunday to use monetary-policy tools effectively to deliver permanent price stability… translation: he will do whatever Erdogan tells him, which considering the Turkish president's eccentric views on monetary policy means that Turkey may have NIRP soon alongside 100% inflation. And speaking of, any weakness in the lira could add to inflationary pressures building in the economy and erode Turkey's real rate, currently the highest in emerging markets after Egypt's.
Commenting on the chaos in Turkey, Bloomberg chief EM economst Ziad Daoud, said that "the hit to the central bank's credibility and independence can't be overstated. Erdogan has battered the institution with interventions that have repeatedly backfired. Financial markets were willing to give Agbal a chance, his successor will find it hard to build that trust again."
Since 2019…

Italy have had 2 Prime Ministers

Chelsea have had 3 different managers

Turkey has had 4 different Central Bank Governors since 2019

(and managing in the Premier League was meant to be difficult)$TRY pic.twitter.com/zIvcGla5wZ

— Viraj Patel (@VPatelFX) March 21, 2021
"We must conclude, for now, that Kavcioglu will be mandated with reducing and keeping rates as low as possible," Cristian Maggio, head of emerging markets at TD Securities in London, correctly predicted. "If this hypothesis proves true, not only will we see a looser policy setting in Turkey in the coming months, but we will also likely experience a return to managing policy through unorthodox measures."
That's just part of it: now that one of the largest DMs has lost all central bank credibility, what is a currency crisis can quickly mutated into a full-blown sovereign debt crisis, and the latest blowing out CDS prints confirm this:
TURKEY 5Y CDS 410/455 +125
A reason for the panicked response, one which brings back flashbacks to the Asian debt crisis of 1997…
Who knew this generation's "Asian crisis" would start in Turkey

— zerohedge (@zerohedge) March 21, 2021
… is that Turkey is now effectively without FX reserves and has virtually no way to short-circuit the current puke. Last year, Turkish banks spent more than $100 billion of the nation's foreign reserves to support the sinking currency, according to a Goldman report (full report below). That prompted calls by Turkish opposition for a judicial probe into the nation's official reserves.
In comparison, always oblivious foreign investors who are confident that central bankers will always save them, purchased a net $4.7 billion worth of Turkish stocks and bonds in the months following Agbal's appointment. Overseas inflows to Turkey through swaps were about $14 billion during that period, Istanbul-based economist Haluk Burumcekci said. All that money is about to be pulled now amid the sheer chaos.
Among those who may find themselves on the wrong side of the trade are Japanese retail investors, according to Bloomberg, i.e., Mrs Watanabe. Long positions by individuals in lira-yen stood at 263,585 contracts as of Friday. They've climbed about 9% since the start of the year.
"We will never know how successful Agbal's approach could have been, but initial signs were positive," said Emre Akcakmak, a portfolio adviser at East Capital in Dubai, who anticipated challenges to intensify in the near future and a reversal on some of the recent and large hot money inflows in the face of the unexpected decision. "Even when the market stabilizes after a while, investors will have little tolerance, if any, in case the new governor prematurely cuts the rates again," Akcakmak said.
Meanwhile, those hoping for guidance from all those who were bullish on the lira, like Goldman with its 6.20 price target, are advised to keep a low profile: as Goldman says in a note published earlier today, "our EM/FX strategy team are putting their forecasts for USD/TRY under review, with significant risks of a near-term discontinuous move weaker in the Lira."
That's a big of an understatement by a bank whose advise just cost its clients massive losses.
Then again, in a world as insane and upside down as this one, it just may be that Erdogan will have the final laugh, and Turkish inflation will indeed tumble as the CBRT cuts rates as low as possible, perhaps even dipping negative eventually.
* * *
Below we have excerpted Goldman's full note, "Turkey: President Erdogan Appoints Sahap Kavcioglu as New TCMB Governor"
Kavcioglu has been appointed as the new Governor with a presidential decisionpublished in the Official Gazette on Friday, March 19.
This is the third time a TCMB Governor has been replaced in the last two years, following the removal of Murat Cetinkaya from his post in July 2019 and the removal of Murat Uysal from his post in November 2020.
The decision came after a hawkish 200bp policy rate hike by the TCMB on Thursday (March 18). That said, it may be part of a more fundamental repositioning of policy as it follows changes in the senior leadership in the Turkish Statistical Institute and the Sovereign Wealth Fund in the last few weeks. In addition, Turkey's chief prosecutor launched a lawsuit on Wednesday (March 17), seeking closure of the HDP, one of the three main opposition parties, supported by large parts of the Kurdish population. Turkey pulled out of the IstanbulConvention (The Council of Europe Convention on Preventing and CombatingViolence Against Women and Domestic Violence) with another presidentialdecision also published in the Official Gazette on Friday, March 19.
Governor Kavcioglu published a statement today, noting that the TCMB "will continue to use the monetary policy tools effectively in line with its main objective of achieving a permanent fall in inflation" to foster macro economicstability and sustainable growth. The statement also noted that the MPC meetings will be held as previously scheduled. Hence, the next meeting should take place on 15 April.
Although significant uncertainty remains around how monetary policy will change following this appointment, we do have some sense of Governor Kavcioglu's economic views as he has written numerous columns on topics such as interest rates, the Turkish Lira and the use of reserves (see here and here, only available in Turkish). Governor Kavcioglu wrote in his column on February 9that monetary policy should not insist on a high policy rate and that higher rateswill indirectly lead to inflation. Governor Kavcioglu also believes that the TRY has been kept too strong in recent years by offering high rates, undermining economic competitiveness. Given these and similar comments, it is likely that markets will question the TCMB's forward guidance of keeping the monetary stance tight for a prolonged period, and the TRY may come under pressure. Local banks are already quoting to buy TRY at 7.70-7.80 vs the USD in the retail market over the weekend, up from 7.23 in the spot market on Friday.
Given the stated dovish views of Governor Kavcioglu, the risks are now for a much more front-loaded cutting cycle than our forecast of a first rate cut only in Q4. Nevertheless, we think that the potential impact of this decision on central bank credibility and on the currency is likely to limit any dovish move in the near term. More broadly, we think inflation will remain a constraint on how early and fast rate cuts can take place. We expect inflation to fall to just 12.5%yoy by the end of the year, significantly above the TCMB's estimate of 9.4%yoy. Any premature rate cut would also add to inflationary pressures, in our view.
There have been significant capital inflows from mid-November, following the appointment of Naci Agbal. Nonresident inflows into local government debt and equity amounted to US$4.0bn and US$0.7bn, respectively. It is likely that the flows into Lira due to swaps were larger. We do not have a time series on this specifically but a growing off-balance-sheet position of banks against declining TCMB swaps since mid-November suggests that there was an increase in the swaps conducted with nonresidents, around US$6.0bn on our estimates. With this build-up of foreign positioning, attracted by the belief that the TCMB will likely keep rates sufficiently high to stabilize the TRY, a reversal in capital flows going forward appears likely.
The build-up in foreign positioning is not the only reason why the market reaction is likely to differ from those when previous governors were replaced. When Murat Uysal was appointed as TCMB Governor in July 2019, gross reserves were higher and a cutting cycle was expected. The market reaction to Naci Agbal's appointment was positive as he was seen as a technocrat and the President had followed up this appointment decision with a market-friendly speech.
Our assessment of the TCMB's reaction function has been that the TCMB would tighten policy when faced with sufficient pressure, rather than look for non-market solutions. For this reason, our base case last year (when reserves were being depleted at a rapid pace and some market participants were discussing the possibility of non-market measures) was that the TCMB would eventually hike rates and engineer a soft landing.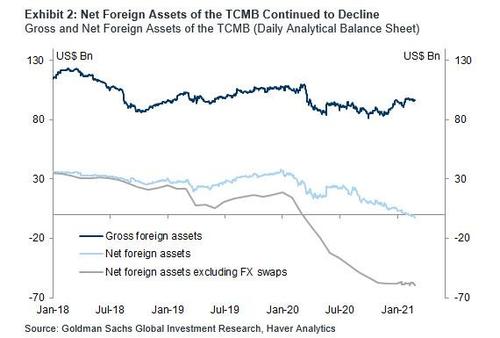 The developments from November until recently seemed to confirm this. Following the removal of Naci Agbal from his post, we  think that the risks to our view that monetary policy (rather than alternative administrative measures) will ultimately respond to market pressures and macroeconomic imbalances have increased.
It is likely that pressure on the TRY will pick up. A restart of FX interventions similar to 2020 may be the initial response, but the buffers are comparatively low. While gross reserves stand at US$91.6bn, US$17.0bn are due to swaps with Qatar and China, and US$38.9bn are gold. On our estimates, gross foreign currency reserves are US$35.7bn. Although this is higher than the US$23.4bn at the trough in mid-November, it is still not sizeable enough to sustain continued interventions, in our view. For comparison, the TCMB's gross reserves fell on average by US$6bn a month from March to September before rates were raised.
Our forecasts for the current account in 2021 and the country's external financing needs do not differ significantly from what we were forecasting for 2020 in Q1-20.We forecast a current account deficit of US$28bn for this year(TCMB survey: US$25bn). The current account deficit did ultimately widen significantly more than we had initially thought in 2020 to US$37bn, mostly due to rising gold imports, and a repeat of that scenario cannot be excluded.
Other measures the authorities may consider if the TRY comes under pressure are (1)finding sources of non-market funding, (2) administrative measures or (3) once again raising policy rates. Given the stated dovish views of the new Governor and the context in which he has been appointed, the market is likely to be sceptical of the likelihood of rate hikes. Nevertheless, it may once again come up as a possibility if the TRY comes under significant pressure.
With markets less likely to fund the Turkish current account deficit, and in the absence of other official flows, we think that a rapid adjustment in the current account may be necessary and the risks of a hard landing have increased. Under this scenario, we see downside risks to our growth forecast +5.5%yoy in 2021 and upside risks to our already above-consensus end-year inflation forecast of 12.5%yoy.
Our EM/FX strategy team are putting their forecasts for USD/TRY under review, with significant risks of a near-term discontinuous move weaker in the Lira.
Tyler Durden
Sun, 03/21/2021 – 17:15