Maersk "Suspends" Many Short-Term Bookings As Suez Backup Strains Capacity 
Maersk "Suspends" Many Short-Term Bookings As Suez Backup Strains Capacity 
The Suez Canal blockage's ripple effect on the global supply chain has forced Maersk to suspend bookings of short-term contract shipments in many export markets. 
Maersk published a customer advisory this week to inform clients the Suez Canal blockage for six days has heavily impacted its supply chain and significantly reduced capacity. As a result, the world's largest shipper is suspending bookings of short-term contracts to deal with capacity deficiencies.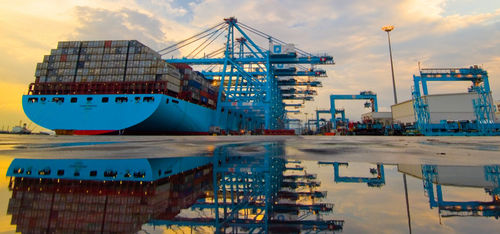 "We have earlier communicated that even when reopened, the blockage of the Suez Canal would have ripple effects on global supply chains for weeks to come," Maersk said in a customer advisory.
"However, expecting a significant loss in capacity over multiple weeks, depending on market dynamics, we have decided to temporarily cease short term bookings placed via Spot, as well as short term contracts this week and in the immediate future, in these geographical services, the advisory continued. Spot is Maersk's online booking platform for container shipments.
According to Seatrade Maritime News, the shipper's suspension of short-term bookings appears to be worldwide: 
The suspension of spot and short-term contracts affects all exports out of Asia which Maersk said was due to expected equipment shortages.

It also covers exports out of West Central Asia to Europe and North Africa, North America East Coast, West Africa via Mediterranean, and Latin America via Mediterranean.

The suspension impacts exports out of Europe to Asia, Middle East and Indian Sub-Continent, and Oceania.

It covers North American exports to Middle East and Indian Sub-Continent, and East Africa, and exports from Latin America from East Coast South America to Middle East and Indian Sub-Continent and Asia via Mediterranean, and from Central America and West Coast South America to Middle East and Indian Sub-Continent.

The suspension also impacts exports from East Africa to Europe, and West Africa to Asia, Middle East and Indian Sub-Continent via Mediterranean.
Maersk told customers the suspension is "only temporary so that we may quickly move existing laden cargo and empty containers to the areas they are most needed. "
Days ago, the shipper warned, "even when the canal gets reopened, the ripple effects on global capacity and equipment are significant." It could take upwards of a week for normal shipping to resume across the canal.  
The Suez Canal's near-week closure and the massive build-up of vessels waiting to transit the world's most important waterway is straining the already highly stretched global supply chain. There's also "enormous legal issues" mounting. 
Tyler Durden
Wed, 03/31/2021 – 11:05