Major Tour Operator Refuses To Book Holidays For The Unvaccinated
Major Tour Operator Refuses To Book Holidays For The Unvaccinated
Authored by Steve Watson via Summit News,
One of the world's biggest tour and cruise operators has announced it will mandate that all travellers booking holidays with them be vaccinated against coronavirus.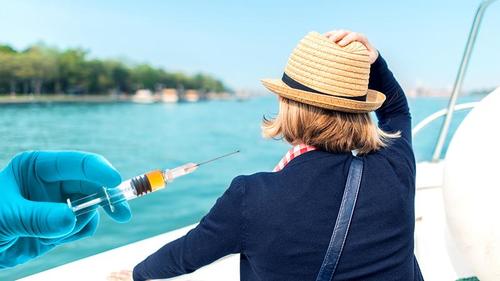 UK based Saga, which typically operates holiday packages for people aged over 50,  has said that all customers must be "fully vaccinated" to travel on their cruises and holidays at least two weeks prior to departure.
A spokesperson for the company said "We have taken the decision to require everyone travelling with us to be fully vaccinated against COVID-19. Our customers want the reassurance of the vaccine and to know others travelling with them will be vaccinated too."
Saga is giving customers until May to get vaccinated before re-launching its holiday packages.
Nick Stace, chief executive of Saga's travel arm, said "Given that many of our customers are in the priority age range and we've done calculations based on what government has said, we think shortly after beginning of May almost all of customers will have received a second vaccination."
The company also offers banking and insurance services, although it has not said whether the policy will be extended to those customers.
"Saga becomes first travel company to require all passengers to be vaccinated"

Presumably Ministers will be strongly criticising this since, while the vaccine may be excellent &they do wish to encourage people, they are also deeply opposed to the slippery slope of coercion. pic.twitter.com/r72C1hC9ro

— Ruminator Dan (@RuminatorDan) January 21, 2021
Some called the announcement hypocritical, given that crews on board Saga cruise ships will not be forced to get vaccinations:
SAGA Cruises insisting on vaccine for passengers but the crew mainly Phillipinos will not be vaccinated says the SAGA representative on Sky News.

— Sir Byfield Chutney (@alanhowat72) January 21, 2021
Others noted that there is no proof yet that the vaccine provides any immunity:
Having the vaccine isn't proven to protect anybody! They can't say it protects you from Jack shit so why do people who have it think the virus can't touch them need to realise this and read the governments own info in this! pic.twitter.com/0kjS77VStk

— Shinebright (@Shinebr57241896) January 21, 2021
Others simply refused to go along with the company policy:
Bye bye @SagaUK

You will not dictate what medical procedures I must undertake to travel with you.

— 1KKD💎🙂 (@KDEWMG) January 20, 2021
I am not anti-vax, but this is an absolute disgrace, and I hope no one goes on a Saga holiday in 2021, use @UKTwinds instead, they have no intention of imposing such restrictions.

— JLV hornet (@jlvhornet) January 20, 2021
But will they have any choice if they want to leave the country?
We could all see this coming – and it's common sense – plus the airlines will do the same. The option is get vaccinated or stay in the UK for the rest of your life – 'COVID-19: Saga says cruise customers will need vaccines before boarding'https://t.co/AFdapV6AWO pic.twitter.com/QwMrMy0lZK

— Kevin Pascoe #SocialistLabour (@KevinPascoe) January 21, 2021
Your choice, but no travel without it

— John Innes (@mm0jxi) January 20, 2021
One operator that says it will not enforce such a policy is Germany-based TUI, which has rejected the notion of turning away unvaccinated customers.
However, it is now clear that so called 'vaccine passports' are becoming ubiquitous. Spain, Greece and the Seychelles have all announced that they will implement systems to get tourism back up and running.
Airlines, hotels and insurance companies have also all signalled that they will mandate vaccine certificates.
Dr Richard Dawood, a specialist in travel medicine at the Fleet Street Clinic in London, told The Telegraph this week that he sees vaccine passports as 'unavoidable'.
"Regardless of how any of us feel about the idea of 'vaccine passports' for travel, they will ultimately be unavoidable," Dr Dawood said.
"Once countries begin insisting on proof of Covid immunity from arriving travellers [as the Seychelles has done], there will be little option but to embrace the challenge," he added.
"We all long for travel to return to normal. But entry requirements will remain as long as countries feel insecure, perhaps until most people have been vaccinated worldwide. Social distancing, sanitisers, face masks on flights, delays, red tape, and last-minute changes of plan, will stay a fact of travel until then," Dawood emphasised.
Tyler Durden
Sat, 01/23/2021 – 08:10