Market 'Punks' Powell; Bitcoin Best As Crude Crushed, Tech Wrecked, Bonds Battered
Market 'Punks' Powell; Bitcoin Best As Crude Crushed, Tech Wrecked, Bonds Battered
After one of the dovish-est of already-dovish-est Fed statements and press conference, the market is shouting a big "F**k you" to Jay Powell and his pals as both the timing of the first rate-hike and the trajectory of rate-hikes thereafter have hawkishly surged since the Fed chair stopped speaking…
Expectations for a hike by the end of 2022 are soaring…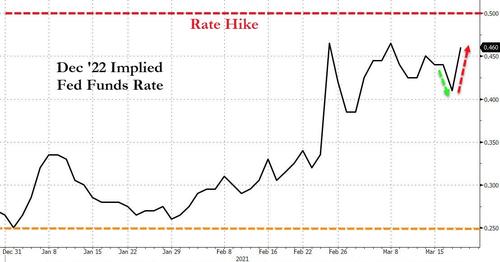 Source: Bloomberg
And from Dec '22 to Dec '24, the market is now pricing in 130bps of hikes…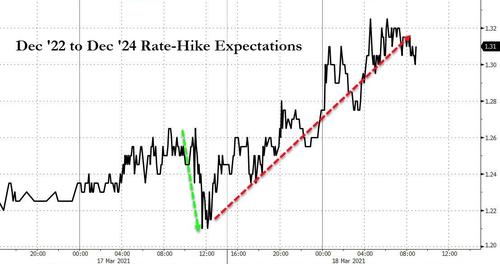 Source: Bloomberg
Epic fail by Powell as the market continues to call his bluff.
And Bitcoin topped $60,000 as the least manipulated indicator of fiscal/monetary madness left…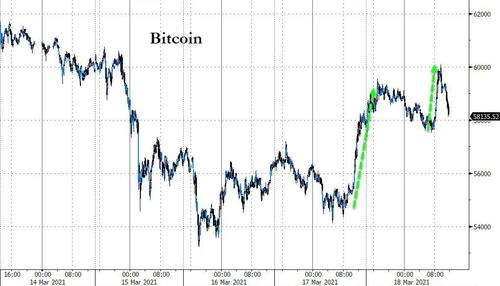 Source: Bloomberg
Oil crashed today – WTI back below $60 – down five straight days, longest losing streak since Feb 2020 and fell the most since June 2020 today…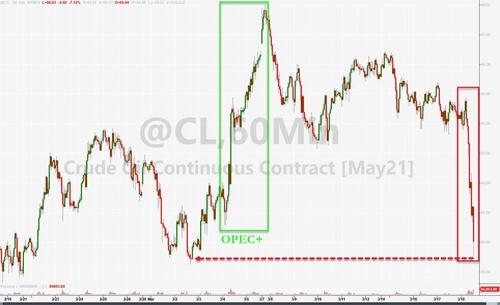 Bonds were clubbed like a baby seal overnight after rallying back on the Powell statement. NOTE that once again bonds were bid after Europe closed…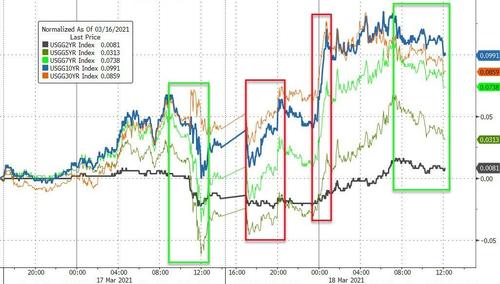 Source: Bloomberg
10Y Yields topped 1.75% intraday and reversed…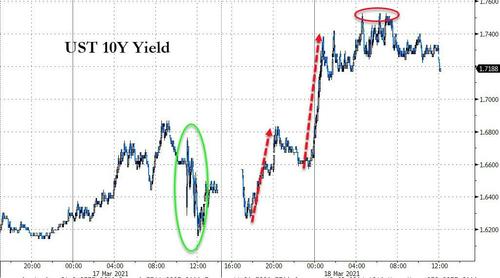 Source: Bloomberg
30Y topped 2.50% and reversed lower…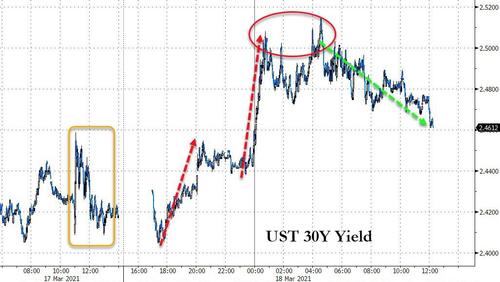 Source: Bloomberg
Real yields jumped to their highest since June 20th, catching back up with gold..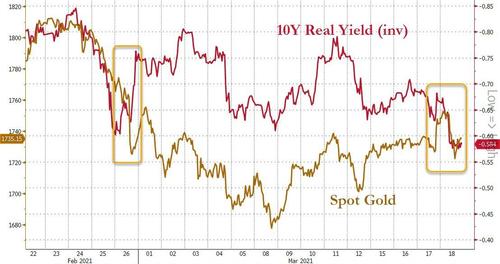 Source: Bloomberg
And as bond yields surged, big-tech was battered, erasing all of the Powell gains and dragging the rest of the market down with it. On the day, Nasdaq and Small Caps were both monkey-hammered, The Dow outperformed but was still lower. Today was Nasdaq's 2nd biggest down day since October.
The following chart is index performance from the release of the FOMC statement at 1400ET yesterday (NOTE the puke at the European open)… The Dow is unchanged from pre-FOMC with Small Caps and Nasdaq down 1.6%…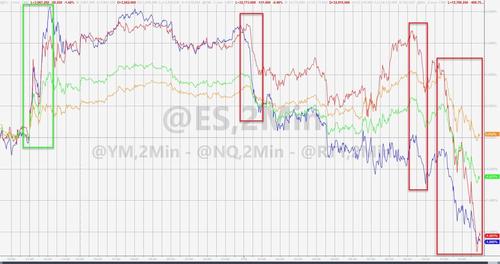 Today's plunge in Nasdaq 100 sent it back into the red for 2021…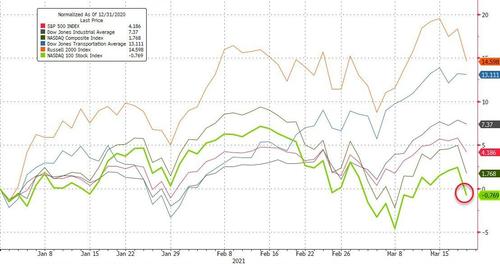 Source: Bloomberg
Banks dramatically outperformed big-tech and are now back at their strongest (relatively speaking) since early March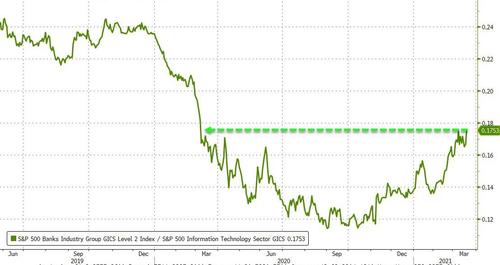 Source: Bloomberg
While banks were best, energy was slammed as crude crashed…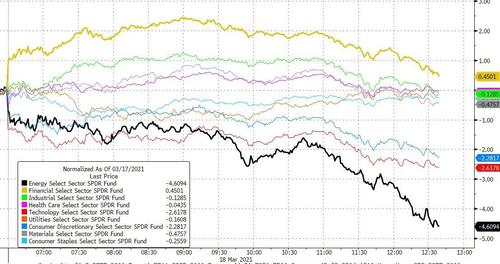 Source: Bloomberg
ARKK sprung a big leak..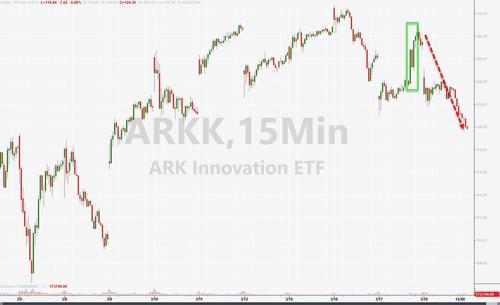 And TSLA tumbled…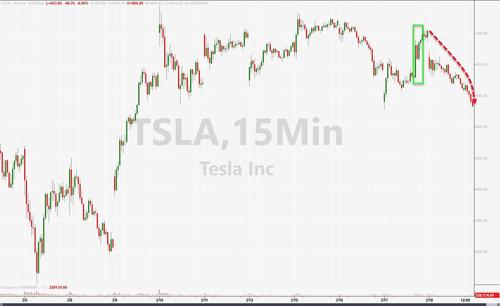 FANGs were dumped…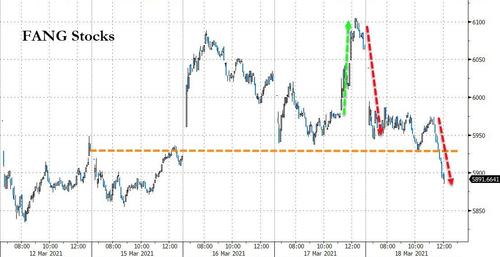 Source: Bloomberg
Hedge Funds were likely hammered today as their biggest holdings saw serious selling pressure…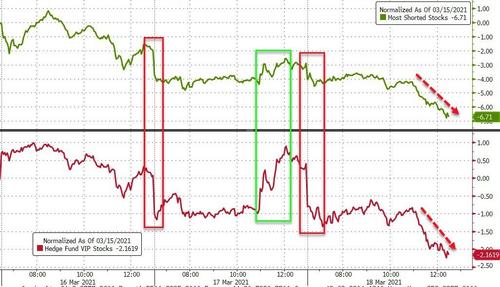 Source: Bloomberg
And with bonds and stocks down and vol higher, Risk Parity funds puked…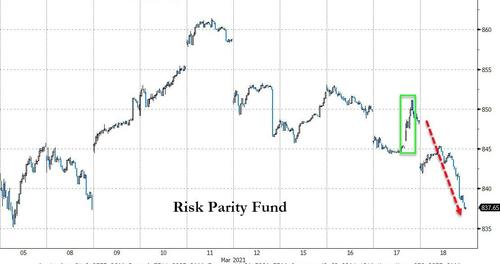 Source: Bloomberg
The dollar jumped at the European open and US open, erasing much of yesterday's Powell pummeling…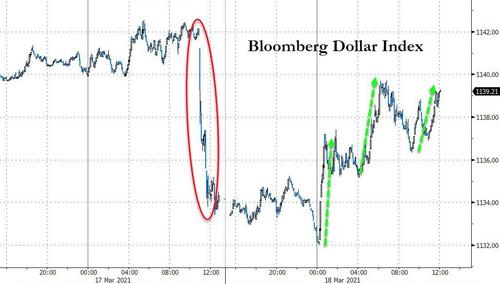 Source: Bloomberg
Despite a stronger dollar, gold manage to hold on to gains…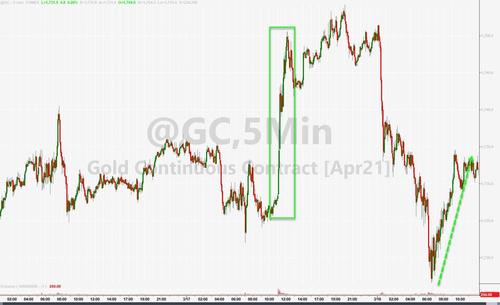 Finally, if copper/gold are right about the way ahead for yields…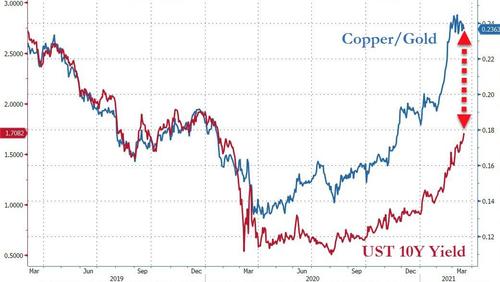 Source: Bloomberg
Then the Nasdaq faces carnage relative to Small Caps…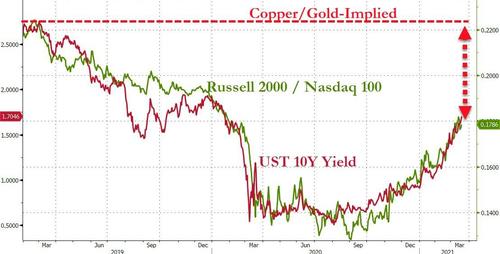 Source: Bloomberg
But, on the other hand, when does the bond-buying surge from foreigners hit?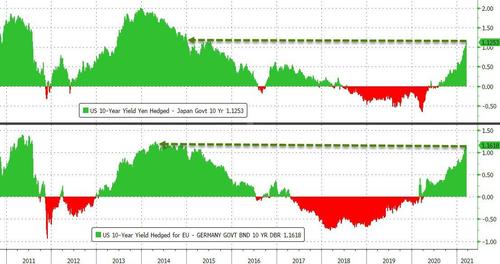 Source: Bloomberg
Tyler Durden
Thu, 03/18/2021 – 16:00